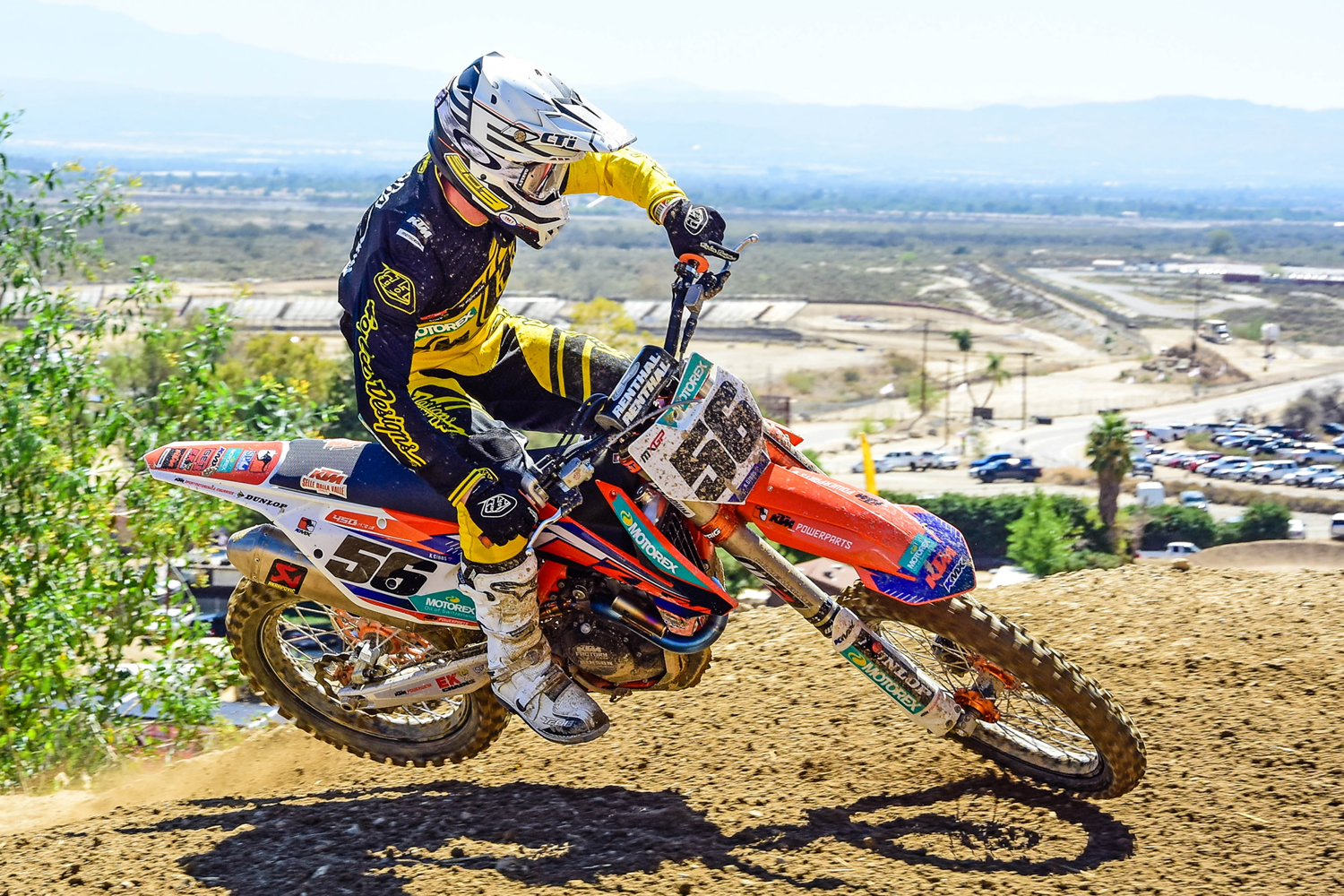 KTM Motocross rider Kirk Gibbs has made a respectable start to his USGP career following a 20th place finish overall at Glen Helen.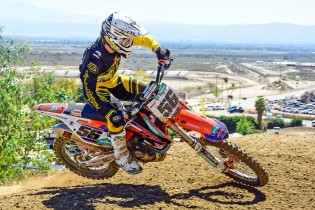 By Hayden Gregory
Following a triumphant year in the Australian MX1 class, Gibbs was granted the opportunity for a one off appearance at the USGP. It was a huge occasion for the rider to prove his worth on the world stage and compete against world class riders.
Leading into the GP Gibbs had a troubled week, taking a fall on the Wednesday and copping a nasty blow to the head. With a couple of days recovery Gibbs was treated by renowned American motocross physician 'Dr G'.
With a less than ideal preparation the KTM rider had another fall in the first moto aggravating a recent shoulder injury which prevented him from finishing. Not going to let his injury get in the way of his first MXGP event Gibbs pulled himself together for moto two and turned in a respectable 16th place finish.
"I definitely wasn't 100% today", Gibbs said. "The crash on Wednesday put a dampener on things, it rattled my head pretty good and my body was a bit banged up coming in. We struggled a bit for bike setup on Saturday as well so we were behind the eight ball a little bit, but we didn't do too bad, all things considered. I felt like I was riding really well in the first moto, and I was mixing it up with some good guys, but then I had a crash and hurt the shoulder that I injured late in the MX Nationals so the second was a big struggle."
Frenchman Romain Febvre won the final round of the MX1 world championship ahead of American duo Josh Grant and Cooper Webb. Gibbs was adamant that he will return to the circuit with an aim of one day competing alongside these leading competitors.
"This event was a massive eye-opener for me and I can't thank KTM enough in making it happen. I felt like if we could have put two solid motos together we could have been around the top 10. It'd be great to come over and compete against the best riders more often, and this really gives me a little bit more motivation to go home and take it to another level and be another step ahead of the competitors back home."
US GP Finishing Positions:
1. Romain Febvre (FRA), Yamaha, (1 – 2)
2. Josh Grant (USA), Kawasaki, (3 – 1)
3. Cooper Webb (USA), Yamaha, (2 -3)
4. Dean Wilson (GBR), KTM, (7 -4)
5. Glenn Coldenhoff (NED), Suzuki, (6 – 6)
6. Evgeny Bobryshev (RUS), Honda, (9 -5)
7. Gautier Paulin (FRA), Honda, (8 – 8)
8. Jeremy van Horebeek (BEL), Yamaha, (12 – 7)
9. Tommy Searle (GBR), KTM, (13 – 9)
10. Jason Anderson (USA), Husqvarna (4 – 27)
20. Kirk Gibbs (AUS), KTM, (32 – 16)