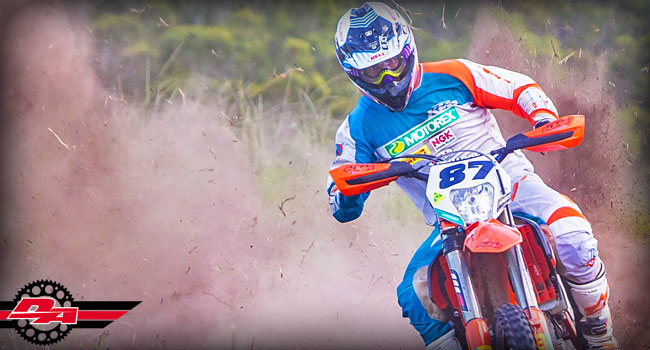 Price given the all clear. 

In a weekend which contained the most unbelievable highs and lows for the KTM Enduro Racing Team, the last word has been a positive one with confirmation that Toby Price's injuries are less serious than initially thought and he is not expected to miss the next round of the Australian Off-Road Championship, after injuring himself yesterday at Bulahdelah.
Saturday's AORC confronted riders with its combination of high speeds, thick dust, rocks, and powdery trails, but while many struggled to find their rhythm, KTM 450 EXC rider Toby Price conducted a clinic, winning the opening sprint by an astonishing 30 seconds before going on to win the premier E2 class, as well as the overall by a comfortable margin.
On the opposite side of the KTM awning, Peter Boyle was also in sublime form on his KTM 250 EXC-F, erasing the uncertainty of the recent enduro-cross season in the most satisfying way – winning the E1 class by over 10 seconds.
Boyle left Bulahdelah with a share of the E1 championship lead after finishing second on day two, while Price began Sunday in familiar, winning fashion, before a solid crash in trees in the third heat left him with injury to his hip, elbow and big toe. Price bravely limped to the starter for the fourth, but physically could not grip the handlebar and was forced to withdraw.
For more information on KTM motorcycles visit www.ktm.com.au or www.facebook.com.KTMAustralia.
KTM Enduro Racing Team Manager Brad Williscroft: "We had such amazing highs on Saturday and some lows yesterday, but that's racing sometimes. On Saturday Toby was awesome; in his first lap he came in 30 seconds up on second place. He went out to make a statement and that's what he did, it was an awesome first ride back in AORC. Peter Boyle's recent testing really paid off and he rode well for a class win. So to win E2, E1 and the Overall was an amazing start for us. Sunday started much the same with Toby dominating the first two heats and Boyley battling with Tom McCormack. Then in the third one Toby clipped a tree with his hip when he slid in sideways, and then hurt his left arm on another tree. He tried to ride the fourth lap but had no strength in his arm and could not hold on and went off to the hospital. We've now had confirmation that Toby's hip and elbow are badly bruised, not broken. His big toenail will need to be removed and he will have surgery on that – Toby is pretty pleased with the outcome and so are we."
Toby Price Rd.1 – E2: 1st, O/R 1st, Rd.2: DNF: "I'm bummed I didn't get the win on Day two, but at least I know my speed is good. The annoying thing was, I wasn't going overboard, just doing a comfortable pace that was getting me the good times, and just made one little mistake. I hit a rock that I couldn't see, got deflected, and got out sideways. That's the frustrating part, if the tree had not have been there I would have corrected it and ridden away. It was hurting pretty damn bad that's for sure, but at least I can say I tried to finish but if definitely wasn't possible. Apparently I dislocated my hip, so it and my elbow are badly bruised, and my toenail will have to be removed. But it's all good, I'll just put my head down and keep charging forward. I'll be fine in four weeks and I'll be at the next round no dramas."
Peter Boyle Rd.1 – E1: 1st, O/R 6th, Rd.2: E1: 2nd, O/R 12th: "The event was real dusty and rocky but the guy that could get through best was gonna win. I felt good, I think I rode pretty good and I'm very happy with where I'm sitting in the class, but I know can go quicker. I know I can beat the boys in the top ten but I've got to do some more work to do to be up there in the outright standings. I really want to work my way up in the overall standings. The 250 EXC-F felt pretty good though in what were difficult conditions, and I'm looking forward to the next round. I hope I can make up some time there – I definitely felt strong."
2014 YAMAHA AUSTRALIAN OFF ROAD CHAMPIONSHIP
Rd 1&2: 22/23 March, Buladelah, NSW
Rd 3&4: 19/20 April, Boyland, QLD
Rd 5&6: 3/4 May, Hedley, VIC
Rd 7&8: 21/22 June, Coonawarra, SA
Rd 9&10: 19/20 July, Kyogle, NSW
Rd 11&12: 6/7 September, Heathcote, VIC