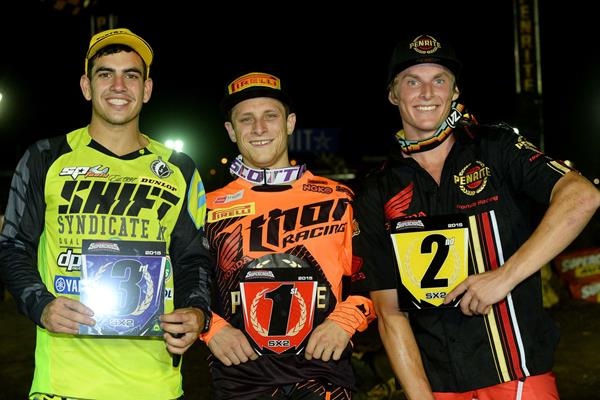 American sensation Jimmy Decotis dominated the SX2 class once again at Jimboomba, putting the other riders on notice.
By Hayden Gregory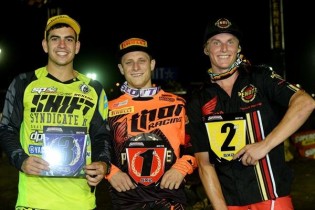 The Penrite Honda rider has not missed a beat since touching down in Australia proving to be a very worthwhile addition to the team. Decotis followed on from his impressive round one form in Bathurst to once again qualify fastest before coming first in both his heat race and the main event.
Heading into round three at Wayville, the American holds a comfortable championship lead, and will no doubt be full throttle once again as gates drop in Adelaide.
Decotis commented on his appreciation for Pirelli and the support they have given him whilst down under.
"Winning two in a row has been amazing and I feel we have the advantage with the Pirelli tyres," Decotis said.
"Between Open and Lites we have won three of four finals – it's fantastic.
"The weekend was hard as we had slippery and hard pack conditions to contend with, Pirelli are super professional though, and having the R&D guy (Don Nicholas) at the track made all of difference."
Pirelli saw further success in Jimboomba with Adam Monea and Matt Moss finishing second and third respectively in the MX1 class.
Pirelli's Product manager Don Nicholas was full of praise for the three riders and is confident of providing continual support.
"Each time we race with our riders and teams we learn more," he said.
"Jimboomba was no exception with some exciting racing in each class and challenges to get the best form tyres, riders and machines.
"We value these partnerships and shared passion for the sport of Supercross that perfectly matches Pirelli's racing DNA, and the fact that we race what we sell, and sell what we race with the Scorpion MX range." 
SX1 round two results:
1) Daniel Reardon
2) Adam Monea
3) Matt Moss
4) Kade Mosig
5) Kirk Gibbs
6) Lawson Bopping
7) Gavin Faith
8) Dylan Long
9) Daniel McCoy
10) Luke Styke
SX2 round two results:
1) Jimmy Decotis
2) Jackson Richardson
3) Wade Hunter
4) Luke Clout
5) Geran Stapleton
6) Luke Arbon
7) Taylor Potter
8) Dylan Wills
9) Lewis Woods
10) Jesse Madden