The Aussie teenagers have capped off a phenomenal 2015 season signing long term contracts to compete in Europe as part of Monster Energy Kawasaki's MX2 team.
By Hayden Gregory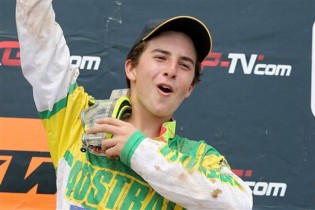 16 year old Hunter and 12 year old Jett have virtually won everything before them in Australia with a combined 11 national titles between them. Jett was crowned 65cc world champion in 2014, while brother Hunter achieved a second place finish in the 85 class for 2013 and a third in the 125's this year.
The pair are set to follow in the footsteps of Australian legend Chad Reed, who went to Europe in 2001 to contest the World Championship as part of the Kawasaki Racing Team. While much younger than Reed, Hunter will enter the European MX2 series while Jett will race varied 85cc races all over Europe.
"Europe has always been my main goal since I first raced the Junior World Championship in Italy," Hunter said. "I love the tracks, the different cultures and racing lots of fast riders …Europe produces so many amazing champions and I have always wanted to have a chance to grow in the environment that the European motocross scene provides. 
"In Australia we don't have the population to get a lot of fast riders on the line; there is usually one or two really fast riders but not half the field like in Europe so that provides more challenges which I love.
"I believe Europe is a great opportunity to see how far my career can go," says Hunter, while Jett is also very excited. "I am excited because the tracks are awesome in Europe, and I get to race heaps of fast kids."
Jean Jacques Luisetti, owner of the Kawasaki MX2 team has played a huge role in the boys' transition and is delighted to finally have the brothers on board.
"For several years already we have worked on the possibility to bring young hopefuls into the team, to prepare them for the MX2 World Championship. Our friend Ben Townley recommended Hunter and Jett to us; they have amazing riding style, speed and ability despite their young ages," said the French manager.
"For Darren, the father of the kids, it's a great opportunity for the family to take another step.
"The opportunity Kawasaki has given our family is a dream come true for us, not only do we get to race over in Europe we get to do it on a brand of bike and team that has worldwide proven success. So to be able to join the Kawasaki factory team is unbelievable and we are really excited to be able to learn and grow with the team to hopefully return a World Championship back to Kawasaki in the future.

Both Hunter and Jett will also enter, as members of the Kawasaki Benelux Team Green program, the Dutch Championship alongside MX2 GP rider Petar Petrov.