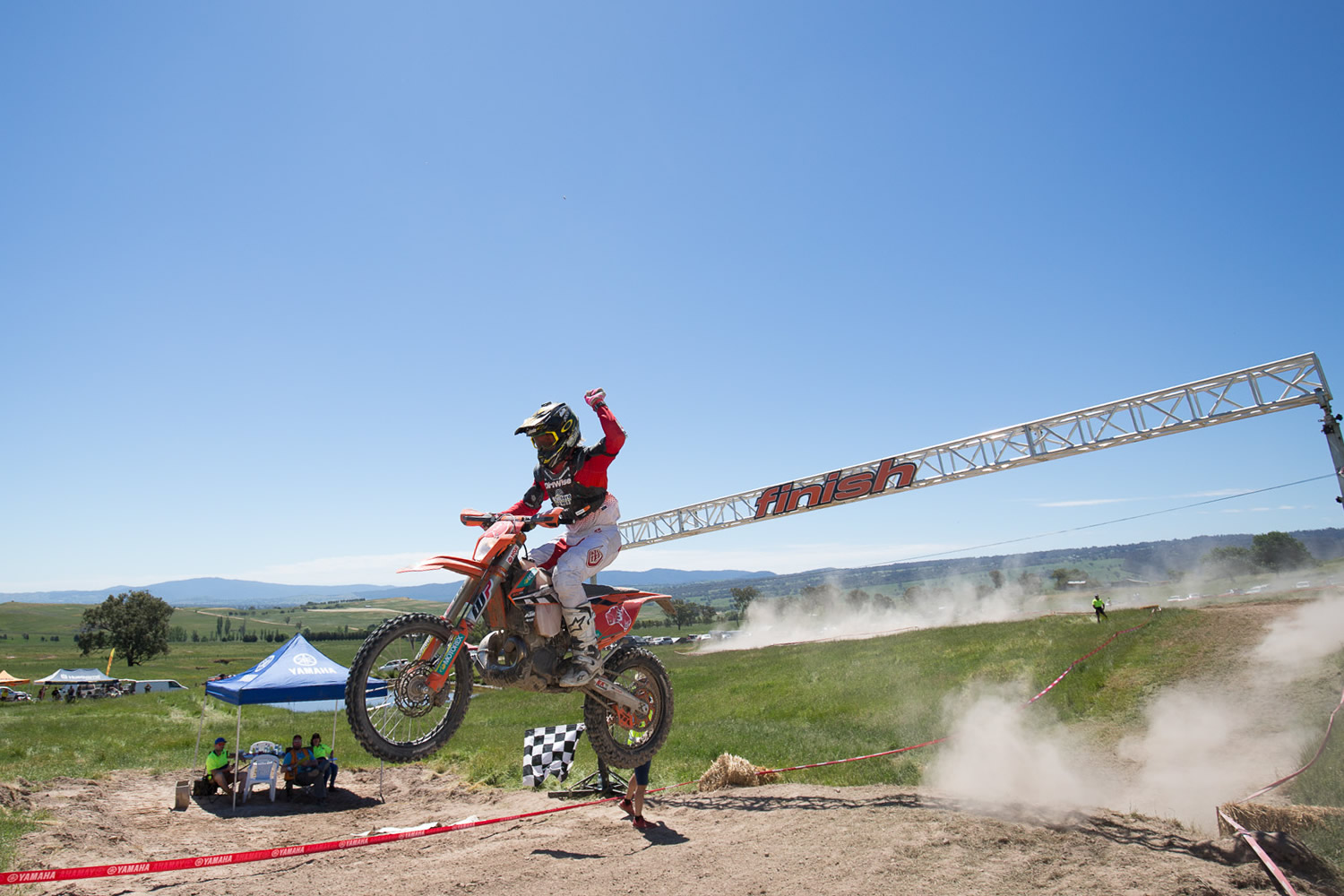 KTM Enduro Racing Team's Australian Off-Road Champion Daniel 'Chucky' Sanders added an Australian four-day enduro championship title to his year of achievements.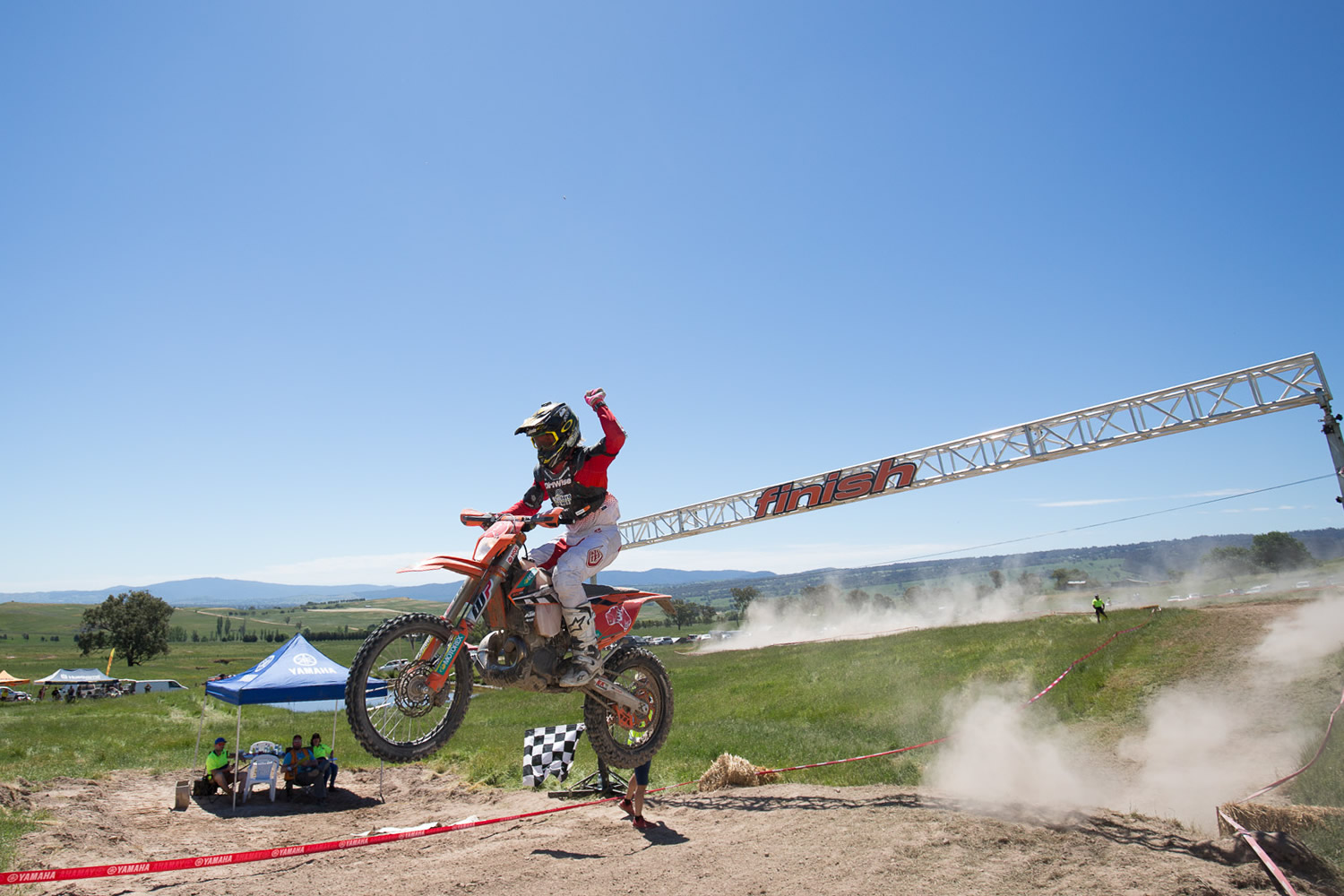 Press Release
Sanders rode his KTM 300 EXC to victory in the E3 category, defeating Lachy Stanford by a shade under 15 seconds after winning the day's final motocross, with Lyndon Snodgrass finishing third.
At the back end of a stellar year in which he finished second outright against the best enduro riders in the world just a month ago at the ISDE in Spain, Sanders had hoped for a much higher outright finish than the fifth he secured yesterday.
However, a significant head knock at the previous weekend's Wildwood Extreme hard enduro and a setup error to his powerful two-stroke got his week off to a slow start, and a torn ligament in his ankle on day two did little to help the matter.
"I mixed up on a couple of things with the settings that I run, and we missed out for the first two days and I wasn't really right in the head about it," Sanders explained. "I started to get some confidence back in my riding on day three when we figured out what the problems were, but I tore a ligament in my ankle on day two, and just had to bite the bullet on day three. I was 20 seconds down by that stage, so I just focused on getting the class win, and we got there in the end after a really good final moto.  A bit of my fault that I didn't pick up on some things early enough, and it probably wasn't the best preparation knocking myself around at Wildwood the week before. I didn't finish the season off the way I would have liked to, but to have a really bad four-day and still win a class, you can't really complain."
Former World Champion Mathias Belino won the event outright, ahead of Chris Hollis and defending champion Daniel Milner.
KTM's AORC E1 Champion Jack Simpson finished third in class and ninth outright aboard a KTM 250 SX-F in what was his career-first four-day.
"It was a good experience once again," Simpson shared. "Definitely doing the six-day helped. But the A4DE is run a little bit different again to that. I was happy with my result, I maybe thought I could have done a little bit better but it is what it is, and the boys were riding solid so third in the class and ninth outright wasn't bad. The bike ran killer all week, not one nut or bolt came loose on it. Today we have a sprint before the final Moto, and my highlight of the event was winning the sprint outright by four seconds over Hollis. I smoked it in the slippery grass. The last Moto was that dusty I couldn't see and I ended up third there."
KTM Enduro Racing Team rider Tye Simmonds paid the penalty for a work-intensive lead up to the four-day, and was unable to get close to the form that earned him second in this year's AORC.
Simmonds finished seventh in a highly competitive E2 category, and 14th outright.
"It was a pretty crap result in terms of what we all know I'm capable of, but like they say you only get out what you put in," Simmonds said. "With the amount of work I've been juggling lately, my preparation was terrible, so I deserve the results that I got. I knew I was going to be behind the eight ball right from the start, but we were a long way off. That was my second four-day and it was good to be back with the team and hanging out with the boys, I actually really liked the ride, the trails were really cool and some of the tests were really good to ride. The pollen was killing me with my allergies, so we've had a pretty rough week in that department. I was really glad to get to all the tests because being out on the trails was killing me with sneezing all the time and snot going everywhere, but once I got to the tests, all that stopped. She was a wild old ride!"
Forty-four-year-old Aussie enduro racing legend and former World, ISDE and GNCC Champion Shane Watts raised plenty of eyebrows by taking his KTM 125 XC-W to the 11th fastest time in Tuesday's Prologue, before bringing the little beast home in 10th in class.
"It was great, a spectacular couple of days of riding," Watts shared. "I loved it. It was a really diverse selection of special tests, but challenged all the riders in the trail was quite interesting. It was a very good event. The social side of it was great, it's funny how, 10,15 or 20 years further on you realise the effect that what you once did had on people. It was great to reminisce, and find that the riding 125 brought back a few memories for people. I was stoked about it. The 125 was so good I had a grin on for the whole event. Just cracking it open and letting it ring out and hearing the sweet sound of that little two-stroke on the hills was brilliant!"
KTM's two AORC Under 19 young guns, Nic Tomlinson and Ben Kearns finished fifth in E3 and 8th in E2 respectively, while KTM-mounted multiple Aussie champ David 'Flea' Fleming won the Veterans Championship by almost eight minutes over Brett Steel and Jason Salopayevs.
2016 Yamaha A4DE Outright results:
1. Mathias BELLINO 2:08:28.623
2. Chris HOLLIS 2:08:40.857
3. Daniel MILNER 2:09:04.995
4. Josh GREEN 2:09:11.774
5. Daniel SANDERS 2:10:10.920
6. Lachlan STANFORD 2:10:25.041
7. Matt PHILLIPS 2:11:27.466
8. Glenn KEARNEY 2:11:38.834
9.  Jack SIMPSON 2:12:06.448
10. Riley GRAHAM 2:13:03.630
E1 Championship:
1. Josh GREEN 2:09:11.774
2. Glenn KEARNEY 2:11:38.834
3. Jack SIMPSON 2:12:06.448
4. Riley GRAHAM 2:13:03.630
5. Stefan GRANQVIST 2:13:47.264
10. Shane WATTS 2:19:48.349
E2 Championship:
1. Mathias BELLINO 2:08:28.623
2. Chris HOLLIS 2:08:40.857
3. Daniel MILNER 2:09:04.995
4. Matt PHILLIPS 2:11:27.466
5. Broc GRABHAM 2:13:12.684
7. Tye SIMMONDS 2:13:41.206
8. Ben KEARNS 2:15:03.894
E3 Championship:
1. Daniel SANDERS 2:10:10.920
2. Lachlan STANFORD 2:10:25.041
3. Lyndon SNODGRASS 2:13:22.842
4. Christopher DAVEY 2:14:41.842
5. Nic TOMLINSON 2:16:00.101
Veterans Championship:
1. David FLEMING 2:23:16.089
2. Brett STEEL 2:31:02.546
3. Jason SALOPAYEVS 2:32:02.653