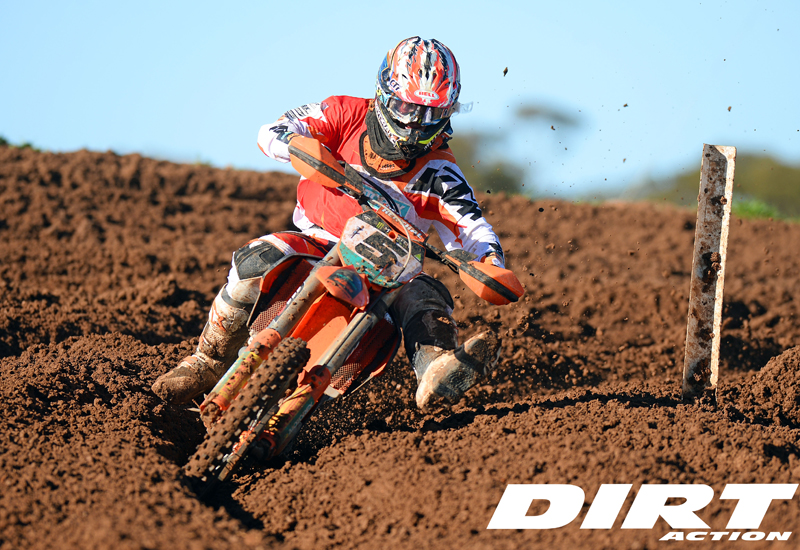 Needing to extend his lead by just 11 points to secure the most sought after title in Australian motocross, Kirk Gibbs is determined to make an impact at Echo Valley raceway, Toowoomba this weekend.
Story by Hayden Gregory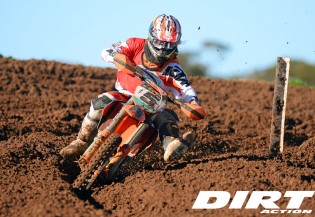 Queensland based Gibbs has had an impressive year for KTM winning six races and riding consistently for the year's entirety. Boasting a 65 point lead over teammate Luke Styke, Gibbs has held on tightly to the red plate ever since the opening round at Horsham.
"I'm feeling really good ahead of this weekend," he said. "I'm obviously not trying to think about the championship too much just yet, because then it starts sort of weighing on you a little bit, but I'm looking forward to getting into the next few rounds and doing my best.
"I have definitely done the calculations in my head as to what it would take to wrap it all up at Toowoomba and I mean that's the ideal situation but you can't count on other riders results.
"I just need to worry about myself and even if I don't get the championship wrapped up at Toowoomba, if all goes well, I won't be far off wrapping it up pretty early at Coolum.""
Fellow KTM rider Luke Styke has similarly held onto second position since the third round of the series at Broadford. The pair has ensured a spectacular season for KTM fans with both riders dominating the rounds, maintaining an impressive one-two run.
The battle for second will remain hotly contested for Styke as he fights to stay ahead of CDR Yamaha rider Kade Mosig. Heading into the last two rounds, Styke is holding onto a precious nine point lead.
Styke commented on the Echo valley course ahead of the upcoming round.
"I'm looking forward to riding the new bike on the new layout at Echo Valley. Hopefully they rip it good and let it get some nice ruts and it should be a good weekend. It was good to me last time I went there in 2013 and I really like how technical it is and how you can't rush the track. It's a skill-oriented track that separates the good riders from the mediocre riders."
In Mx2 Racing, KTM Factory Support rider Caleb Ward is looking to continue his extraordinary end of season run. Ward has won four of the last five rounds and is determined to persist in his winning ways. Currently sitting in sixth place overall, Ward is confident he can add more wins to his tally as he heads back to his home state of Queensland.
"I'm looking forward to Toowoomba this weekend. I just need to get some good starts and hopefully go out and try to win some races. I've ridden there twice now, 2013 and a practice day there two weeks ago. I always want to win, so I'll just try to go there and try to do my own thing, not worry about anyone else and just try to get out front and win. That's the plan. I think the trick there might be just being smooth and trying to get set up nice and early for the corners," Ward said.
"There should be some pretty big rights forming up hopefully, so I think just prepare early for the corners and just try to flow with the track. I want to win these last couple and then just get straight into preparing for Supercross. I've only ridden on Supercross track once in my life before now, so need to put some practice in."
The excitement doesn't stop there for KTM fans with Jayden Rykers currently sitting in second place overall for the MXD class. Rykers has been in hot form winning the last four Under 19 Championship motos and will be looking to chase down a 19 point lead held by GYTR Yamaha's Wilson Todd.
"I went back home to ride the state titles in WA, and stayed back on for a little bit longer and had a bit of a rest so I'm feeling quite good and ready for the weekend. I went up to the Echo Valley ride day two weeks ago so I know the layout of the track. It's a cool layout – there's nothing else like it in the whole series this year. The elevation is awesome there," Rykers said.
MX1 championship standings:
| | |
| --- | --- |
| 1st | Kirk Gibbs – 530 |
| 2nd | Luke Styke – 465 |
| 3rd | Kade Mosig – 456 |
| 4th | Adam Monea – 449 |
| 5th | Lawson Bopping – 429 |
| 6th | Daniel Reardon – 411 |
| 7th | Dylan Long – 390 |
| 8th | Jesse Dobson – 382 |
| 9th | Cody Cooper – 358 |
| 10th | Kale Makeham – 306 |