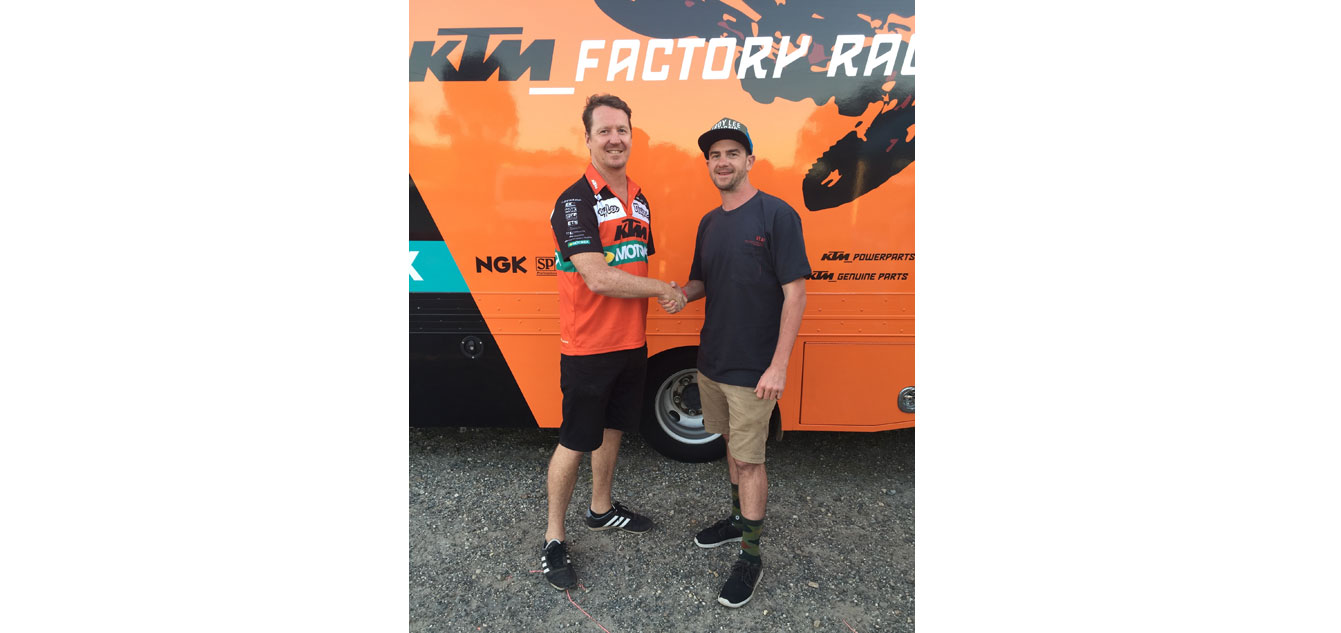 KTM Australia is pleased to announce the extension of the partnership between its world class KTM Factory Racing teams and creative riding gear manufacturer Troy Lee Designs.
Press Release
The latest two-year deal continues TLD's position as an official sponsor of KTM's Motocross Racing Team, Junior Motocross Racing Team, Enduro Racing Team and Desert Racing Team.
It sees the very successful relationship with Australian Distributor Lusty Industries extend to four years.
KTM National Brand Manager Tam Paul: "We're really pleased to announce that we have renewed our partnership with Troy Lee Designs for the next two years. To date it's been a great partnership for both KTM and Troy Lee Designs, we can see that ours are the best looking guys on the track with the most functional and appealing gear, we are getting great results and couldn't be happier and I believe that Jonny from Troy Lee Designs is also over the moon with the progress we've made as a team.
"This will be year three and four, so there is good continuity there. John is very hands-on, he attends the events, he's a motorcyclist, and he is very engaged. I think that's a very important point, because he understands what it takes."
Lusty Industries Principal Johnny McLean: "There's a great synergy between our brands and our companies, and the guys are amazing to work with. I've got to thank Jeff, Tam and everyone for letting me be a part of it for the first two years, and for the continuation into the next two.
There is a real uniformity to the look we have now so when KTM is at the track everyone knows who they are.  It's pretty rewarding, everything that has come from the partnership has been successful. There is a level of investment to make it happen and in return the KTM dealerships have really driven the partnership and our brand. To see that side of it, and also the results – championships and podiums left and right from everyone from the juniors through to Chucky, it's pretty humbling, because we are still a small company and a small brand in relation to the industry."
KTM Motocross Racing Team Manager Kyle Blunden: "I'm over the moon with continuing the relationship with Troy Lee Designs. Lusty Industries has gone over and above whenever we've needed anything, and boys have always had the best looking gear on them, so we are stoked to have them back on board. With Johnny's help, we were able to get Caleb a guest ride with TLD at t he USGP, so the relationship has been fantastic and this gives us an opportunity to strengthen our relationship with our US counterparts, and hopefully filter riders back and forth across the Pacific."
KTM Enduro Racing Team Manager Ben Grabham: "I'm very happy to see this continue. As a racer I've had the chance to try racing in a lot of different products over the years and even now with the odd race that I dabble in or bit of testing, I wear the Troy Lee stuff, and it's definitely the best I've ever been in. And with the size of the range, I don't think there would be anyone out there that couldn't find a design they like in Troy Lee. With Finke and some of our other big races I've had a chance to get to know Johnny quite well and he's just like one of us, he is passionate about anything with two wheels and he's a good guy. It makes it easier for us having someone like that on board."