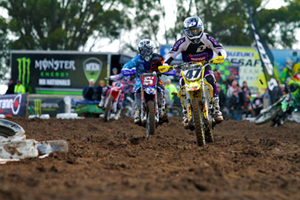 Waters, Cachia and Lamont win Monster Energy MX Nationals at Horsham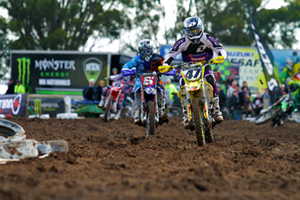 Horsham, VIC – Motul Pirelli Suzuki claimed a dream 1-2 finish in Horsham's seventh round of the 2012 Monster Energy MX Nationals, Australian Motocross Championship, in Victoria on Sunday, headed by title contender Todd Waters.
The 21-year-old was again in fine form as the series returned to Horsham for the first time since 2010, claiming the overall victory with the win in race one before he sealed the deal with a third in moto two and second in the final moto.
Waters led much of the final moto before coming under attack from CDR Yamaha's MX1 series leader Josh Coppins, and the gap between them in the title chase now sits at a slim eight-point margin.
"I was a little bit disappointed Josh came past in that final moto, but I've got to hand it to him," Waters said. "I couldn't quite hold him off, but anyway that's how it goes and the track was tough. To come away from today on top of the podium shows the work is starting to pay off, so I'm just stoked and it's a great day for Motul Pirelli Suzuki."
Behind Waters overall in second place for the weekend was teammate Cody Cooper, who tied on points with Waters, but was credited the runner-up position overall due to Waters' higher placing in the final moto.
Cooper finally pieced an entire round together with a trio of strong results, the highlight being a win in the second moto. Cooper also claimed second in moto one and concluded the round with a third in the final moto.
Coppins maintained his series lead with a fighting third overall, proving once again that the gruelling 30-minute moto is where he shines. Coppins was third in moto one and fourth in moto two, before battling to the win in the final moto.
British champion Brad Anderson was fourth for the round for Carlton Dry Honda Thor Racing, while round six winner Lawson Bopping completed the top five for CDR Yamaha.
Defending champion Jay Marmont returned to racing for Monster Energy Kawasaki at Horsham, racing to a consistent effort and taking out sixth overall for the weekend.
The Motul MX2 ranks were taken out by JDR/KTM Factory Racing rider Josh Cachia, who picked up his second overall win of the season. Cachia dominated the round with second in the opening moto before claiming wins in the final pair of motos.
"It was really good to show my speed and get another win here this weekend," Cachia said. "This is motocross; the track was rough, rutted, sticky and just gnarly out there after the rain. I couldn't have done it without my whole team, so thank you to JDR/KTM Factory Racing. Hopefully we can keep winning races."
Behind Cachia overall was rejuvenated Victorian Adam Monea for Zero Seven Motorsports Suzuki, salvaging his podium despite two major falls in the final moto. Monea's day started with a win in moto one, before he rounded out the weekend with second and fifth positions respectively.
Carlton Dry Honda Thor Racing's Ford Dale closed in on the series lead by the slightest of margins with third overall, now 36 points behind runaway series leader Luke Styke on the Serco Yamaha Metal Mulisha Racing YZ250F.
Styke was forced to settle for fifth overall in Horsham, trailing Monster Energy Kawasaki's Kade Mosig. Cachia's teammate Brenden Harrison returned to racing and put forward a positive performance, claiming sixth for the round.
In the Pirelli MXD ranks it was Kiwi Kayne Lamont who scored his fourth consecutive win for KTM. Lamont won the opening two motos of the round, before clinching the overall with a third in the final moto of the weekend.
"I'm really happy to win the round and extend my lead in the series," Lamont said. "I really need to thank everybody who has helped me, my sponsors and my family for their support. The club did a really good job of the track considering the conditions, so it was a good weekend for me."
It was a KTM sweep of the podium for the second round in a row, with Dylan Leary second and Choice Motorsports KTM's Dylan Long third after taking the win in moto three. Lamont's round win sees him extend his series lead to a healthy 29 points.
The Australian Motocross Championship series will continue at Appin in New South Wales on Sunday, 15 July.
Visit www.mxnationals.com.au for further information on the Monster Energy MX Nationals series. Fans can also find the series on Facebook, Twitter and Instagram by searching MX Nationals.
2012 Monster Energy MX Nationals, Australian Motocross Championship
Round Seven – Horsham, VIC
MX1 Overall Results:
1. Todd Waters 67
2. Cody Cooper 67
3. Josh Coppins 63
4. Brad Anderson 53
5. Lawson Bopping 48
6. Jay Marmont 47
7. Jake Moss 45
8. Daniel McCoy 38
9. Dean Porter 32
10. Daniel Reardon 31
MX2 Overall Results:
1. Josh Cachia 72
2. Adam Monea 63
3. Ford Dale 57
4. Kade Mosig 54
5. Luke Styke 47
6. Brenden Harrison 44
7. Justin McDonald 37
8. Luke Arbon 36
9. Scott Columb 34
10. Joel Milesevic 32
MXD Overall Results:
1. Kayne Lamont 70
2. Dylan Leary 60
3. Dylan Long 60
4. Kale Makeham 58
5. Sam Martin 48
6. Jay Wilson 45
7. Nicklas Scott 39
8. Mitch Norris 39
9. Ben George 38
10. Wade Hunter 29
MX1 Championship Standings (after 7 of 10 rounds):
1. Josh Coppins 415
2. Todd Waters 407
3. Brad Anderson 380
4. Lawson Copping 375
5. Cody Cooper 336
6. Jake Moss 255
7. Jay Marmont 254
8. Tye Simmonds 234
9. Daniel Reardon 227
10. Daniel McCoy 227
MX2 Championship Standings (after 7 of 10 rounds):
1. Luke Styke 421
2. Ford Dale 385
3. Josh Cachia 368
4. Kade Mosig 337
5. Adam Monea 327
6. Cheyne Boyd 319
7. Kirk Gibbs 301
8. Justin McDonald 261
9. Scott Columb 249
10. Lewis Woods 242
MXD Championship Standings (after 6 of 9 rounds):
1. Kayne Lamont 354
2. Dylan Long 325
3. Dylan Leary 294
4. Kale Makeham 289
5. Sam Martin 289
6. Jay Wilson 270
7. Joel Milesevic 230
8. Mitch Norris 190
9. Wade Hunter 155
10. Mitch Budd 145