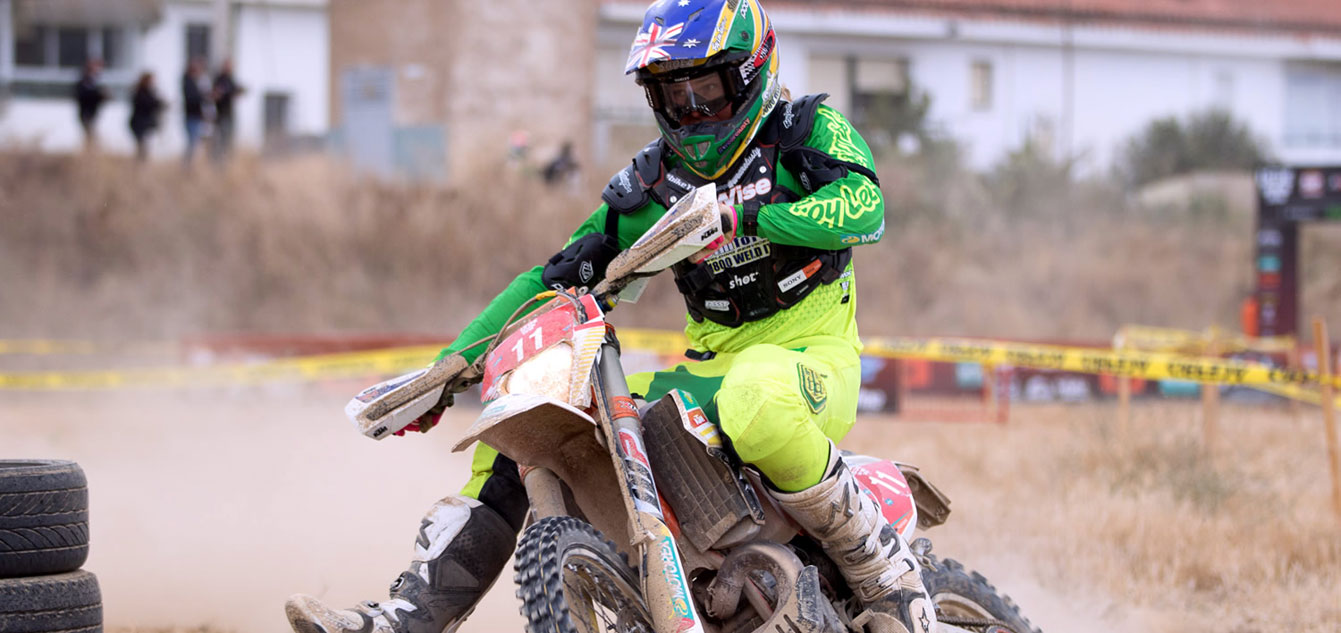 Daniel 'Chucky' Sanders eyes a huge 2017.
Press Release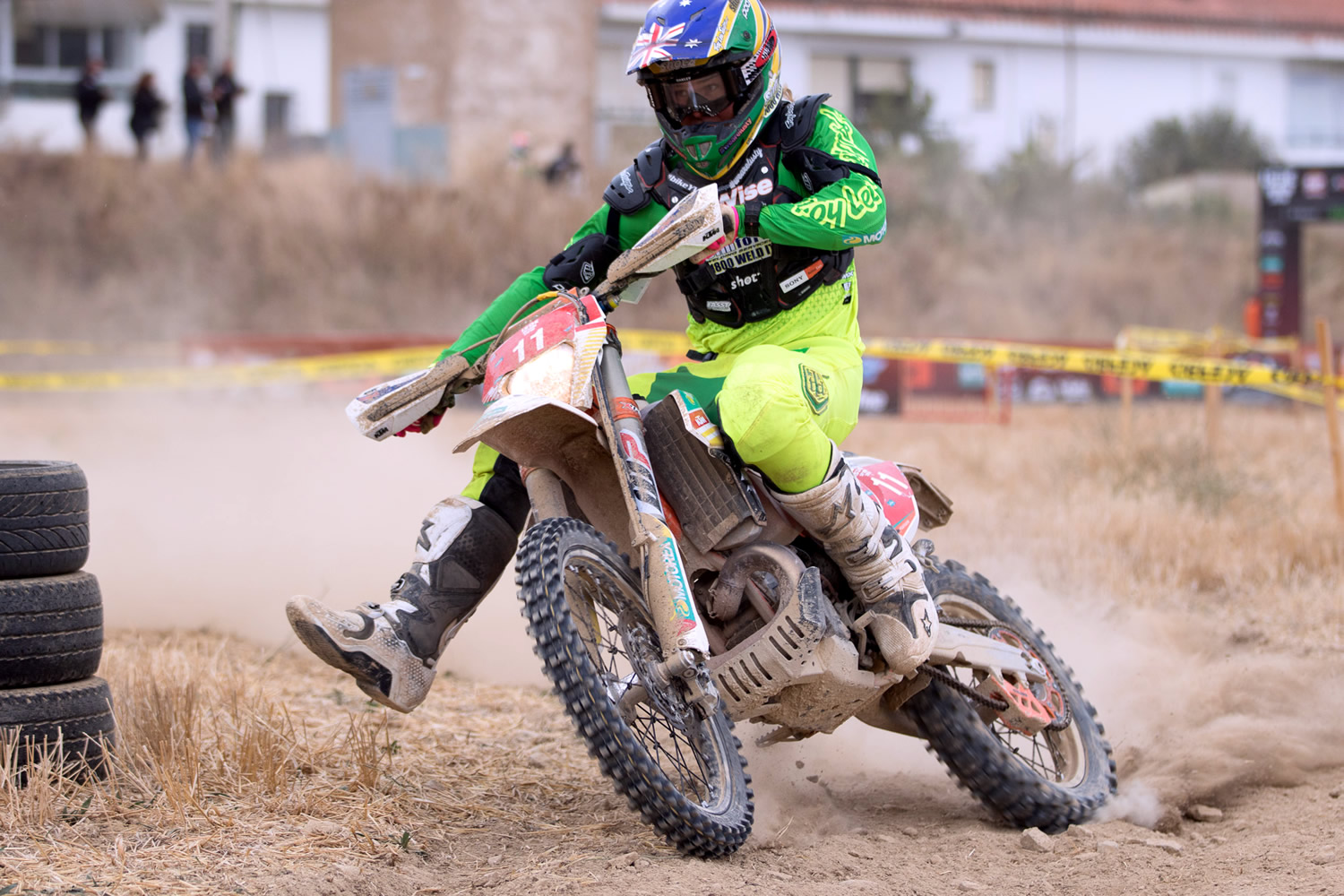 Sanders powered his KTM 300 EXC Six Days to victory in the International Six-Day Enduro E3 category for the second consecutive year, and improved upon last year's fourth position outright to finish a brilliant second overall.
For Chucky Sanders however, the elation of the moment is shared with the realisation that a new goal has appeared brightly on his radar – to win the 'Olympics of enduro' next year.
"It feels pretty good winning E3 for a second time," said Sanders, "but I was shattered I didn't win the overall."
Sanders was the second-fastest rider at the event, less than eighteen seconds behind American Taylor Robert and more than 46 seconds ahead of Spaniard Josep Garcia.
"This track probably wasn't as suited to me as it could have been, but it's good to learn where you're not fast, so you can go back home and make yourself stronger. The fastest rider in all conditions won – I'll come back next year and definitely be going for the win."
Sanders' chance of helping the Aussie Trophy Team defend its World Champions title evaporated on the first day when Josh Strang was ruled out with a leg injury, followed closely by Daniel Milner on Day Two, and the unfortunate green-and-golds tumbled to last place among the nations.
"We knew straight away that we'd lost Josh," says Sanders, "we sort of waited and no one said he finished that test, so we were expecting something bad. It was a bit of a bummer and obviously it dropped the mood a little bit, but from then on you know it's all individual results, so I was keen to see what the week would bring."
The ISDE's wide-open competition is matched only by the enthusiasm behind its famous after party, as the world's best to bike racers expend any remaining energy socialising with counterparts from all corners of the globe.
"I really like catching up with all of the six-day riders from all over the world – I get along with a few, and riding with everyone on the trail is always good fun. We spent the last night partying and running amok with all the boys in the town. It was a good night and I enjoyed it."
After becoming one of the first riders in the world to win a national championship round (and then another three) on the new 2017 KTM 350 EXC back in August, Sanders demonstrated the model's outstanding competitiveness at the highest levels.
"The Six-Day model that I ran is built strong, and we added a few other bits on just to make it my set up, with a disc guard and my bars and whatever. But it was pretty much set up ready to go so I just checked everything over, but I was comfortable on it straight away, and I knew that if I had a clear run it could be right up the pointy end.
"The Six-Day is tough, so you've definitely got to be fit, and smart with the maintenance. It's not just tyres. We had some big hits and drop-offs this year, so the spokes were coming loose. We just had to stay on top of all the maintenance just to make sure.
"I've come a long way since last year's six-day. I've finally started riding the way I want to without making those mistakes in tests, and carrying all that speed. It's just confidence and some strength. Obviously the skill I've worked on for ages – the longer you ride, the better you can get. I feel like it's finally clicked, this whole year I've felt good on the bike, and to sit at the pointy end through the whole six days in every test was great. Even when I had a bad one I wasn't way back.
"So I really want to win one. 100%."
KTM young guns featured prominently in Australia's largely rookie World Junior Team effort, with AORC E1 Champion Jack Simpson and U19 standout Nic Tomlinson joining Tom McCormack as the Aussies made their way to sixth overall behind Sweden, the USA, and Italy.
Tomlinson rode his 2016 KTM 300 EXC to 16th in E3 classification in his first ever ISDE, while Simpson was 17th in E1 on a KTM250EXC-F in his first appearance on the world stage.
"I didn't know what to expect," said Tomlinson, "but the atmosphere was massive, just crazy, I was blown away. I was wigging myself out over thinking everything, and it affected my performance, but I just stepped back a bit and looked at it and went 'wow, this is cool'. I was just trying to take in as much of it as I could, and learn as much as I could."
Tomlinson was taken aback by the depth of talent on display, but is determined to return next year and make his best performance. "I just didn't realise the high level of riding – at an AORC, if you were 20 seconds behind Chucky when he won a special test you'd be 15th but here at the ISDE, finishing 20 seconds behind Chucky put you about 100th. It's a big difference!
"It will help my self-confidence coming into next year's one, knowing where I stand a little bit, and hopefully I will be able to build on that."I really loved the final moto, that was cool. I had so much fun and just let my hair down. I got the worst start ever, but got back up to 13th out of a full 40-gate grid from a dead-last start.I felt I did half decent there."