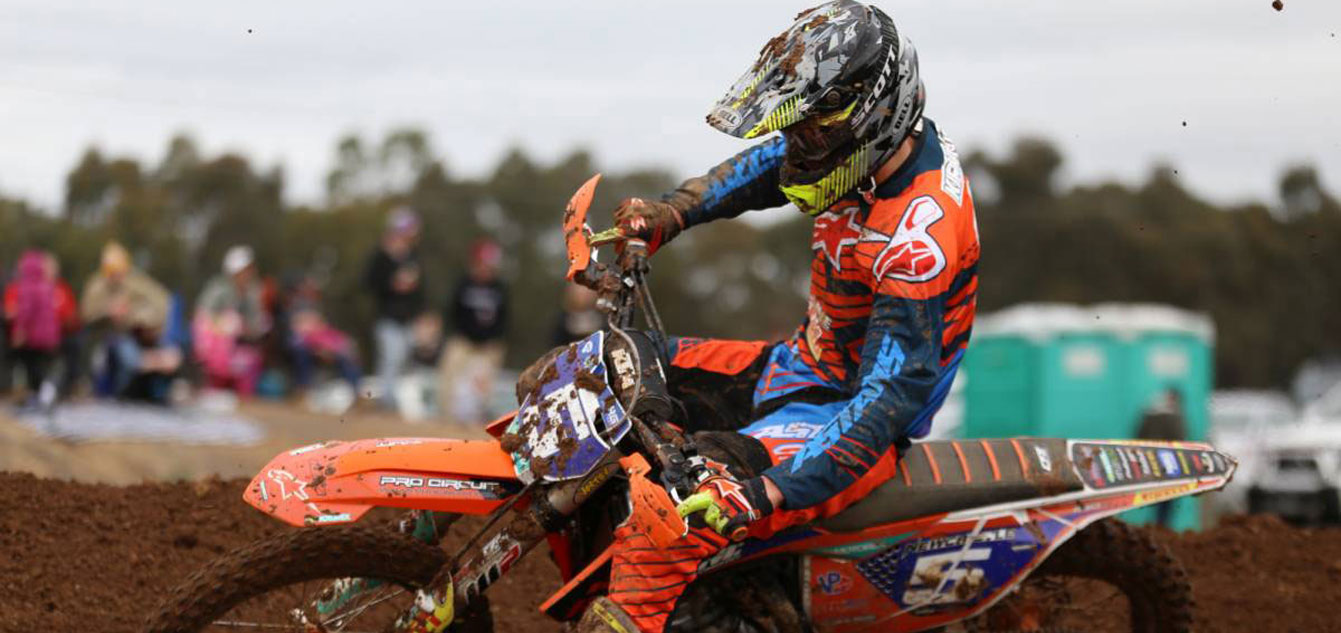 Raceline Pirelli KTM has recorded yet another podium finish, with Pirelli MXD pilot Wade Kirkland securing second overall, while MX2 team rider Dylan Wills was once again consistent at Round 8 of the MX Nationals in Shepparton on the weekend.
Press Release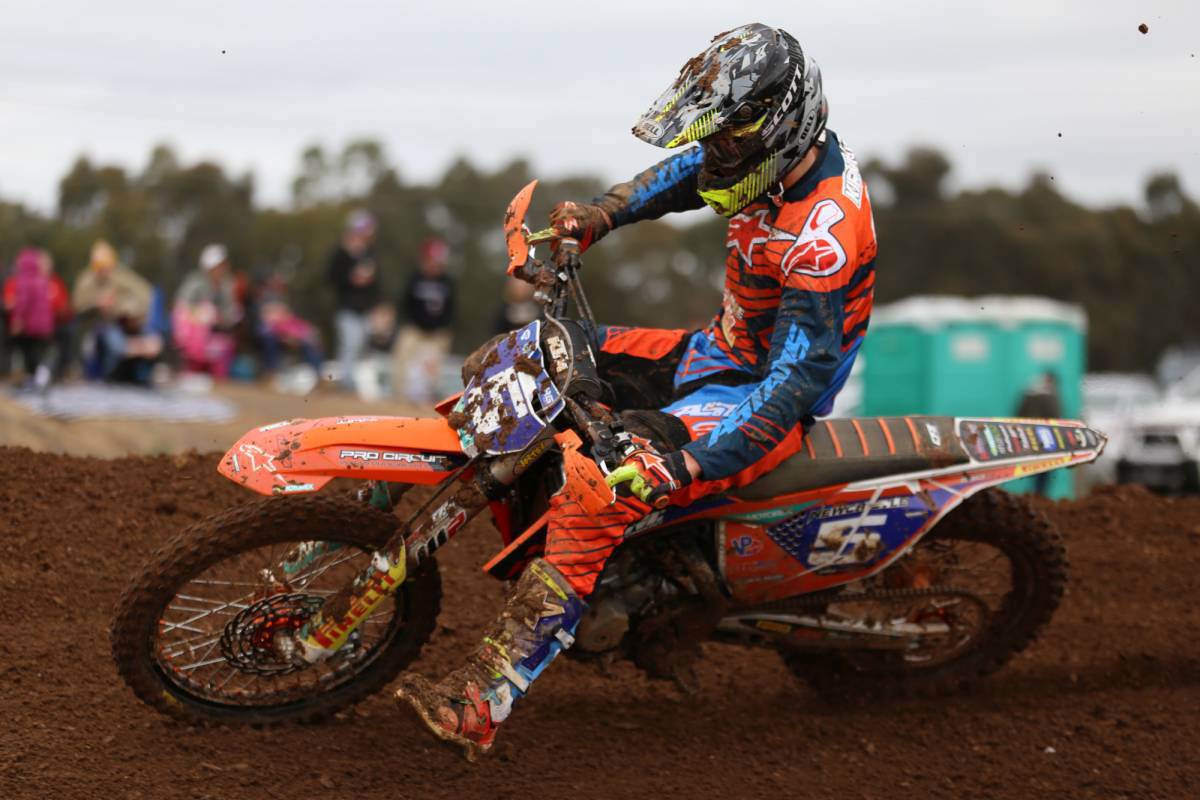 With a tough round at Conondale well and truly behind them, both Wills and Kirkland headed to Shepparton with the anticipation of improved results, and despite the challenging rutty conditions, both riders left the track with plenty of positives yesterday.
Despite being his first year in senior racing, Kirkland showed speed from the minute bikes hit the track yesterday, qualifying in an impressive second position in the Pirelli MXD class. Following a positive qualifying, Kirkland raced to 2nd position in moto one, and 3rd in race two, to conclude the round just shy of the Pirelli MXD top step, in 2nd overall.
"Second overall is another pretty consistent result which keeps me going in the championship," Kirkland said.
"I don't really get to ride the ruts very much in Tassie so I struggled with them. They were difficult, deep, and just hard to balance because they were so long, and bumpy.
"It was definitely tacky dirt, but it had those woodchips in it which was a little bit slippery in some spots, because it is so hard packed.
"But it's good fun and it's all good practice. We're only 12 points off the lead in the championship now so anything can happen!"
For Wills, Round 8 of the MX Nationals proved to be somewhat difficult. After qualifying in sixth place Wills crashed off the start in moto one, forcing him to claw back positions from nearly dead last, eventually finishing in seventh place. In race two, the track was deeper and ruttier than ever, however Wills took to the conditions and concluded the final moto of the day in 8th. With two top ten results, Wills wrapped up the round in a consistent 7th overall.
"Round 8 at Shepparton was a tough one – I qualified sixth which I was happy about, I was right there with the times and I felt good," Wills shared
"In moto one, I got a decent start but tipped over going into the first turn, so I started that race from the back but fought my way back to seventh which I was pretty happy with especially with the MX2 class stacked with talent this year, so to pass that many guys was pretty cool!
"In moto two I started in about tenth and made my way up the field in the first two laps, but then just struggled to break free from a little four-way battle and got caught up making mistakes and a little crash. I got up and got back to eighth.
"All in all, it wasn't an awesome day, but we definitely have positives to take away from it. I had fun going racing with the team, and my bike is awesome! I do feel like I'm getting better, and I'm looking forward to these last two rounds!"
After the weekend's racing, Kirkland maintains third position in the Pirelli MXD Championship standings, while Wills sits in sixth in the MX2 standings, with two rounds of racing remaining.
"It's very good to finish Round 8 with another podium," Raceline Pirelli KTM Team Manager, Chris Woods said. "We had some bad luck at the last round so it's nice to see Wade bounce back and get up there this weekend."
"With Wade being fresh out of junior racing they just don't have conditions like what we had here at Shepparton, so it's great to see him take to a track like that so well.
"Dylan also showed some impressive form today. Those front guys in the MX2 class are flying, but Dylan was able to go forward in both the races and make a lot of passes which was definitely very encouraging.
"All in all, it's been a positive weekend for us and we're happy to be heading in to the final two rounds with two happy and healthy riders."
Raceline Pirelli KTM will now prepare for Round 9 of the 2016 MX Nationals being held at Toowoomba in Queensland on August 21, 2016.