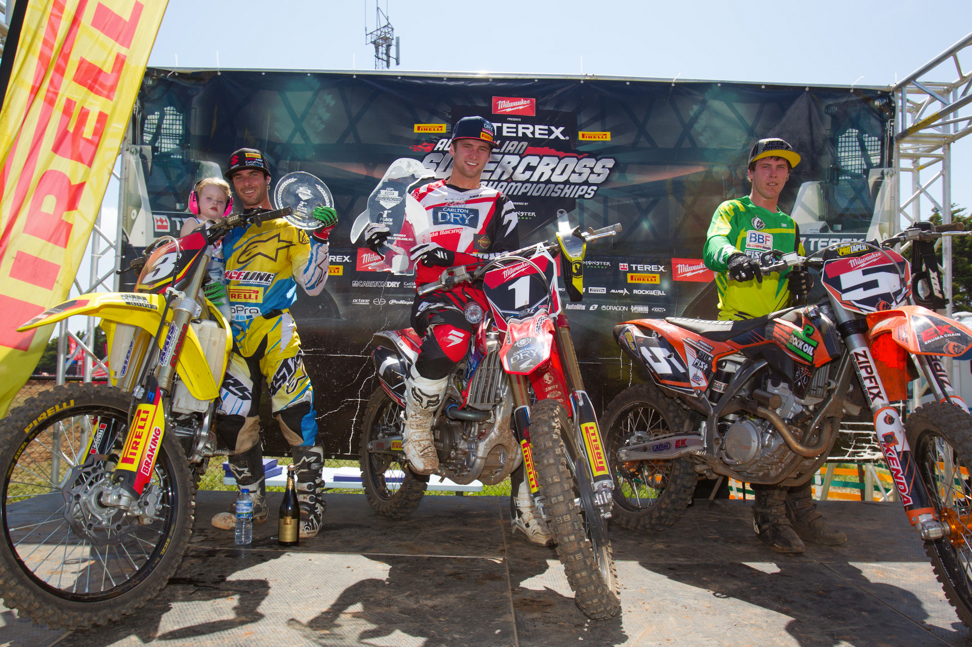 Supercross continues to prove popular with MotoGP fans as Hill heads all Suzuki final podium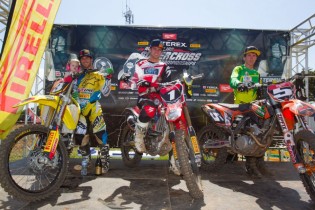 For the second year in succession Milwaukee presents the Terex Australian Supercross Championshp has thrilled race fans at the Tissot Australian Motorcycle Grand Prix. The 2013 format saw two rounds of the national Supercross championship and three rounds of the inaugural EVE Australian Women's Supercross Championship contested over three days on the purpose built track at Lukey Heights.
While Round 4 spoils went to Carlton Dry Honda Racing's Weston Peick, fellow American, Hart & Huntinton/Insure My Ride/DPH Motorpsorts Suzuki rider Josh Hill won the Round 5 Pro Open final ahead of Team Motul Pirelli Suzuki's Matt Moss and his DPH Motorsports teammate Sam Martin.
Hill holeshot the 20-lap final and led the race from start to finish, greeting the chequered flag over four seconds ahead of Moss, whileMartin's third place in yesterday's Pro Open final was his first ever, professional podium. The DPH Motorsports rider, who has steadily improved throughout the series reaped the rewards by riding a smooth and consistent race.
Campbell Mining Suzuki rider Jake Moss battled a gastro virus throughout Sunday and finished the race fourth while Brett Metcalfe crashed on the opening lap and was forced to the sidelines.
Hills victory sees him take a five point lead in the Pro Open championship over Matt Moss with Jake Moss sitting third a further two points behind.
"I am feeling great. it was definitely a pretty good weekend," Hill said. "I came into this event 10 points down and now I am leaving five points ahead.
"We turned things around in Mt Gambier and I certainly haven't slacked off, I have been preparing really hard for this round. I really wanted to get out and dominate this weekend.
"I have to go back to the states for some testing but I can't wait to get back and I think it will be a good battle for the title in Toowoomba," Hill said.
Carlton Dry Honda Racing's Gavin Faith won back-to-back Pro Lites finals at Phillip Island and now leads the championship by five points. Faith led the 15-lap final from start to finish to take the win ahead of Raceline Suzuki rider Ryan Marmont and KTM mounted Dylan Long.
"I couldn't have asked for a better weekend," Faith said "I was so disappointed in myself after Mt Gambier but I think I have redeemed myself now.
"I won't be doing anything different in terms of preparation for the final round, we will keep to our plan and try and carry this momentum forward.
GTYR Yamaha rider Jay Wilson continued to dominate the competitive Under 19's class. Taking his fourth win in succession, Wilson stretched his lead in the championship to sit 22 points clear of Raceline Suzuki rider Jake Emanuelli.
In the EVE Women's Australian Supercross Championship, Kawasaki rider Meghan Rutledge dominated the third round proceedings.
The Australian rider won both of Sunday's races to claim the overall as well as the inaugural championship title ahead of America's Jessica Patterson and Japan's Sayaka Kaneshiro.
The final round of Milwaukee presents the Terex Australian Supercross Championship will be held at Toowoomba Showgrounds on Saturday 16th November.
Top Ten Pro Open Results – Round 5 (Moto GP)
1. Josh HILL (USA) Suzuki, 25,
2. Matt MOSS (NSW) Suzuki, 22,
3. Sam Martin (NSW) Suzuki, 20,
4. Daniel McCoy (NSW) KTM, 18,
5. Jake Moss (NSW) Suzuki, 16,
6. Jay Marmont (NSW) Kawasaki, 15,
7. Jacob Wright (VIC) Honda, 14,
8. Lewi WOODS (VIC) Suzuki, 13,
9. Hayden Mellross (NSW) Honda, 12,
10. Callum Dickson (SA) Honda, 11

Top Ten Pro Open Championship Standings (After Rd 5 of 6)
1. Josh HILL (USA) Suzuki, 103,
2. Matt MOSS (NSW) Suzuki, 98,
3. Jake MOSS (NSW) Suzuki, 96,
4. Weston PEICK (USA) Honda, 83,
5. Daniel McCOY (NSW) KTM, 81,
6. Jay MARMONT (NSW) Kawasaki, 79,
7. Sam MARTIN (VIC) Suzuki, 69,
8. Lewi WOODS (VIC) Suzuki, 42,
9. Kade MOSIG (VIC) Yamaha, 40,
10. Jacob WRIGHT (VIC) Honda, 37
Top Ten Pro Lites Results – Round 5 (MotoGP)
1. Gavin FAITH (Honda), 25,
2. Ryan MARMONT (Suzuki), 22,
3. Dylan LONG (KTM), 20,
4. Luke STYKE (Yamaha), 18,
5. Taylor POTTER (Honda), 16,
6. Brendan HARRISON (KTM), 15,
7. Kayne LAMONT (KTM), 14,
8. Nickolas SUTHERLAND (), 13,
9. Rhys DORREEN (), 12,
10.Luke ARBON (Yamaha), 11
Top Ten Pro Lites Championship Standings (After Rd 5 of 6)
1. Gavin FAITH (Honda), 115,
2. Luke STYKE (Yamaha), 110,
3. Ryan MARMONT (Suzuki), 102,
4. Dylan LONG (KTM), 84,
5. Taylor POTTER (Honda), 70,
6. Kayne LAMONT (KTM), 68,
7. Brenden HARRISON (KTM), 64,
8. Luke ARBON (Yamaha), 59,
9. Nickolas SUTHERLAND (), 55,
10. Luke WILSON (Kawasaki), 47