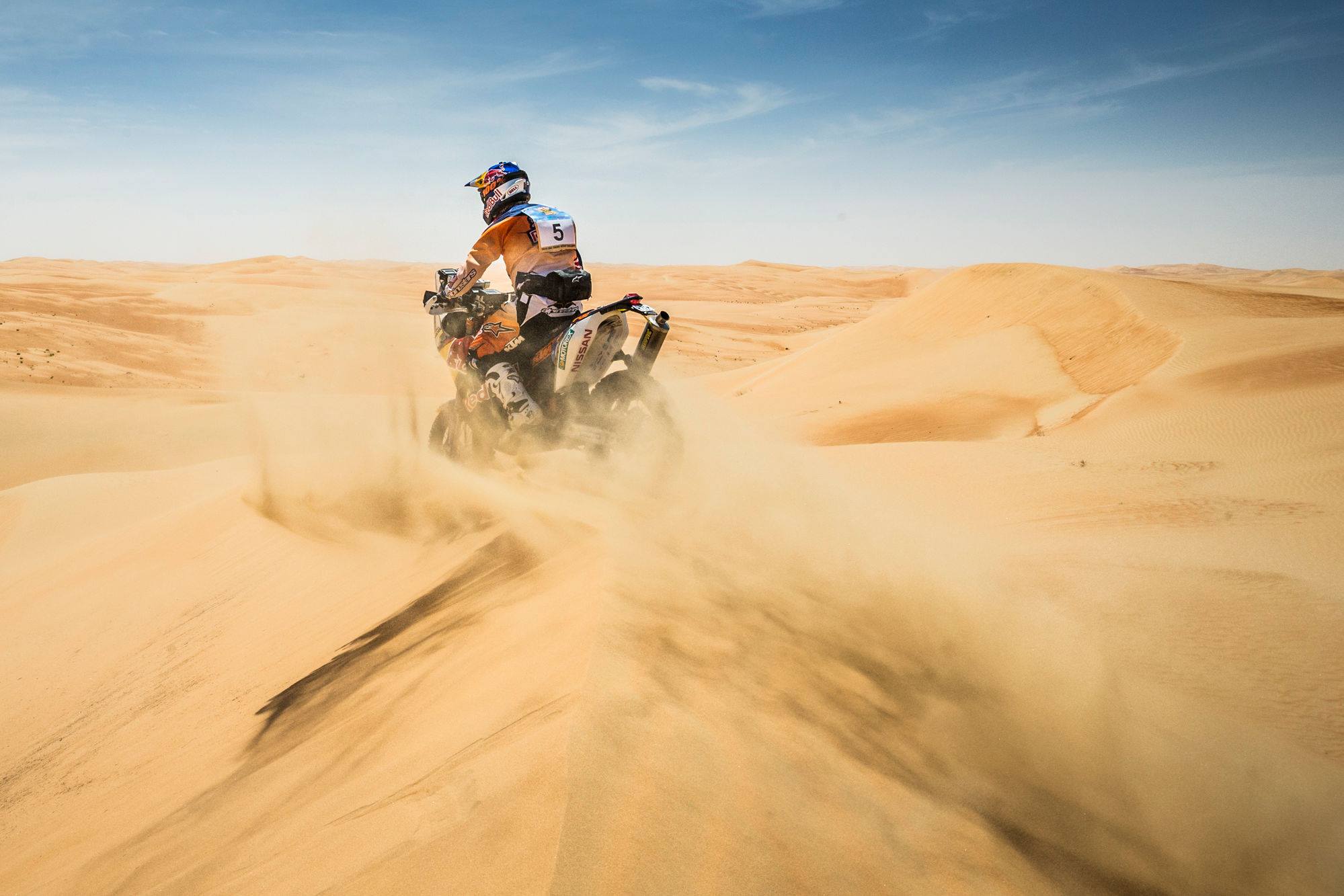 The 2016 Dakar champion will take a 35 second lead into the second stage.
By Hayden Gregory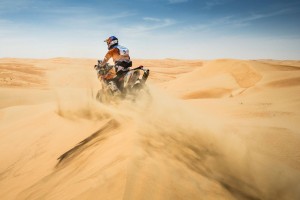 The Abu Dhabi Desert Challenge consists of five challenging stages in the Liwa Desert. The opening day was led by the trio of Price, Sam Sunderland and Pablo Quintanilla who all exchanged the lead a number of times.   The riders were able to pull a 14 minute gap on the rest of the field with Price ultimately taking first stage honours.
"Yesterday we took the win in the prologue and today Sam and Pablo (Quintanilla) and I pretty much raced neck and neck and we all took a turn at the front. It was a good day but this is my first time here in Abu Dhabi and it's a new learning curve for me.
"It gets difficult around midday when the sun is high and that makes everything very difficult to see but it was a good day and I like racing in the desert. There are another four stages and I know I have to ride smooth and not do anything silly."
Abu Dhabi also marks the first round of the FIM Cross-Country Rallies World Championship which will take riders to some of the most extreme racing locations on the planet.  
Results Stage One Abu Dhabi Desert Challenge 2016
1. Toby Price (AUS) KTM 450 Rally Factory 1 3:39.39
2. Sam Sunderland (GBR) KTM 450 Rally Factory 1 3:40.14
3. Pablo Quintanilla (CHL) Husqvarna 450 Rally Factory 1 3:40.48
4. Helder Rodrigues (POR) Yamaha WR 450 1 3:53.47
5. Jakub Piatek (POL) KTM 450 Rally Replica 1/4 3:54.55
6. Txomin Arana Cobeaga (ESP) Husqvarna 450 Rally Replica 1 3:55.27
7. Mohammed Al Balooshi (ARE) KTM 450 Rally Replica 3:56.56
8. David McBride (GBR) KTM 450 Rally Replica 1 4:00.42
9. Laia Sanz (ESP) KTM 450 Rally Factory 1/3 4:05.32
10. Pierre Alexandre Renet (FRA) Husqvarna 450 Rally Factory 1 4:09.16
Standings after Stage One
1. Price, 3:39.39 hours
2. Sunderland, +35 sec
3. Quintanilla, +1.09 min
4. Rodrigues, +14.08
5. Piatek, +15.16