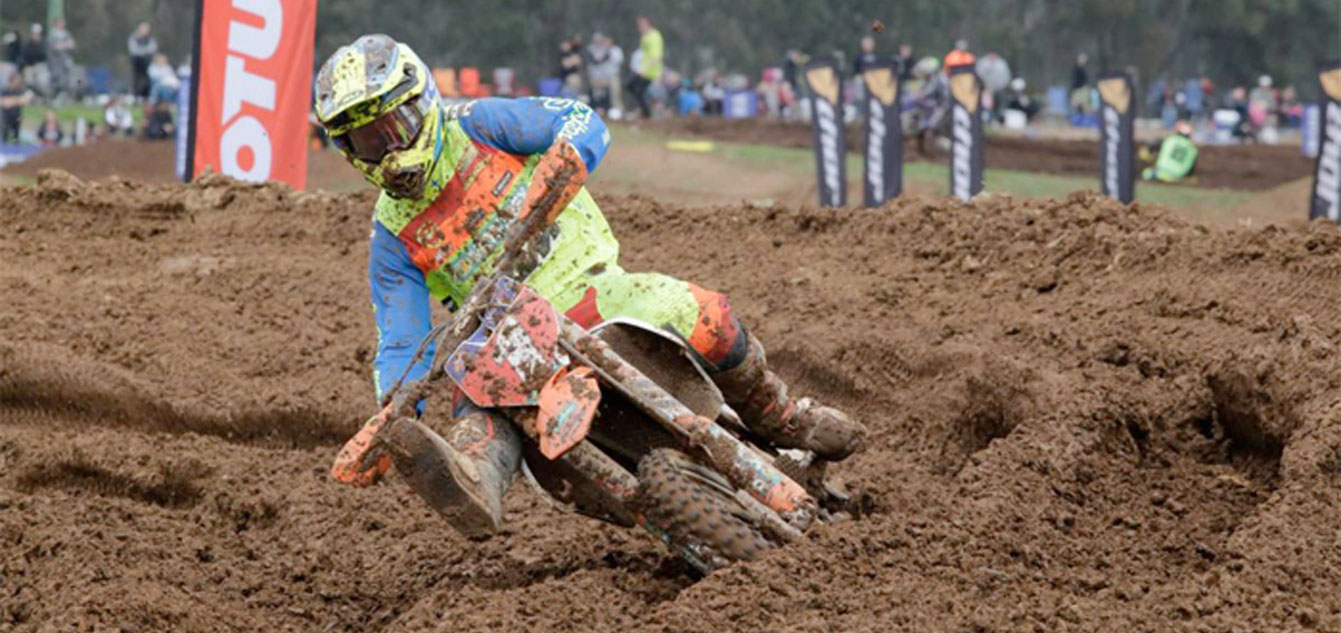 Kirk Gibbs has won round eight of the Motul MX Nationals and extended his championship lead.
By Hayden Gregory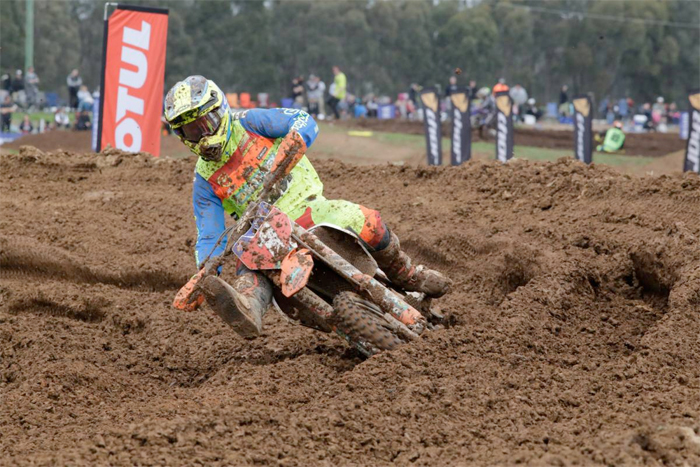 The KTM rider started the day with strong intentions, qualifying fastest before winning his first GoPro Superpole of the year.
As gates dropped in the first moto Gibbs was unable to take advantage of pole position with Kade Mosig capturing the holeshot. A few turns into the race and Dean Ferris had moved into the lead followed by Todd Waters and Gibbs.
The leading trio would hold their positions for the majority of the race tailing each other's every move. A small mistake by Dean Ferris on lap ten proved crucial as he dropped back into third, allowing Waters to take race control.
In the closing stages Waters began to pull away and looked the certain race winner. A huge battle was taking place for second however with Ferris moving ever closer to Gibbs' rear tyre. On the very last lap an aggressive Ferris got his man claiming second place for the moto, while Gibbs dropped back to third.
Moto two got underway with a holeshot to Gibbs, just ahead of Ferris and Mosig. The leading trio were soon joined by Todd Waters with all riders battling for vital championship points.
Ferris once again pressured Gibbs for the lead with the KTM rider unable to hold off his challenger. Ferris looked set for race victory before amazingly going down on the very last lap. In a mad rush, Gibbs shot to the lead with Ferris able to recover for second. Waters was also able to win the battle for third.
In a very tight round, Gibbs was awarded victory on count back with a 3-1 scorecard.
"It's good to be up here. As everyone has said, the three of us are all riding very well, and it's coming down to who can put it all together. Two solid motos, with no crashes and no mistakes," Gibbs said.
"In the final moto things worked out well for me. I got the holeshot and I could feel Dean (Ferris) right behind me the whole time, when he made the pass on me, he ended up making a mistake so I'm happy to take the win.
"I'm just super happy to keep chipping away at this championship, and I'll never give up, so I'm going to keep fighting until the end."
Todd Waters finished on equal points with Gibbs in second while Ferris was only one point adrift in third.
With two rounds remaining, Gibbs holds a nine point lead in the championship with Ferris and Waters still very much in the title hunt.
Thor MX1 round eight results
1) Kirk Gibbs – 65 points
2) Todd Waters – 65 points
3) Dean Ferris – 64 points
4) Kade Mosig – 56 points
5) Jesse Dobson – 51 points
6) Jacob Wright – 49 points
7) Daniel Banks – 46 points
8) Joel Green – 46 points
9) James Alen – 43 points
10) Kurt Gow – 42 points
Thor MX1 Championship Standings
1) Kirk Gibbs – 538 points
2) Dean Ferris – 529 points
3) Todd Waters – 522 points
4) Kade Mosig – 437 points
5) Matt Moss – 381 points
6) Dylan Long – 359 points
7) Jacob Wright – 340 points
8) Jay Wilson – 320 points
9) Michael Menchi– 301 points
10) Daniel Banks – 299 points