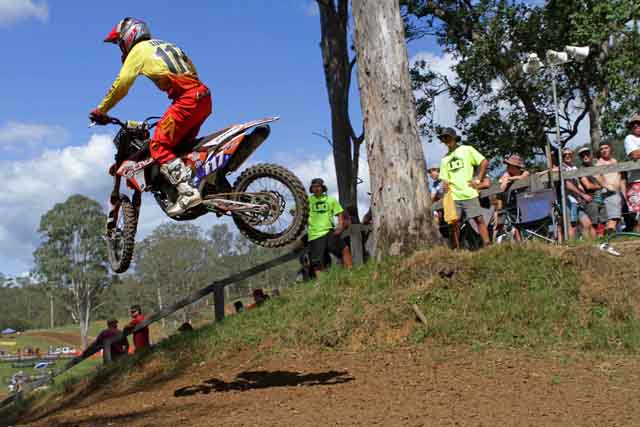 JDR/KTM opens MX Nationals account at Conondale, Long wins MXD class for Choice Motorsports
For Immediate Release: Sunday, 1 April 2012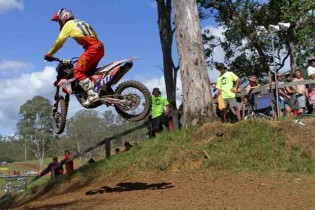 The JDR/KTM Factory Racing team kicked off the 2012 MX Nationals, Australian Motocross Championsip, at Conondale in Queensland on Sunday, 1 April.
Victorian rising star Josh Cachia was top-performing JDR team rider for the round on a 250 SX-F, finishing a solid fourth place overall after claiming 4-3-4 results in the trio of motos to commence the 10-round season.
"The day started off rough because I had one of the biggest crashes that I've had in a couple of years," Cachia explained. "I went to America during the pre-season, felt good and then I came here and was doing nothing. But I got good starts all day, just rode solid and rode my own race. It wasn't given to me, so considering how bad it could have been, it was a good day."
Cachia's teammate Ryan Marmont entered the round under an injury cloud after suffering a wrist injury during the pre-season, battling to 12th position overall. Full Force Racing KTM rider and Sunshine Coast local Brock Winston was 10th.
JDR/KTM's lone MX1 contender Dan Reardon finished the round 11th overall aboard a 450 SX-F, claiming 9-10-11 finishes in a challenging start to the season. The Queenslander, who won the title in 2007, will be looking to turn his fortunes around when the series continues at Coonabarabran in a fortnight.
Another young Victorian took out the MXD category for Under 19s riders in Dylan Long, winning on debut for Choice Motorsports KTM, which was his first career victory in the nationals.
"It's awesome, the Choice Motorsports KTM team backed me all the way to get the win," Long said. "I finished the day strong and that allowed me to take the overall win. I just want to finish as close to the front that I can the whole season and hopefully it will end up good."
Trailing long in a KTM 1-2 for the 250 SX-F was New Zealand guest Kayne Lamont, who won the second of three motos during the round. Long's wins in motos one and two handed him the overall.
For additional information on the JDR/KTM Factory Racing team, visit www.jdrmotorsports.com.au or check the team out on Facebook at www.facebook.com/jdrmotorsports.
Visit www.ktm.com.au on the web for further information on KTM Australia, as well as KTM's full model line-up of off-road and road motorcycles available for 2012.
The series will continue at Coonabarabran, New South Wales, in a two-day event on 14-15 April.
2012 MX Nationals, Australian Motocross Championship
Round One – Conondale, QLD
MX1 Overall Results:
1. Ben Townley 75
2. Josh Coppins 62
3. Todd Waters 54
4. Jake Moss 46
5. Brad Anderson 44
6. Lawson Bopping 41
7. Jay Marmont 41
8. Cody Cooper 38
9. Tye Simmonds 38
10. Billy Mackenzie 34
11. Dan Reardon (JDR/KTM Factory Racing) 33
MX2 Overall Results:
1. Kirk Gibbs 63
2. Ford Dale 62
3. Luke Styke 57
4. Josh Cachia (JDR/KTM Factory Racing) 56
5. Adam Monea 50
6. Justin McDonald 48
7. Kade Mosig 44
8. Cheyne Boyd 35
9. Lewis Woods 35
10. Brock Winston (Full Force Racing KTM) 31
12. Ryan Marmont (JDR/KTM Factory Racing) 28
MXD Overall Results:
1. Dylan Long (Choice Motorsports KTM) 72
2. Kayne Lamont (KTM) 58
3. Sam Martin 49
4. Jay Wilson 48
5. Dylan Leary (7FIVE7 Racing KTM) 47
6. Kale Makeham (KTM) 45
7. Mitch Norris 43
8. Dion Picard 41
9. Mitch Budd 38
10. Joel Milesevic (JBS Motorsports KTM) 34