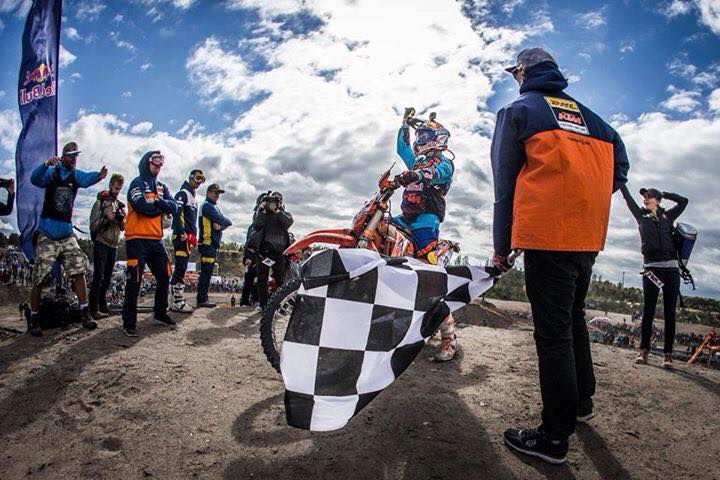 Extreme Enduro Racer Jonny Walker has claimed another 2015 victory adding the Red Bull 111 Megawatt to his list of achievements.
Story by Hayden Gregory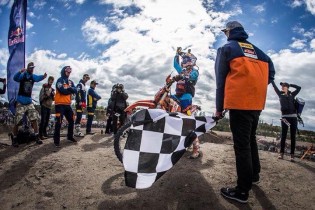 The KTM rider had a positive start to the Polish track recording fourth place in qualifying.  Looking both comfortable and relaxed, Walker impressed early on settling into second place behind Joakim Ljunggren. It didn't take long for the Enduro master to pass into first place before making an uncharacteristic mistake, falling from his bike and down to third position.
Determined to win back his spot, Walker rode with a sense of purpose, regaining his lead before opening up a vital advantage. The second half of the race came mistake free for the KTM rider as he went on to claim the chequered flag three minutes ahead of his closest competitor Graham Jarvis.
"I'm made up with the win – it's exactly the result I was aiming for." Walker commented. "After finishing second last year I really wanted to win badly today.

"To be honest I can't really fault my race too much. I got a decent start and tucked in behind Joakim on the first lap. But it was so dusty, so I made a big effort to pass him and get into the lead.

"Shortly afterwards I crashed and dropped three places. Pushing hard to regroup I got back into the lead before the first refuel point starting lap two. After that I just tried to ride my own race, avoid trouble and took the win."
Graham Jarvis of Husqvarna was extremely pleased to finish in second place behind Walker after qualifying in ninth position.
"I think I've surprised even myself with this result – it's almost like a win for me here." Jarvis admitted. "When I arrived and saw the course I didn't think I could crack the top five let alone the podium so second is fantastic.
"I didn't get a great start and struggled to see in the dust. That dropped me back but I didn't let it bother me and rode my own race. I kept picking riders off all the time and suddenly I got to fifth. Then I closed in on Alfredo and Manuel and was third.
"I was happy with that but when I got to the final climb and saw Joakim stuck I couldn't believe my luck. I gassed it and passed.
Jonny Walker will look to continue his unbeaten run in major extreme enduro races lining up in Turkey for Red Bull's Sea to Sky, October 2-4.
Results – Red Bull 111 Megawatt
Jonny Walker (KTM)  1:41:21.85
Graham Jarvis (Husqvarna) 1:44:10.22
Joakim Ljunggren (KTM) 1:44.15.85
Alfred Gomez (Husqvarna) 1:44.56.39
Manuel Lettenbichler (KTM) 1:45.50.06
Lukasz Kurowsk (Yamaha) 1:47.24.47
Andy Noakley (KTM) 1:51.38.72
David Leonov (Husqvarna) 1:56:05.04
Dimitri Parshin (Sherco) 1:56.23.41
Emil Juszczak (KTM) 2:00.25.47