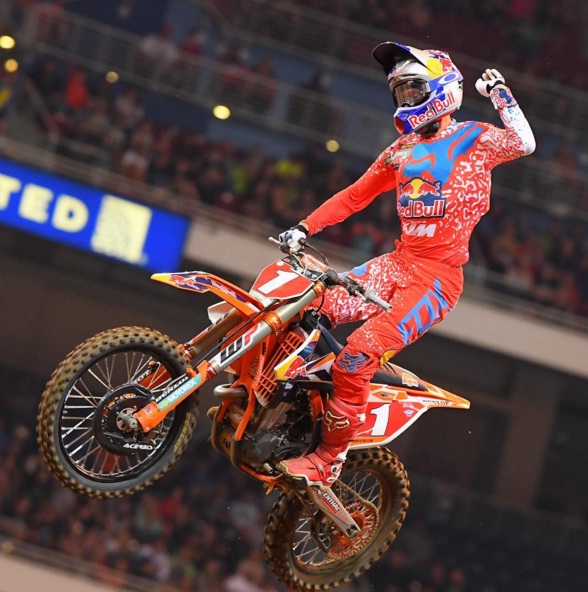 The Red Bull KTM rider has won his third consecutive main event to further extend his dominance in the premier class.
By Hayden Gregory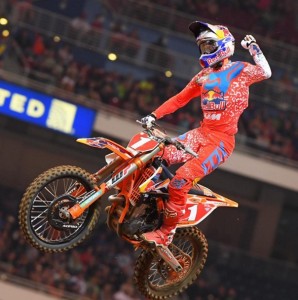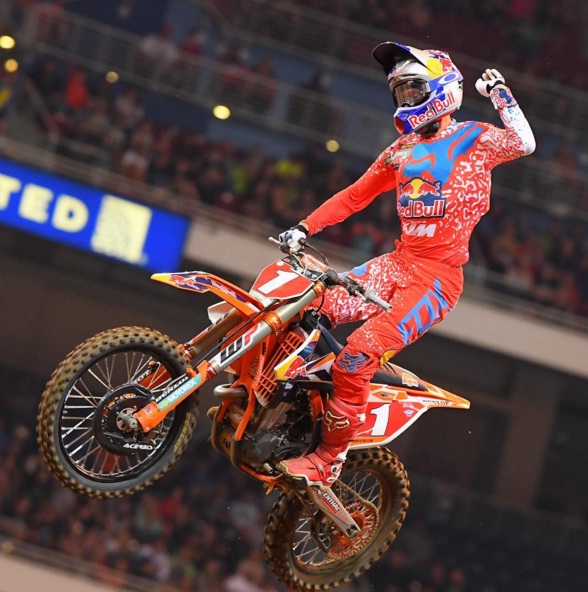 The main event once again played out a thrilling battle between Ryan Dungey and Suzuki's Ken Roczen, with the two not giving up an inch for the majority of the race.
Dungey claimed a wide holeshot closely followed by Roczen and Justin Brayton in third. The leading pair would settle in, ready for another 20 laps of bar banging while once again the pack would play chase. Roczen held off Dungey's rear wheel for a number of laps just waiting for a chance to make a pass.
In the battle for third place Anderson would make an aggressive move on Brayton, knocking the BTO Sports racer from his bike putting a dent in what was shaping up to be a very impressive ride, as he fell to tenth place.
Out in front Dungey and Roczen began to approach lappers forcibly closing the gap between the pair. For a brief moment Roczen gained the lead before a classy Dungey was able to move straight back into control. As we look set for a grandstand finish Roczen washed out his front tyre in a turn, handing Dungey some much needed breathing room. While Roczen recovered quickly he was not able to prevent a pass being made on him by Jason Anderson.
Dungey cruised on for victory claiming his 30th career 450SX win and his 30th consecutive podium finish.
"[Roczen and I] were really pushing for the third week in a row. I needed to eliminate the mistakes and put the hammer down," said Dungey. "[Roczen] came up on the inside and got by me, but then made a little mistake in the next corner that allowed me to slip under and get back by. After that I found some new lines and that helped a lot." 
Roczen continued to aim for second place, pushing Anderson until the very last few corners, reclaiming second place after encountering lappers on the second last turn.  It was the third straight race in which Dungey, Roczen and Anderson finished first, second and third respectively.
"[Dungey and I] are both riding really good. That's the fun part," said Roczen. "I really wanted the win, but I tucked the front end. Hats off to Ryan. He's riding great right now and got the win today."
Dungey now leads Roczen by 48 points in championship standings with Anderson a further 20 behind.
In the 250SX Eastern Regional championship, Jeremy Martin became the first dual round winner of the season.  Martin led start to finish in an impressive showing, beating home Aaron Plessinger and Shane McElrath.
Martin secured his first holeshot award of the season with championship leader Malcolm Stewart hot on his tail. While making his charge Stewart hit the dirt in what would mark the start of a very frustrating ride for the GEICO racer.
With Stewart out of contention, Martin was able to open a healthy lead ahead of McElrath and Plessinger. Stewart was fighting his way back to seventh before his second crash dropped him all the way back to 13th. On the same lap Plessinger moved into second  and the top three would remain unchanged for the rest of the race.
Martin comfortably secured victory for his fourth career win ending the historic stretch of five different winners in as many rounds for the 250 class.
 "It was nice to get the holeshot since I've been on ground two of last three weekends," said Martin. "I was able to get a good start and ride my own race, and not worry about anything but hitting my lines. We've had a lot of different winners [in the Eastern Regional Championship] this season, but it feels good to get that second win first." 
Plessinger followed up his first career victory last weekend with a second place finish while McElrath claimed third for his second podium finish of the season.
"I got off to an [okay] start. I just put my head down and charged past people. I got by Shane [McElrath] and sat in second. It was all I could do," said Plessinger. "Jeremy [Martin] was just riding really well. I'm just going to take [the championship battle] race by race. Obviously it's close, but I can't think about it too much otherwise I [might] lose it." 
Stewart would reach as high as sixth place before yet another crash saw him back in the pack once more. In what was an extremely frustrating race the GEICO Honda rider could only manage 8th overall, yet it was enough for him to hold onto the overall championship lead.
Plessinger sits one point shy in second place with Jeremy Martin 16 points off the lead in third.
Monster Energy Supercross continues next Saturday, April 23, with its debut from Gillette Stadium in Foxborough, Massachusetts, for the 15th race of the season.
450SX Class Results
1. Ryan Dungey, Belle Plaine, Minn., KTM
2. Ken Roczen, Clermont, Fla., Suzuki
3. Jason Anderson, Rio Rancho, N.M., Husqvarna
4. Justin Bogle, Cushing, Okla., Honda
5. Trey Canard, Edmond, Okla., Honda
6. Chad Reed, Dade City, Fla., Yamaha
7. Eli Tomac, Cortez, Colo., Kawasaki
8. Josh Grant, Wildomar, Calif., Kawasaki
9. Justin Brayton, Mint Hill, N.C., KTM
10. Mike Alessi, Hilliard, Fla., Honda
450SX Class Championship Standings
1. Ryan Dungey, Belle Plaine, Minn., KTM – 328
2. Ken Roczen, Clermont, Fla., Suzuki – 280
3. Jason Anderson, Rio Rancho, N.M., Husqvarna – 260
4. Eli Tomac, Cortez, Colo., Kawasaki – 226
5. Chad Reed, Dade City, Fla., Yamaha – 208
6. Marvin Musquin, Corona, Calif., KTM – 188
7. Cole Seely, Sherman Oaks, Calif., Honda – 173
8. Justin Brayton, Mint Hill, N.C., KTM – 161
9. Trey Canard, Edmond, Okla., Honda – 154
10. Jake Weimer, Wildomar, Calif., Suzuki – 114
Eastern Regional 250SX Class Results
1. Jeremy Martin, Millville, Minn., Yamaha
2. Aaron Plessinger, Hamilton, Ohio, Yamaha
3. Shane McElrath, Canton, N.C., KTM
4. RJ Hampshire, Brooksville, Fla., Honda
5. Gannon Audette, Tallahassee, Fla., Kawasaki
6. Anthony Rodriguez, Cairo, Ga., Kawasaki
7. Alexander Frye, Huntingtown, Md., KTM
8. Malcolm Stewart, Haines City, Fla., Honda
9. Tyler Bowers, Corona, Calif., Kawasaki
10. Paul Coates, Zephyrhills, Fla., Honda
Eastern Regional 250SX Class Championship Standings
1. Malcolm Stewart, Haines City, Fla., Honda – 115
2. Aaron Plessinger, Hamilton, Ohio, Yamaha – 114
3. Jeremy Martin, Millville, Minn., Yamaha – 99
4. Martin Davalos, Clermont, Fla., Husqvarna – 83
5. Tyler Bowers, Corona, Calif., Kawasaki – 78
6. Gannon Audette, Tallahassee, Fla., Kawasaki – 77
7. RJ Hampshire, Brooksville, Fla., Honda – 77
8. Shane McElrath, Canton, N.C., KTM – 73
9. Justin Hill, Yoncalla, Ore., KTM – 63
10. Matt Bisceglia, Weatherford, Texas, Suzuki – 58