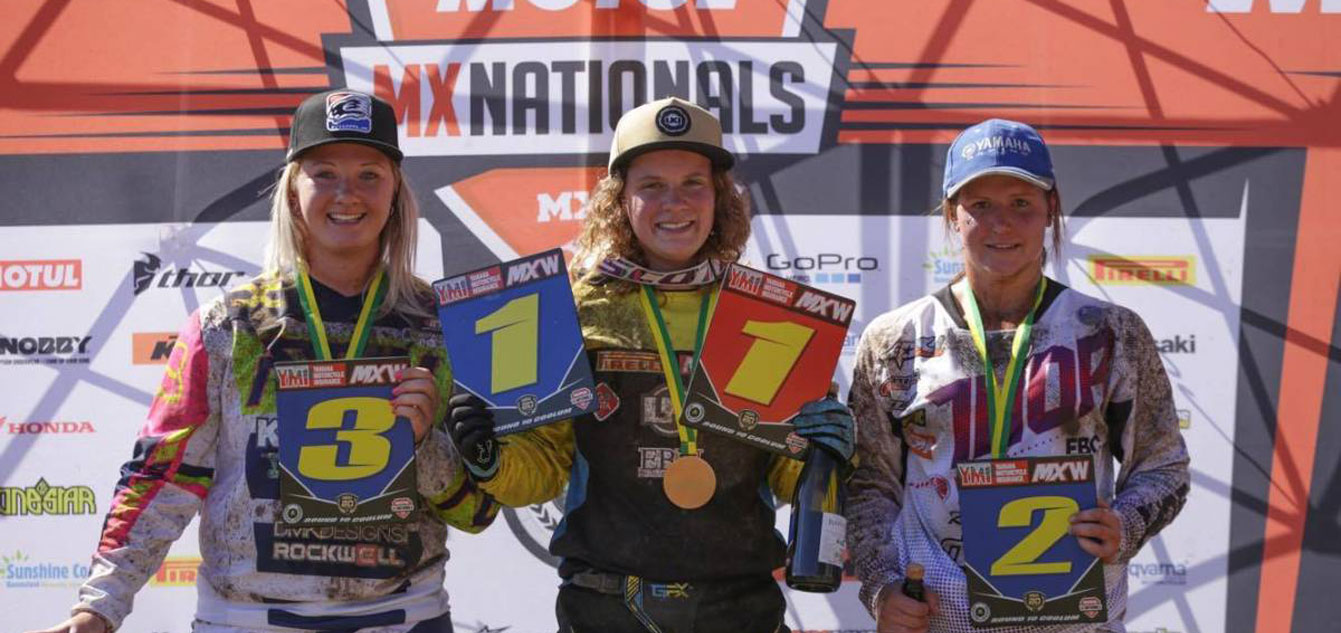 The 19 year old shone on both days of racing in Coolum to cause a massive boilover.
By Hayden Gregory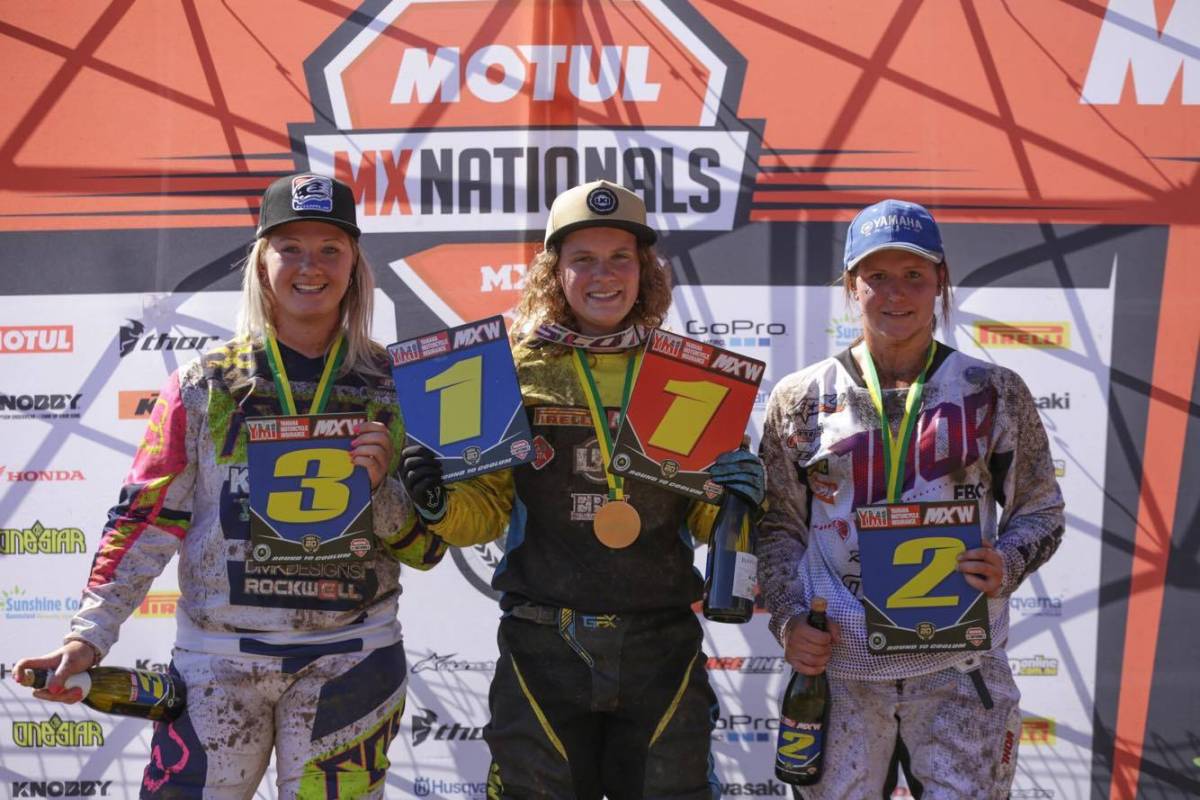 During qualifying Kawasaki's Meghan Rutledge put her hand up as the woman to beat, posting the fastest time ahead of KTM's Jessica Moore and defending champ DPH Motorsport's Maddy Brown.
In the opening moto, Steph Cutler scored the MXStore holeshot before Brown quickly moved into the race lead closely trailed by Rutledge. The pair began to pull away from the pack, setting off on an exciting battle for moto victory. Jessica Moore and Yamaha's Emma Milesevic were the best of the rest following in second and third places respectively.
On lap six, drama struck Rutledge while in the race lead, crashing in a turn and losing a number of positions. The incident allowed Brown to comfortably roll on for race victory with Moore claiming second ahead of Tayla Jones in third. Milesevic dropped to fourth while Sarah Guthrie rounded out the top five.
Maddy Brown scored her second holeshot of the day in moto two, with Rutlegde once again mounting huge pressure on her rear wheel. The pair battled for a number of laps before colliding and causing a massive change to the running order.
KTM's Moore jumped into the race lead ahead of Milesevic and Jones. From that point on the positions would remain unchanged with Moore claiming moto two victory.
A night of rest and the women returned on Sunday for two more championship motos.
The third kicked off and Rutledge and Brown once again found themselves in a commanding position. The battle for third was heating up and Moore made a fantastic pass on Jones for the podium position. In a relatively uneventful moto, Rutledge would press on to claim her first win of the weekend ahead of Brown and Moore.
The final race began with a holeshot to Moore before Milesevic moved to the front. Rutledge showed early speed to round up both girls while Moore fell to third. Brown found herself back in sixth position yet the defending champ was not ready to throw in the towel. The DPH Motorsport rider slowly worked her way through the field moving up into third place with a huge pass on Moore.
In the closing stages, the standings looked all but confirmed before Brown amazingly slowed prematurely before the chequered flag. The amazing turn of events saw Moore miraculously make a pass into third right on the line as Brown cost herself back to back championship titles.
Jessica Moore was awarded the 2016 Yamaha Motorcycle Insurance Australian Women's Motocross Championship on 127 points.
"I'm absolutely speechless. My whole life, I've lived in the shadows of those other girls and being from WA, we sort of get forgotten being so far over the other side of the country," Moore shared.
"It's been four years since I've raced a Women's National just because of injuries and stuff like that, so to take it out today is unbelievable.
"The way we did it in that last race – I pumped up, and I was so far back, and I saw that Maddy shut off early and I just went for it and took it across the line.
"If it wasn't for a couple of guys and Jeff Leisk I wouldn't have been racing this year so I'm so glad we did it, and I can't thank them enough."
Maddy Brown claimed second for the weekend on 123 points while Meghan Rutledge landed on the final step of the podium on 119.
2016 YMI Australian Women's Championship results:
1) Jessica Moore – 127 points
2) Maddy Brown – 123 points
3) Meghan Rutledge – 119 points
4) Emma Milesevic – 116 points
5) Tayla Jones – 114 points
6) Dannielle Foot – 100 points
7) Sarah Guthrie – 100 points
8) Jessica Gardiner – 91 points
9) Courtney Whyte-Dennis – 86 points
10) Chelsea Blakers – 79 points