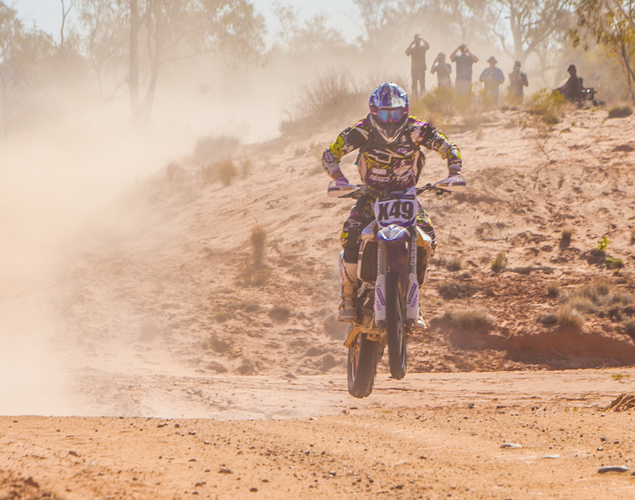 Active8 Yamaha Yamalube Racing Team's Josh Green rode to an impressive third place finish in this year's grueling Tatts Finke Desert Race, held Sunday and Monday in the Northern Territory.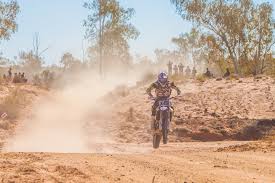 Green, 22, finished the 456-kilometer blast from Alice Springs to the small Aputula (Finke) community and back just a minute forty behind seasoned desert racer, Jake Smith. Todd Smith was the Outright victor.
"It's the first time since about 2005 that a Yamaha has been on the podium," Green's team manager and fellow competitor, AJ Roberts, said.
"The last time we took the Outright was when Stephen Gall won in 1986. This is our team's ambition, to hopefully put Yamaha back on the top step one day. Josh's podium result this year was a huge step forward for us and we couldn't be more proud of his effort."
Green said that he was thrilled to get a blue machine up on the box in an event that had "pretty much been an orange show".
"KTM have dominated Finke for a long time," Green said. " I certainly didn't expect to come out and finish ahead of guys like Ben Grabham or land on the podium, especially considering this is my first Finke and the first time I've even attended one of them. My YZ450F really was the best bike for the job and the support I have received from Yamaha and my team has been incredible. I couldn't have achieved any of this without them."
Green said the race certainly was "scary".
"Apparently it was the toughest the track's been in years," he said. "It was about four times rougher than I was prepared for. The soft sand came through and the ruts and whoops got really deep. My run down was super dusty and I had to pass like four people – no mean feat when you're traveling at over a hundred and fifty kilometers per hour through meter deep sand whoops.
"I was going great on the way home, catching people and making clean passes. It was going really well, until my hands tore to shreds. They hadn't totally healed from the Yamaha AORC a few weeks ago… I've never had blisters and tears in my hands this bad, that's for sure."
But Green said the atmosphere of this iconic race and its more than 10,000 revelers more than made up for any pain he was experiencing.
"It's amazing the amount of people that get involved," he said. It's crazy – the whole 226 kilometers you don't go five minutes without seeing people camping and cheering, right on the edge of the track. The camping atmosphere at the other end was awesome, too. I saw better fireworks than I saw at New Year's and everyone was camped out. It was very cool."
Green adds this podium result to his first Yamaha AORC Outright victory, scored at round five in Victoria.
"Everything's starting to come together for me. I'm maturing as a rider and I think a lot more – I'm not hanging it out as much. I just want to keep getting good results and getting Yamaha on the podium. It's not even about winning for me. I just want to get good results every weekend, be consistent and be seen everywhere I go."
Green's team boss, AJ Roberts, also competed aboard a YZ450F and finished third in the prologue for the race, but was unfortunately forced to retire at about the 80-kilometer mark on day one after pinching a nerve in his neck.
The 30-year-old from Bribie Island (QLD) said he was recovering well and should definitely be back on the bike for the next national race: rounds seven and eight of the Yamaha AORC being held at Coonawarra (SA) on June 29th and 30th.
Yamaha did claim a class win for the motorcycles, with long-time Finke campaigner, Rod Faggotter, claiming the top spot in the Master's 35 to 39-years Class. Faggotter finished a commendable 14th Outright and was 30-minutes ahead of the second-placed masters class rider.
The Finke Desert Race is one of the biggest community sporting events in the nation and one of the largest annual events in the Northern Territory. Now in its 38th year, more than 500 bike, car and quad entrants hit the desert to see who was the quickest from Alice Springs to the small Aputula (Finke) community and back – a total of about 440-kilometers in two days.
For full results and info on the event, visit: http://www.finkedesertrace.com.au/
Check out the new team video: http://www.youtube.com/watch?v=s1e_9Xjzbjc
The Active8 Yamaha Yamalube Racing Team is proudly supported by: Active8 Electrical and Refrigeration, Yamaha, Yamalube, MotoBarn, GYTR, Force Accessories, Michelin, AXO, LKI clothing, Tallon, Safari tanks, Goodridge, Bazzaz, Protaper, Kustom MX Graphics, Just One Helmets, DID, Cycra Plastics, Etnies, KCTools, Race Tech, Eks Goggles, Falco boots, Three Six Motorsports , Uni Filter and Voss Signs.
For more information on Yamaha please visit http://www.yamaha-motor.com.au/
Media: Leigh Hutton (Shooting Star Media) – 0400 465 101
2013 Tatts Finke Desert Race
Bikes & Quads Outright Top-20
| | | | | | | | | |
| --- | --- | --- | --- | --- | --- | --- | --- | --- |
| 1 | 5 | 3 | Smith, Todd | Condobolin, NSW | Honda CRF450R | 02:00:23 | 02:01:44 | 04:02:08 |
| 2 | 5 | 11 | Smith, Jake | Condobolin, NSW | Honda CRF450R | 02:03:05 | 02:02:58 | 04:06:03 |
| 3 | 5 | X49 | Green, Joshua | Soldiers Point, NSW | Yamaha YZF450 | 02:04:04 | 02:03:38 | 04:07:42 |
| 4 | 2 | 5 | Bewley, Jarrod | Oberon, NSW | Husaberg FE 501 | 02:05:49 | 02:03:41 | 04:09:30 |
| 5 | 2 | 298 | Long, Ivan | Tanunda, SA | KTM 500 EXC | 02:07:23 | 02:03:21 | 04:10:44 |
| 6 | 5 | 7 | Dooley-Mcdonnell, Jack | Alice Springs, NT | Honda CRF450R | 02:07:44 | 02:05:29 | 04:13:14 |
| 7 | 5 | X96 | Auricht, Caleb | Pacific Paradise, QLD | Honda CRF450R | 02:07:56 | 02:08:11 | 04:16:08 |
| 8 | 5 | 4 | Fish, Mathew | Kyneton, VIC | KTM 450SXF | 02:09:41 | 02:08:06 | 04:17:48 |
| 9 | 5 | 17 | Summers, Lachlan | Alice Springs, NT | Kawasaki KXF450 | 02:10:46 | 02:10:57 | 04:21:43 |
| 10 | 5 | 552 | Marr, Lachlan | Alice Springs, NT | Honda CRF450R | 02:12:16 | 02:10:01 | 04:22:18 |