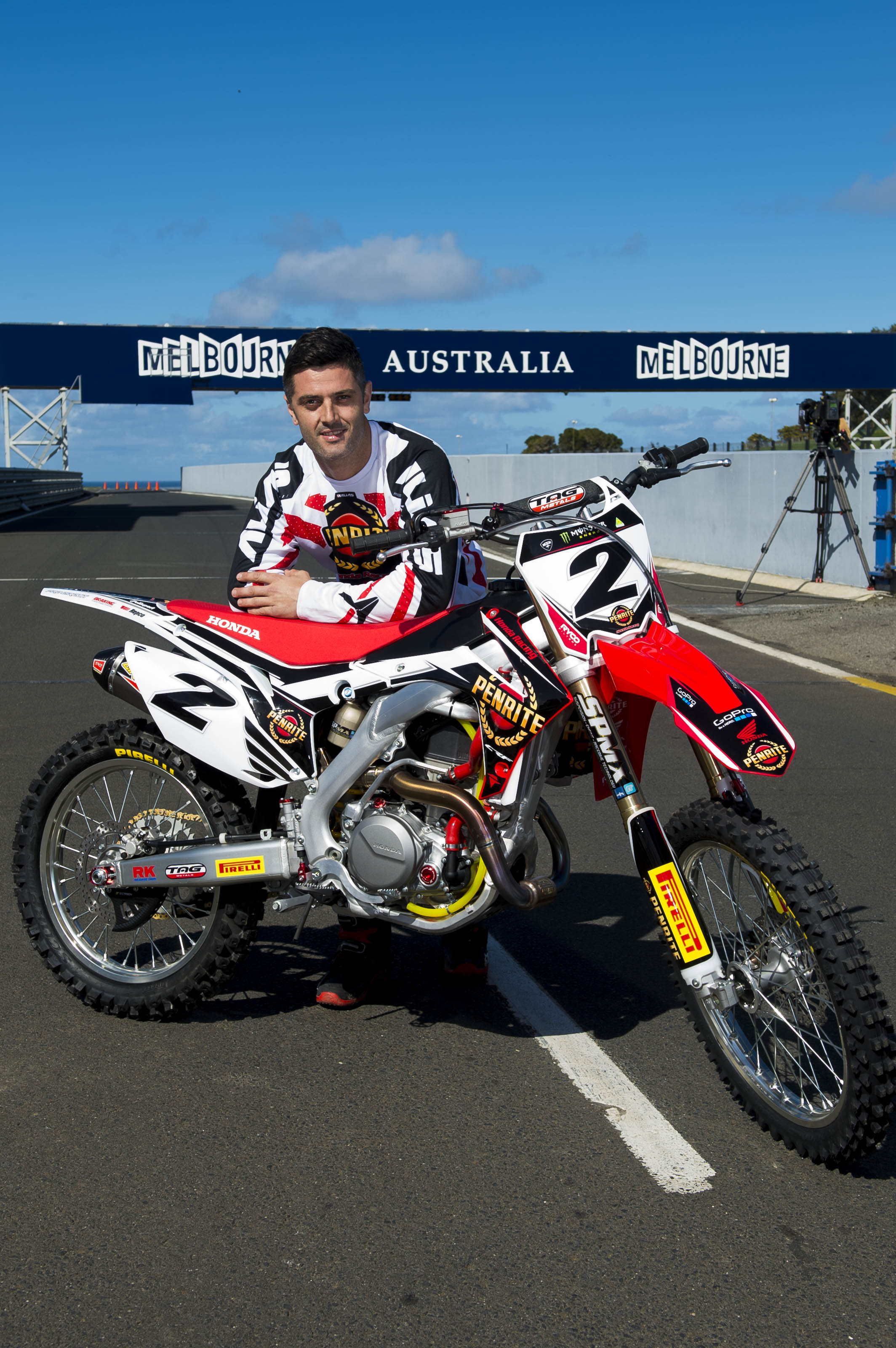 Penrite Oil Honda Racing welcomes eight-time Australian champion Jay Marmont
Penrite Oil Honda Racing is excited to confirm eight-time Australian champion Jay Marmont will join the team for the 2014 Australian Supercross season.
The tenacious champion is eager to repeat his 2012 result and capture championship number nine.
"I have been speaking to the Penrite Oil Honda Racing team over the past two months," Marmont confirmed. "I knew I had something left in me and I still love riding and racing.
"I always wanted to race supercross this year and I can't thank Penrite Oil, Honda and their team sponsors enough. Without them giving me a chance I would be sitting on the couch and I am not ready for that."
The New South Wales rider will be racing Honda's CRF450R in the upcoming Australian Supercross Championship which commences in Bathurst (NSW) on October 10.
"It's going to be awesome to see Supercross running on the same weekend as the V8 Supercars," Marmont continued.
"It is generally an epic weekend anyway and now race fans can get non-stop motorsport. Supercross is something that's respected by all racers and most of the V8 drivers are following our sport. To have V8 Supercars during the day and Supercross at night will be massive".
The Penrite Oil Honda Racing team have had a challenging motocross season and are looking forward to focussing their attention on Supercross.
Honda Racing Manager Glyn Griffiths said he is excited by the Penrite OIl Honda Racing Team's newest signing.
"Having champions on the team provides maturity and sense of stability," Griffiths said. "Jay brings a lot to the team and we welcome his input."
Marmont has had an illustrious career. In the past 11 years he has won eight Australian championships. The 31 year old from Wollongong has represented Australia in the Motocross of Nations and has been an enormous presence in racing in Australia for the past 25 years.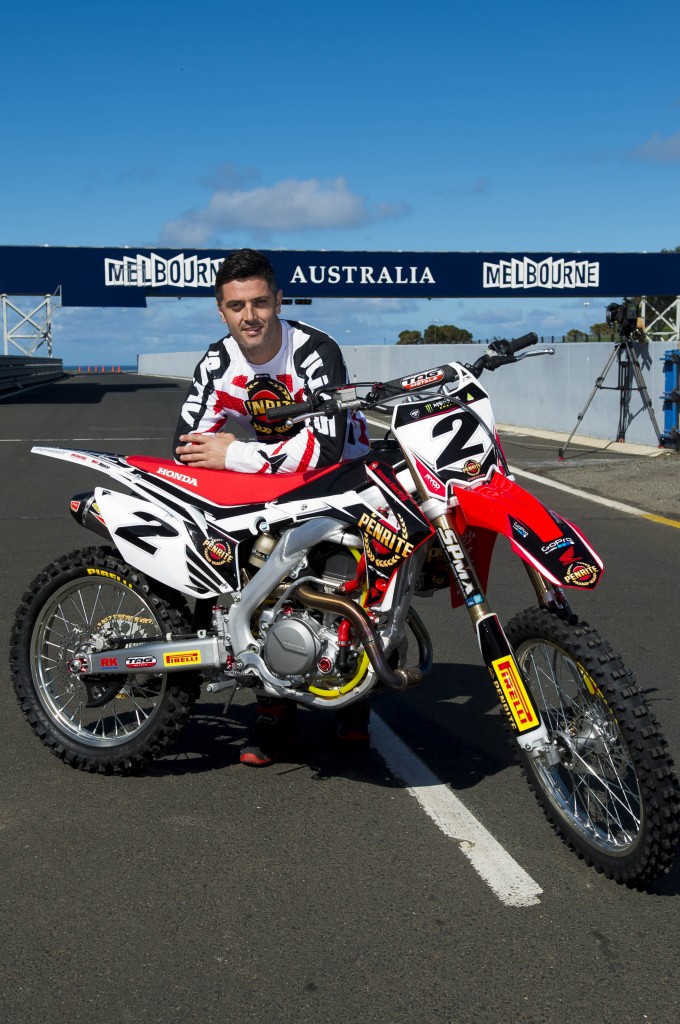 Acknowledging he still feels competitive and can't wait for this latest challenge Marmont said he is looking forward to hitting the practice track with the Honda CRF450R.
"I need to get hours underneath me on the new bike but I feel confident I can be competitive," Marmont said.
"I rode the bike before I signed on to race and it has many great qualities you need in a production bike. It turns unbelievably well and feels balanced. We will start testing in the coming weeks.
The team and Jay will review his position for 2015 and maintain an open mind.
"I have been racing non-stop for 27 years and it the highest level. I think with some time off over summer next year I can be ready for 2015 to race Supercross again," Marmont said.
"I have dealt with a lot of things personally and it has been hard to get down time. I have two beautiful children and it will be great to spend time with them over summer next year and regroup.
"I have other plans that I am working on in the sport. I love motocross and I have no reason to walk away. Again thank you to Penrite Oil and Honda, I was worried after so many years I was going to have to find work outside of the sport. I feel I have something to give back still," Marmont added.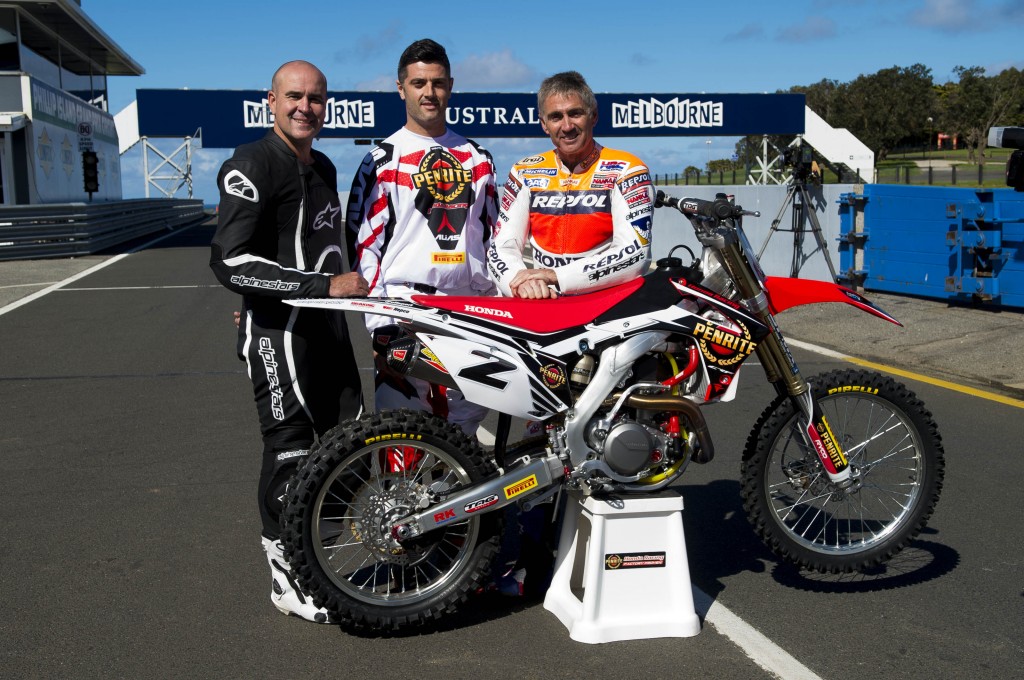 Marmont joined Honda legends Mick Doohan and Daryl Beattie yesterday at Phillip Island to view the arena cross version of the track, which will be redeveloped for Rounds 2 and 3 of the 2014 Australian Supercross Championship.
The 2012 champion provided input on the necessary track changes and took the opportunity to do some laps on his new Penrite Oil Honda CRF450R.