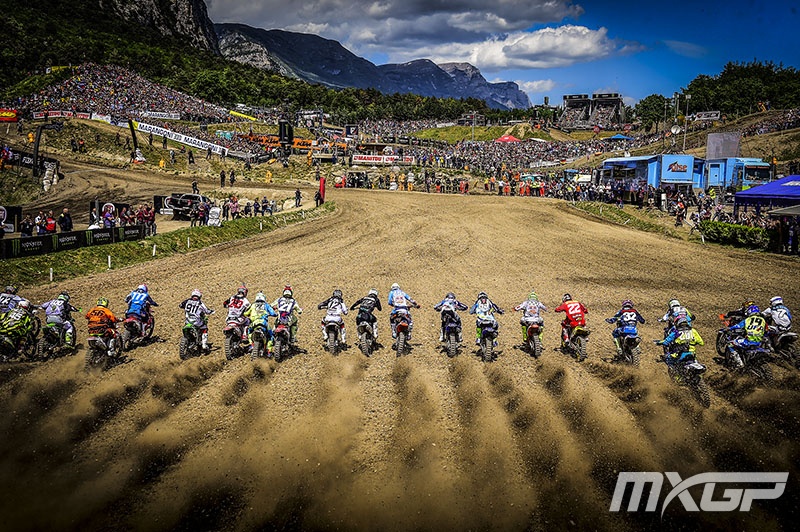 Hear from the stars of the show following round eight of the FIM World Championship.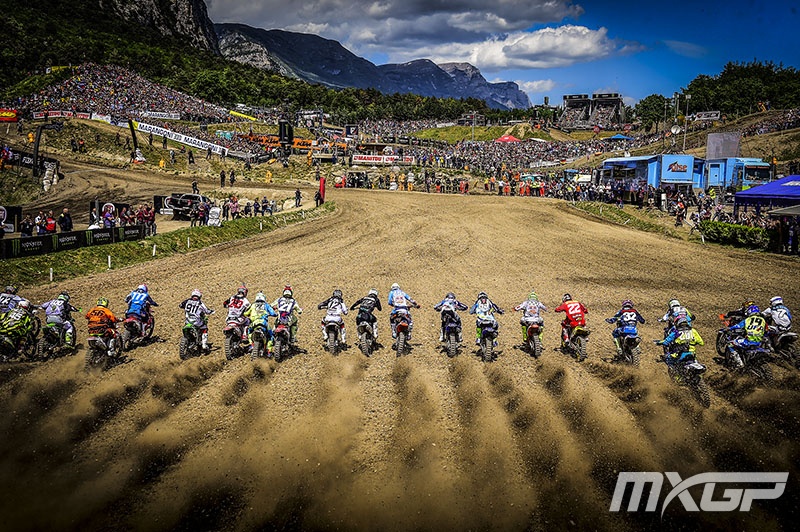 Antonio Cairoli (1st MXGP): "I'm finding my speed again and my physical condition is improving. My arm is improving with the latest therapy that I am doing and I am feeling stronger. It's difficult to win a home GP. This track is not one of my favourites and it's where I have struggled a bit in the past. But this weekend was good for the championship and I made a lot of points. In the last two weekends we have almost closed the gap." Speaking about his two young rivals he said: "For sure they are in better shape. They are motivated and riding aggressively but the championship is long and I am getting closer every weekend."
Romain Febvre (2nd MXGP): "I knew that I had the speed, but I made a mistake and had to come back in the first moto from last to sixth. In the second moto I tried to put everything together and went from seventh to first. We worked on the start with the mechanics and it showed in the second moto, and now I just need a little bit of luck in the next GP and things will hopefully get better and better."
Tim Gajser (3rd MXGP): "I managed to still get on the podium which is good, but overall I'm a little bit disappointed with the weekend because we could have done better. It's sport – it can happen to anyone. I went too high in the berm and there was a big stone or something there that just kicked me sideways and we crashed. I know we could have won otherwise, but on the other hand it's good still to have the red plate and we shouldn't forget that. It was amazing to have so many fans here and so much support so I want to thank everyone for travelling from Slovenia to come to the race – it felt like a proper home race even though it's in Italy."
Kevin Strijbos (4th MXGP): "It was a pity to miss the podium by just one point but there are a lot of positives to take from this weekend. My starts were good and I felt good on the bike. Actually I'm really happy with how things have gone all weekend. The start and the fact that I could push throughout the whole moto was great in the first one. I didn't make such a good start in the second but I was riding well and together with Jeremy we closed the gap on the others. Gajser crashed and then he came back through. In the last five-six laps I just lost his rear wheel and the fact that he passed Jeremy on the last lap meant I lost the podium. Still, like I said, there are good things to take from this GP."
Max Nagl (5th MXGP): "For us it was a challenging GP. I had a really good first race. I got a great start following Tony Cairoli in second after the first few corners. Despite the track being really tough I managed to keep a steady rhythm and hold on to second position until the end. Then in the second moto I had a really bad start. My rear wheel got too much traction so I had to back off the throttle a little bit. I ended up being squeezed in the back of the pack going into the first turn. At the end of lap one I was in 22nd position but gave it all to finish eighth. I'm a little disappointed as once again I had the speed to battle for the overall victory."
Evgeny Bobryshev (6th MXGP): "In the first race I had a good jump but then we all compacted into the first corner and there were some pushes and bumps and I got squeezed and had nowhere to go apart from into Coldenhoff who had crashed. I went down too and with a big pack coming behind me still I stayed tight and then was dead last, but then could at least fight back to ninth as it was difficult to come through again on this track. I was frustrated about the crash, but for the second race my goal was to avoid to first corner crash. "The first corners here are so tight it can be very sketchy and it's not nice to see so many crashes. In race two I could come through to third, together with Toni and Febvre for a lot of the time, so that was a good race. I'm happy with the second race, but unfortunately the first race crash put me out of some points and a podium I think from this weekend."
Jeremy Van Horebeek (7th MXGP): "It's the best weekend of the season for me. Not the result but the riding, because after my crash in Teutschenthal I hurt my wrist pretty bad, and I'm just happy I can walk. We did a great job and we are going to keep pushing, keep working to improve and it's all coming together soon.
Shaun Simpson (8th MXGP): "Saturday went quite well. I felt quite decent on the track, which was deep and rutted. The heat race didn't actually go to plan; I got a mediocre start and then fell off twice throughout the whole moto. I felt really good though, as my pace was high and good enough for a top five. I came out of Saturday with some positives. This morning the track was like a different place and started getting dusty in warm up. I've just been struggling with my set-up for the last couple of weeks actually. The first race didn't go to plan at all; I was just struggling the whole moto for lines, set-up and technique. The second moto went a lot better, but it still wasn't what I was looking for. I feel like I should be inside the top six. I'm slightly disappointed with an eleventh and tenth today for eighth overall."
Ben Townley (10th MXGP): "The first moto was pretty decent; I had an average start and got up into seventh, sixth at one point, but then Gajser passed. I struggled a little bit to be honest and wasn't very happy with my riding. In the second one the start was pretty much the same and was pretty much eighth the whole race. I was riding better but then on the last lap crashed while Nagl was putting pressure on. I rushed into a turn and into the back of Gautier and tipped over. I made a mistake and paid for it. It was another average weekend in my opinion and I need to keep working and get better on Saturdays as this part has been a big Achilles heel for me. Starts as well. We'll do some work before Spain and see what we can get out of it."
Jeffrey Herlings (1st MX2): "It was a difficult weekend and even half way through the week we weren't even sure we could be here. My ankle was very big and swollen and on Thursday I couldn't really walk properly. We came here with the hope of picking up some points and we came out on top and that was pretty surprising. Obviously I lost the first race and won the second moto and took the overall, so in some way I'm relieved because the pressure of being undefeated is gone. But I'm still kind of sad that I can't break the record any more. Now I'm looking forward to Spain in two weeks. It's also a track that I don't fancy the most but I hope to make the best of it there as well."
Dylan Ferrandis (2nd MX2): "As I have said since my comeback I'm taking it step by step, so for sure I'm happy with this second podium in a row. The track wasn't easy on Saturday with the rain, and today also it was rough so I'm happy to get a podium on a track that I don't really like. In the qualifying race and again today in the first race it was great to get a holeshot; it helped me to chose my lines and keep the pace. I had a great battle with Jeffrey in the first moto; I think that's good for everyone to see close racing. The second race wasn't as good. I did a wheelie out of the gate and lost everything there; I was outside the top ten but I recovered to third. It was tough to pass and I used a lot of energy to come back to third behind Jonass. I'm happy that my shoulder is not painful and I feel improvements every weekend; we are doing a good job with the team and it will be good to have one weekend without any race as it will help us to work and test."
Pauls Jonass (3rd MX2): "The weekend turned out well and I'm happy with the results. I struggled a lot this weekend with the headache before the first race and I didn't know if I was going to be able to race. Then I skipped the warm-up and went straight into race mode. I had a good start in the second moto and I felt much better. Third overall was good here because I've struggled with this track here in recent years."
Jeremy Seewer (5th MX2): "I knew a bad day would come but I was making a bad day into a reasonably good one in some moments! I'm a bit disappointed to have had a few crashes but my feeling on the bike is great and my speed as well to catch so many people. My leg is a little bit sore but we have a free weekend now to rest a little bit. The rain helped make the track a bit more difficult and technical with some more ruts but it was still quite one-line. I lost some points for the championship position today but I think things could have been worse."
Vsevolod Brylyakov (7th MX2): "I again had two consistent races; on Saturday we struggled a little bit with the track and the settings but today was better. The track was difficult; there was only one line on Saturday and there was no place to go if you wanted to pass someone. Today the track was much better, more space to pass but it was all about the start and mine were not so good. I had a good ride in both motos, got another top eight result, but I want more and we have to go forward, forward, forward. I need to practice my starts; that's something we have to work on to get better results and other podiums. We have a small break now so I will fly back to Russia to check my body and neck, have some blood test to be sure that everything is OK and keep working."
Max Anstie (10th MX2): "We had a good solid start to the weekend. Despite the rain making the track a bit tricky I was fast in the qualifying race and managed to secure seventh place. In the first moto my speed was good and I came through from 11th to fifth. I was really confident going to the last moto. It was a shame I couldn't get a good start. I felt I did everything exactly the same as I'm always doing but just didn't get enough speed going into the first corner. I quickly found myself closed in by a group of riders so there was nothing I could do. Regardless of that the last few weeks have been really good and I can go back now, regroup and go again in Spain."