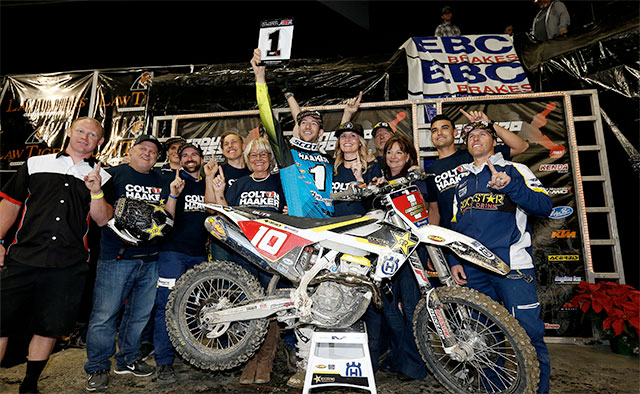 Colton Haaker has taken out the series at the final round in Ontario, California.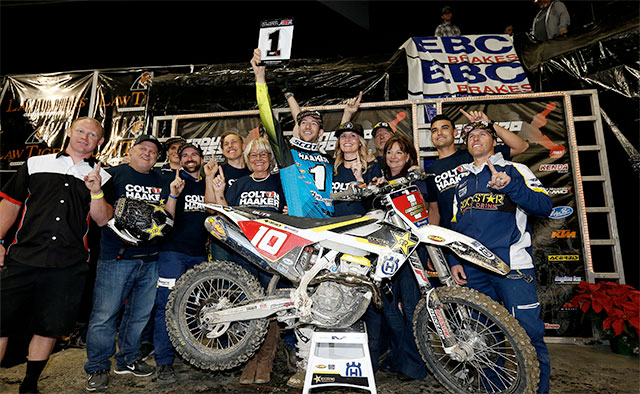 By Hayden Gregory
Heading into the Endurocross finale, Haaker held a 14 point lead over his closest rival, defending champion Cody Webb. As racing got underway in the main event Haaker would score the holeshot with Webb quickly making his move into the lead a few turns later.
Haaker would suffer a number of crashes in the main but would hold second position as his own. Webb captured the chequered flag but it was Haaker sporting the biggest smile crossing the finish line as he claimed the 2016 Endurocross Championship title.
"It's great to finally wrap up the 2016 EnduroCross championship. I had more crashes tonight than in the rest of the series put together, but I did what I needed to do," Haaker said.
"I didn't want to ride at 50% and just take it easy – I really wanted to give my all tonight. I got a great start and felt good but the track bit me a couple of times and things didn't go quite as well as I hoped they would. Second is still a good result but getting the championship is what really matters. It was my results in the seven rounds prior to tonight that earned me the title.
"There were a couple of pivotal moments during the series, and that allowed me to come into tonight with a good points lead. I'm going to enjoy this and then look forward to going to Europe to defend my SuperEnduro title."
It was a dominant performance in the finale by defending champ Webb who knew his chances of claiming the championship on closing night were slim.
"To be honest, I knew the chances (to win the championship) were slim but I wanted to end the season with a bang and I think I proved that I wasn't a two-time champion for nothing," Webb said. "I felt confident coming in and I rode well all day but Colton rode solid all year. I gave it my all this season so I can't complain – I was always right there but one little mistake would take me away from the win. I'm looking forward to 2017!"
KTM's Ty Tremaine finished the series in third place followed by Mike Brown and Kyle Redmond.
2016 Endurocross, Round 8 Results
1. Cody Webb (KTM) 15 laps
2. Colton Haaker (Husqvarna) 15 laps
3. Cory Graffunder (KTM) 14 laps
4. Ty Cullins (Beta) 14 laps
5. Ty Tremaine (KTM) 14 laps
6. Noah Kepple (KTM) 14
2016 Endurocross Championship Standings
1. Colton Haaker (Husqvarna) 201pts
2. Cody Webb (KTM) 192pts
3. Ty Tremaine (KTM) 127pts
4. Mike Brown (Husqvarna) 126pts
5. Kyle Redmond (Beta) 116pts
6. Cory Graffunder (KTM) 111pts