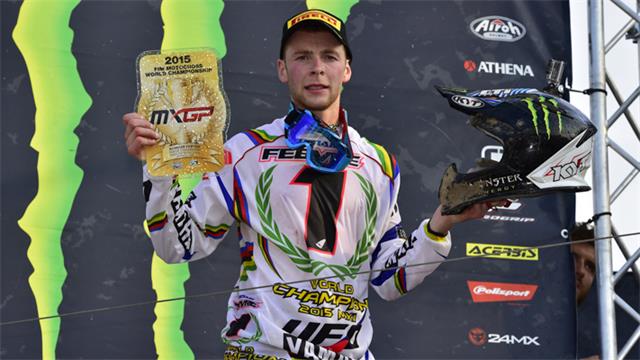 Factory Yamaha's Romain Febvre has continued his phenomenal run of form, finishing second overall in Assen to secure the 2015 MXGP Championship.      
Story by Hayden Gregory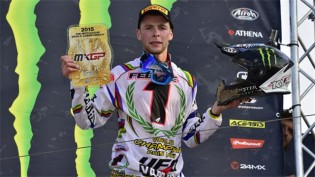 The 23-year old rookie put the result beyond doubt in front of 37, 000 passionate fans at the man-made Assen track.
With two Grand Prix events remaining, Febvre is uncatchable at the top of the standings following an emphatic season aboard his YZ450FM. An incredible 11 podiums from 16 rounds, inclusive of 12 moto victories, highlights the season that Febvre has had.
In securing the championship, the factory Yamaha rider made a small piece of history becoming the first rookie to win the championship since 2009 and the first Frenchman to win since Mickael Pichon in 2002.
A 5-1 result was enough for Febvre to take out the MXGP in his first attempt.
"I started slowly on Saturday and showed good speed in qualifying already." Febvre said. "I knew with some good starts I could be on the podium again and that was the goal. I knew also if I finished in front of [Gautier] Paulin then the championship would be done.
"It didn't happen in the first moto but my start was a lot better in the second and I could pass everybody to win the 2015 world championship!
"I cannot thank everybody enough. The team did such a good job and gave me a chance last winter. I'm so happy."
Hitachi Construction Machinery Revo KTM's Shaun Simpson was the overall victor for the round. The victory places Simpson in fourth place overall and gives him a chance to challenge for the podium over the last two rounds.
Gautier Paulin made a few too many errors, resulting in a fourth place finish. With two rounds left the HRC rider sits in second place overall in the championship and will be looking to hold off current third placed teammate Evgeny Bobryshev.
Australian Husqvarna duo Todd Waters and Dean Ferris both managed to finish within the top ten overall, finishing 8th and 9th respectively.
MXGP Overall Top Ten:
| | |
| --- | --- |
| 1st | Shaun Simpson (GBR,KTM) – 45 |
| 2nd | Romain Febvre (FRA, YAM) – 41 |
| 3rd | Glenn Coldenhoff (NED, SUZ) – 40 |
| 4th | Gautier Paulin (FRA, HON) – 40 |
| 5th | Evgeny Bobryshev (RUS, HON) – 36 |
| 6th | Maximilian Nagl (GER, HUS)) – 30 |
| 7th | Jeremy Van Horebeek (BEL, YAM) – 28 |
| 8th | Todd Waters (AUS, HUS) – 24 |
| 9th | Dean Ferris (AUS, HUS) – 23 |
| 10th | Jose Butron (ESP, KTM) – 20 |
MXGP Championship Top Ten:
| | |
| --- | --- |
| 1st | Romain Febvre (FRA, YAM) – 638 |
| 2nd | Gautier Paulin (FRA, HON) – 536 |
| 3rd | Evgeny Bobryshev (RUS, HON) – 499 |
| 4th | Shaun Simpson (GBR, KTM) – 437 |
| 5th | Antonio Cairoli (ITA, KTM) – 416 |
| 6th | Maximilian Nagl (GER, HUS) – 414 |
| 7th | Jeremy Van Horebeek (BEL, YAM) – 394 |
| 8th | Glen Coldenhoff (NED, SUZ) – 361 |
| 9th | Clement Desalle (BEL, SUZ) – 331 |
| 10th | Todd Waters (AUS, HUS) – 324 |