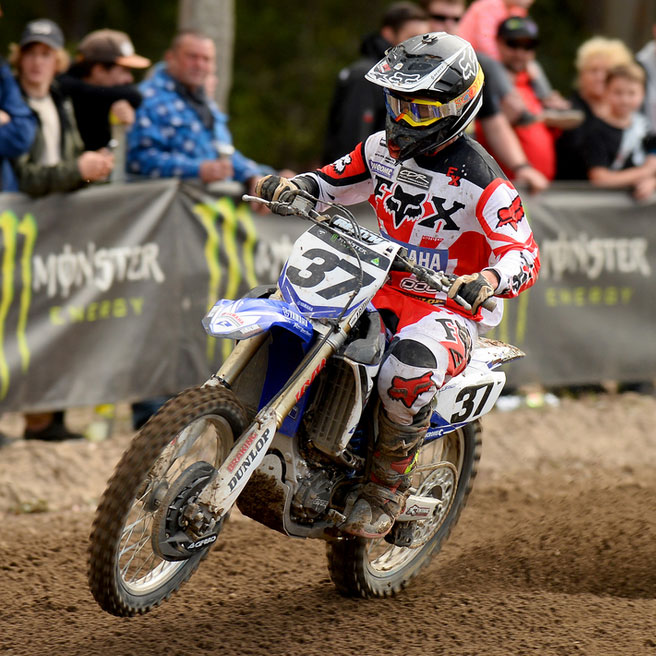 CDR Yamaha Return to Form at Raymond Terrace
For Immediate Release: Monday, August 4, 2014.
Jacob Wright burst through to take his debut moto win and podium in the MX1 class.
The CDR Yamaha team bounced back to form with impressive results from both riders at round eight of the championship in Raymond Terrace. Competing in the premier MX1 division, Jacob Wright finished a stunning second place while Billy Mackenzie landed in third after a confidence boosting day for the team.
New recruit, Jacob Wright, proved a revelation in only his second outing for the CDR Yamaha squad. With some more testing and time to get accustomed to the factory YZ450F, Wright instantly put that work to use, taking the win in the Go Pro Superpole event and hit moto one full of confidence.
He blasted from the blocks and slotted into third place. He made the move on team mate Billy Mackenzie to take second and then stayed on the rear wheel of race winner Matt Moss to finish second.
Moto two and his start wasn't as good and he had to make his way forward through the pack. He climbed his way to seventh at the finish line. But moto three was clearly the highlight as he grabbed the lead exiting the first turn and then charged away for an unchallenged race win and his 2-7-1 results saw him finish a career high second for the round.
The big points haul from round eight now sees Wright move into seventh place in the championship and within striking distance of a top five championship result.
"I'm a bit speechless," Wright said from the podium. "Winning Superpole was unreal, but to then go on to finish on the podium for the round and win a race is amazing.
"I can't thank Craig Dack and the CDR Yamaha team for giving me the chance to ride this amazing bike and have a great bunch of people to work with. I also want to thank my family who have supported me for so long and I want to dedicate this result to them," he said emotionally.
Billy Mackenzie also showed plenty of speed and rounded out the day in third place making it a CDR Yamaha 2-3 finish for the round. Mackenzie was the fastest qualifier and lead the opening laps of moto one before dropping back to third. Race two also saw Mackenzie up front and he managed a second place to have him well placed going into the final race of the day.
He was inside the top three again in the final race in the early stages before crashing and taking some time to get his bike fired up. He charged his way back to eighth but was disappointed in his costly mistake.
"I came into one of the tight corners out the back and I must have got a rock or something stuck in my rear brake as the bike kicked and shut down causing me to fall. I got up pretty quickly but it took a few kicks to get going and a lot of guys got passed me.
"Otherwise it was a pretty good day. I consolidated third in the championship, made the podium and now I look forward to the final two rounds," Mackenzie said.
Team owner Craig Dack was all smiles at the end of the day as his team put in one of the best performances of the year.
"I must say, it felt pretty good to have both guys up front and battling for race wins again. Both of the riders looked strong all day and it was good to see them get a good result.
"Jacob is settling in nicely and now that he is settled in on the bike and gaining confidence in the team, I'm sure we will see his results continue to improve.
"Billy rode well today and it was only a small fall in the last race cost him a better overall result. We all feel pretty upbeat about today and hopefully the riders can carry the confidence gained from today into the final rounds."
There is a two week break from racing before round nine action moves to Gladstone in Queensland. For more information and a full list of results on the MX Nationals, www.mxnational.com.au
To follow the CDR Yamaha team on social media, www.facebook.com/cdryamaha or @cdr_yamaha on Instagram.
Round Eight Results – Raymond Terrace
MX1
1st Matt Moss – 102
2nd Jacob Wright – 91 (CDR Yamaha)
3rd Billy Mackenzie – 85 (CDR Yamaha)
4th Kirk Gibbs- 81
5th Kade Mosig – 80
6th Adam Monea – 77
7th Hayden Mellross – 69
8th Sam Martin – 66
9th Jesse Dobson – 65
10th Joel Milesevic – 62
Championship Standings – After Round Eight
1st Matt Moss – 653
2nd Kirk Gibbs – 613
3rd Billy Mackenzie – 571 (CDR Yamaha)
4th Adam Monea – 552
5th Jake Moss – 479
6th Kade Mosig – 468
7th Jacob Wright – 460 (CDR Yamaha)
8th Hayden Mellross – 426
9th Sam Martin- 391
10th Brock Winston – 375
Billy Mackenzie landed in third
The MX1 podium from Raymond Terrace
Credits: Jeff Crow
For further information, please contact:
Craig Dack: craig@dackracing.com.au