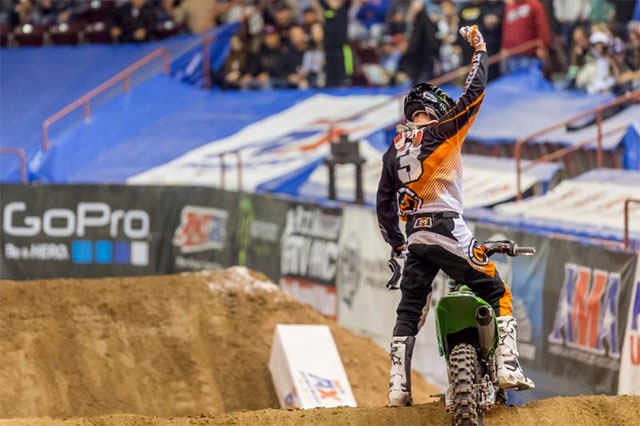 The Team Babbitt/Monster Energy/AMSOIL Kawasaki rider shone in the penultimate AMSOIL Arenacross round to extend his overall championship lead.
By Hayden Gregory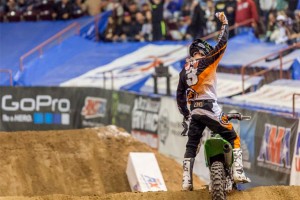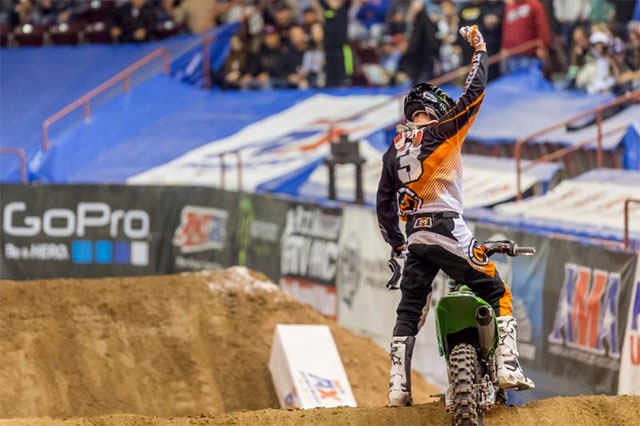 In the first main event Jace Owen shot out of the gates to capture the holeshot before championship contenders Faith and Chris Blose moved into the lead. With a title on the line the teammates made early contact sending them both to the ground; losing valuable positions.
Jacob Hayes was the benefactor of the mistake moving to the front followed by Ben Lamay and Kyle Regal. Faith recovered the best of the two finishing the first lap in sixth while Blose was way back in 14th.
Hayes was able to hold onto the lead to take victory in the opening moto. Travis Sewell finished in second while Faith was able to recover for a hard earned third. Blose could only manage an 8th place result.
In the second main event, Faith remained unchallenged leading start to finish in a fantastic moto. The Kawasaki rider dominated leaving the other riders to fight it out for remaining podium positions. Blose was able to bounce back from a disappointing opening race to claim second with Hayes ending in third.
An earlier victory in the head to head challenge allowed Faith to edge out Hayes for the overall win despite both riders recording similar results.  Sewell claimed third overall and Blose fourth, dropping now eight points behind Faith with one round to race in the championship.
Arenacross Class Overall Results (Main Event Results)
Gavin Faith, Fort Dodge, Iowa, Kawasaki (3-1)
Jacob Hayes, Liberty, N.C., Kawasaki (1-3)
Travis Sewell, Westville, Ind., KTM (2-4)
Chris Blose, Phoenix, Kawasaki (8-2)
Jace Owen, Matoon, Ill., Honda (5-5)
Kyle Regal, Lake Elsinore, Calif., Husqvarna (4-6)
Ben Lamay, Forney, Texas, Honda (6-8)
Steven Mages, Sardinia, Ohio, Kawasaki (9-7)
Ryan Breece, Athol, Idaho, Yamaha (7-9)
Jared Lesher, Ball Ground, Wash., KTM (11-10)
Race to the Championship Standings
Gavin Faith, Fort Dodge, Iowa, Kawasaki – 189 (9 Main Event Wins)
Chris Blose, Phoenix, Kawasaki – 181 (4 Main Event Wins)
Jacob Hayes, Liberty, N.C., Kawasaki – 163 (10 Main Event Wins)
Ben Lamay, Forney, Texas, Honda – 150 (3 Main Event Wins)
Travis Sewell, Westville, Ind., KTM – 149 (6 Main Event Wins)
Jace Owen, Matoon, Ill., Honda – 147 (1 Main Event Win)
Kyle Regal, Lake Elsinore, Calif., Husqvarna – 125
Gared Steinke, Woodland, Calif., Husqvarna – 104
Cody VanBuskirk, Harvard, Ill., KTM – 58
Daniel Herrlein, Bethesda, Ohio, Honda – 1