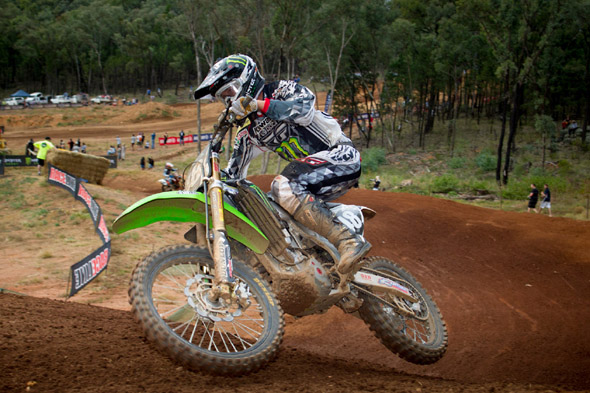 Monster Energy Kawasaki MX2 rider Kade Mosig finished the 2nd round of the 2012 Monster Energy MX Nationals on the podium taking 3rd overall at Goanna Tracks, Coonabarabran, NSW on 14-15 April.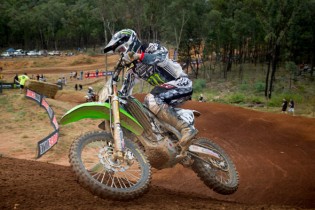 MX1 rider Jay Marmont is forging ahead in the championship with two top 3 finishes at Goanna Tracks giving him 4th for the round and moving him up to 3rd in the championship. Billy Mackenzie had to settle for 14th for the round following crashes and bad luck.
MX2 (Lites) rider Kade Mosig kicked his championship campaign into gear at Coonabarabran riding his KX250F superbly at Goanna tracks to take his first podium at Monster Energy Kawasaki. Mosig got a good start in the first moto and stayed at the front of the pack to take 2nd place. A tough start in the second moto saw him having to fight through the pack to eventually finish in 5th place. Then in the third moto, it all could have gone pear shaped when Mosig hit the start gate, leaving him in last place at the first turn. Mosig got the job done however, riding through the field to take 6th place. Mosig's 2-5-6 results were good enough for a podium finish and moves him up to 4th place in the championship.
A happy Kade Mosig say's, "The first race I got a 2nd, I got a pretty good start then I sort of buggered the start in the second and in the third race, I hit the gate in the last race so I came from last but I got back to 6th so I busted my butt and ended up getting up there and got it on the podium this week. I'm pretty happy, we made some good progress with the bike in between rounds and I think we can take another step forward next round."
Reigning champion Jay Marmont improved dramatically on his injury hampered results from round 1. An average start in the first moto meant Marmont had to wrestle with mid pack riders to take 9th place in the short moto. A good start in the second race put Marmont in good contention for a strong finish and he capitalized on the opportunity, riding to 2nd place for the moto. Another great start in the third moto put Marmont into 1st place, a sight the Australian MX community has grown accustomed to over the years. Marmont eventually finished the race in 3rd place with his 9-2-3 results giving him 4th for the round and 3rd overall in the championship, just 6 points shy of 2nd place.
Jay Marmont says, "That last race I got 2nd around the start. I worked my way better as the day went on. At one point I could've won the day, I was in front. I struggled a little bit. Obviously having those few weeks off really hurt me, I'm starting to get back into the swing of things now. I'm 3rd in the championship, that's a plus. The dog race is on now for the championship. I'll go home now and work on some things and come out swinging at Wonthaggi."
Fellow MX1 rider Billy Mackenzie had a tough second round. His speed and effort not indicative of his final result. Mackenzie enjoyed good starts and was running at the front of the pack throughout the day however crashes and bad luck paid the price. While racing up front in the opener, Mackenzie stalled his KX450F and lost many places while restarting, having to settle for 12th. A big crash in the second moto forced Mackenzie to DNF however he came out fighting in the final moto. The bad luck was to continue though when a rider went down in front of Mackenzie taking him down as well. Desperate for championship points, Mackenzie remounted and battled on, passing many riders to take 20th. Mackenzie's points standing took a blow at Coonabarabran with his 12-DNF-20 results leaving him in 18th for the round and 14th in the championship. With many races and rounds left to go, Mackenzie has plenty of time to claw his way back.
A disappointed Billy Mackenzie say's, "The first two races we were running up front but I had a small mistake in the first race, I tried to switch lines and I stalled the bike and it took me a while to get started and with the shorter races, you just lose so many places. Then in the second race, I came out and was feeling good, I got past Brad (Anderson), then I kinda switched lines because I was following Mossy through the whoops and it caught me out, I hit my head pretty hard and I DNF'ed. All in all it's another frustrating weekend but I feel good on the bike, I know the speed's there so there's a lot of positives. Maybe I just need to calm down a bit and accept a top 3 instead of going for the win and try and build some points from here and get some momentum and see if I can win some races in a couple of rounds."
Axis Motorsports Kawasaki's Mitch Norris raced his KX250F to 2nd place overall in the MXD (U19s) class taking 5-2-3 results. Norris was on track to take the overall for the day when he was leading the final race however a flat tyre in the final stages of the moto pushed him back to 3rd place. He sits in 3rd place in the championship. A heavy practice crash for Ben George left him unconscious and out of the round. He is back on his feet now.
Putting a tough season opener behind them, Monster Energy Kawasaki is now forging ahead in the championship following a strong 2nd round. The riders now have two weeks to rest, recuperate and prepare for the 3rd round of the series at Wonthaggi, Victoria on 28-29 April.