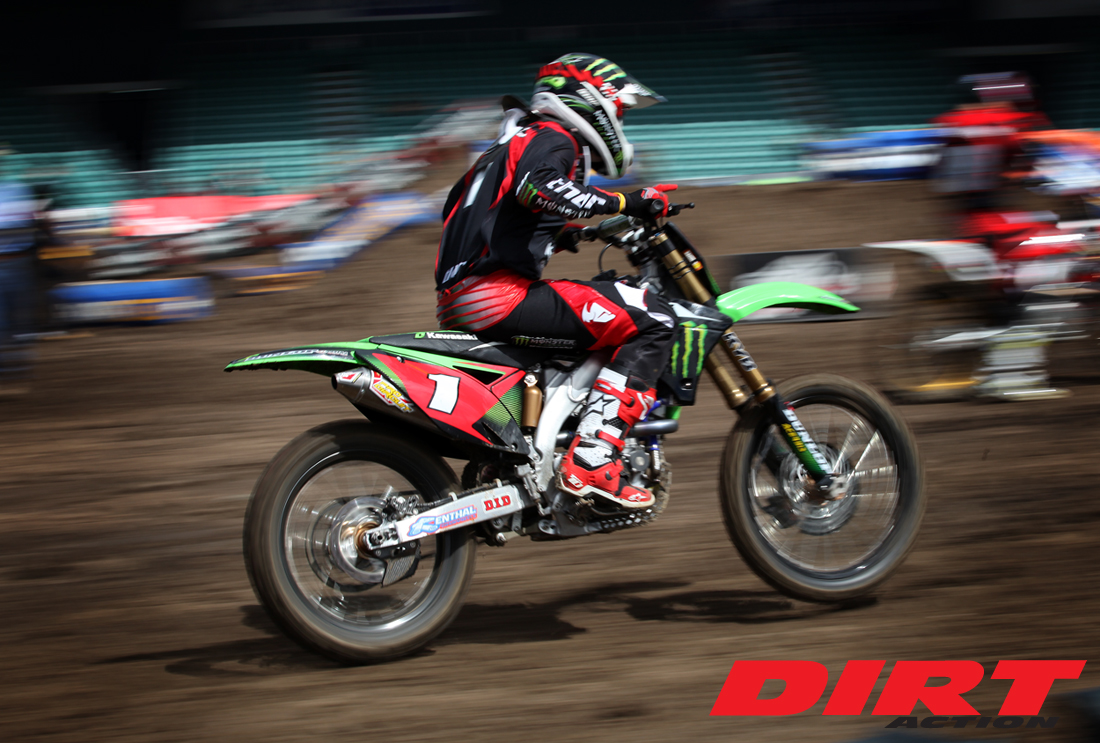 Chad Reed is a free agent for 2014. His results weren't to his standards in 2013 and he has been vocal on social media about his disappointment and his struggles with the new CRF450R. With much discussion online, on social media and through the rumour mil, we take a look at where Chad will be in 2014.
"BIG thanks for the support over the last few years @HondaPowersprts. '11–'12 were some fun years. @BillSavino will miss seeing you around bud." — Chad Reed, Twitter
"My deadline for what team I'm riding next year is Friday. That decision will decide my bike colour #faninfo #22"— Chad Reed, Twitter
"Anyone know where I can buy 15 new 2012 Honda 450s?" — Chad Reed, Twitter
RCH MOTORSPORTS
The RCH/Two Two Motorsports link arose quickly after he returned his Honda's to the big red building. However  Chad, Ricky Carmichael and Carey Hart all shut down the possibility as they were unable to come to an agreement.
"Wasn't an easy decision at all! Thanks @hartluck @RickyCarmichael and team for believing in me! Great program & bike was tough 2 turn down." — Chad Reed, Twitter
"@CRtwotwo all good bud!!!! Good luck with #22Motorsports in '14!!!!!" — Carey Hart, Twitter
"@CRtwotwo @hartluck was a pleasure to have a chance mate. Much respect and a supporter of you always!" — Ricky Carmichael, Twitter
YAMAHA
Arguably some of Chad's best years have been on blue. Like Jeremy McGrath has with Honda, it would have been very cool to see Reed finish his career where it all started in the US. However, this tweet below put an end to that – rumours are he wasn't happy with the 2014 Yamaha YZ450F.
"Most rumours have me going blue next yr. In a perfect world be cool to finish there. But we are far from perfect world. Won't be blue tweeps." — Chad Reed, Twitter
HUSQVARNA
Reed on Husky!? As crazy as it seemed, the KTM/Husqvarna merge does make this seem an absolute possibility. Chad sent the internet into a meltdown when he posted a photo of what looked like a white KTM front guard, which many suspect to be the 2014 Husqvarna shape with his sponsors on it and the caption below.
"90% sure my bike colour will be white. 🙂 "— Chad Reed, Instagram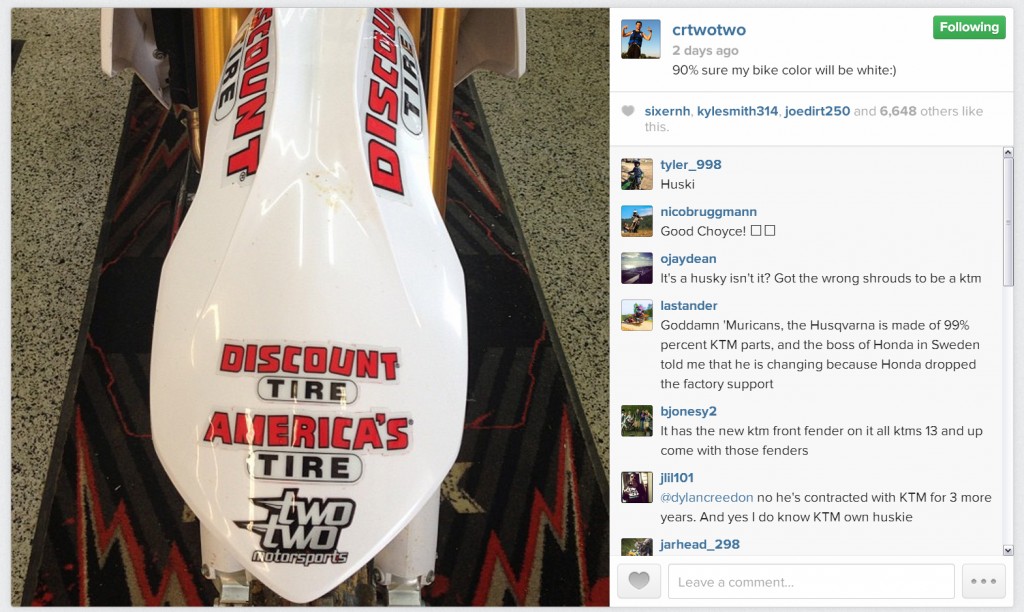 TWO TWO MOTORSPORTS/PRO CIRCUIT KAWASAKI
DIRT ACTION has heard some pretty solid rumblings from the US that TwoTwo Motorsports and Chad will be on board green with strong ties to Pro Circuit. Mitch Payton has been interested in fielding a 450 race team for some time and is said to have the infrastructure in place for the team already. And this Instagram image has fired up the rumour mill once again. Chad has been linked to current Pro Circuit rider Dean Wilson in the past as well. Will we see a Dean Wilson and Chad Reed combination on board Kawasaki for 2014?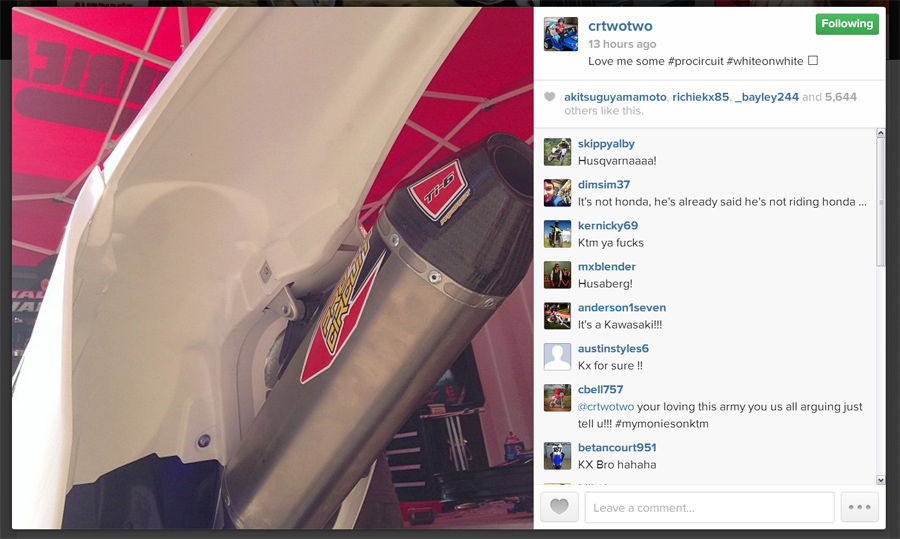 "I went with the heart I will be keeping my talents @TwoTwoMsport seriously though the past 3 yrs has brought a whole new passion to racing." — Chad Reed, Twitter
Reading team contracts is something I've always done. Reading your own team contract to another rider is so different #crazy – Chad Reed, Twitter.