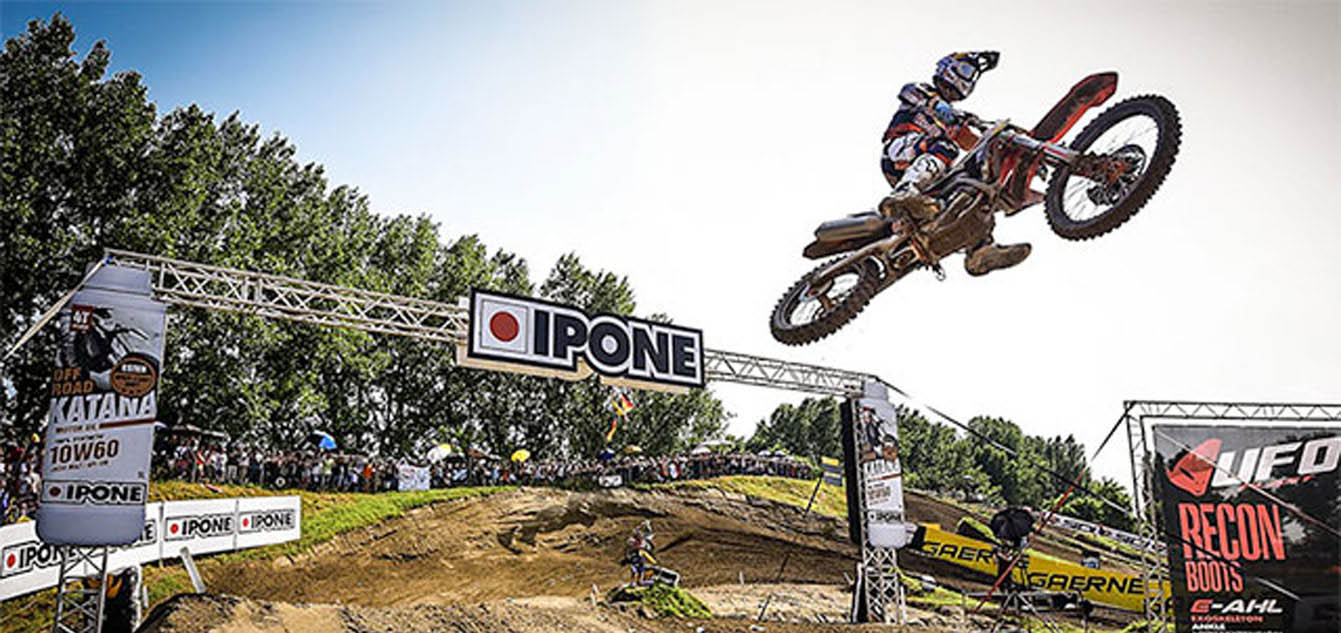 The pair continue to dominate their respective classes.
By Hayden Gregory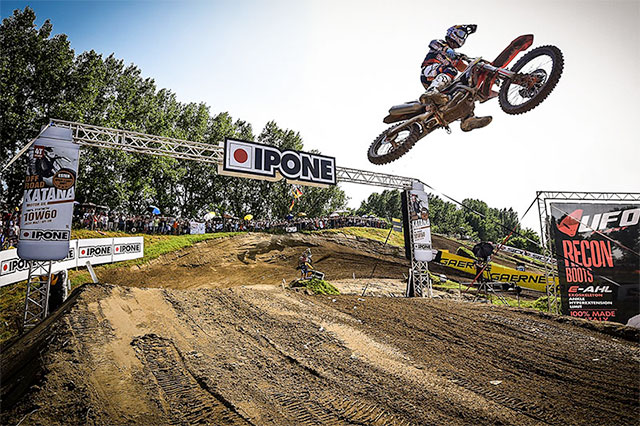 Honda Gariboldi's Tim Gasjer recorded a clean sweep in the premier class extending his overall championship lead. He was challenged in the second moto by Antonio Cairoli but simply proved too fast in the closing stages.
"It was one of the toughest races of my career" Gajser said at the end of the day, "Tony rode really good in the second race, it was good to see him ride so fast, but I was happy to pass him at the end of the race a make a slight gap for the finish."
Team HRC's Gautier Paulin scored second overall with a 2-4 finish marking his best for the season.
"Yesterday I was struggling a little bit in qualifying but we made some adjustments overnight and it worked much better today," Paulin said. "From the warm-up I improved a lot. In both races I had pretty good starts, and this weekend to get third and second means we did a good job. I am definitely happy about the weekend. Now it was really hot, and in Matterley I said I wanted to work hard to better in some areas that I missed with injury, so to be on the podium here and in these conditions actually I can't believe. I'm really happy for me and for the team, and after a hard time earlier in the season it's just such a good feeling."
Clement Desalle rounded out the MXGP podium with a 2-3 result also marking his best finish for the season.
"It's a first step to get this podium result; I have been waiting for it for a few weeks!" Desalle said. "The weekend didn't start so well on Saturday, but with the team we were able to do better today, and that's good to get this podium before the summer break. This weekend I got two decent starts and that makes life easier. It was not an easy weekend with the heat and such a rough track, but I never gave up to get this podium. We have three free weeks before Loket; we'll continue to work with the team to be even better in the next races. We know what we have to do for that."
Gasjer now leads the MXGP championship by 92 points. Antonio Cairoli climbed into second place after Romain Febvre failed to race due to concussion.
In MX2 racing, Jeffrey Herlings proved yet again that he is leaps and bounds above the rest of the field. Another clean sweep means he has now won 23 motos from 24 starts a truly outstanding effort.
"I did what I had to do when I had to do it, 23 out of 24 race wins is pretty good so now I am just looking forward to the Czech Republic," he said.
Attempting to pursue Herlings was Brian Bogers in second and Dylan Ferrandis in third.
"I was happy with my results on Saturday even though I crashed while leading, as a lapper didn't move," Ferrandis said. "But Sunday was not as good, and it is difficult to understand why. In the first moto my start was average but I had a good first lap and passed Herlings, but then I crashed twice; I came back and passed Pootjes but he took me out ! I was happy to come back to third. In the second race the gate moved but didn't fall and I hit it, so I was late into the first corner. I passed almost the entire field to finish sixth; I had good lines and was one of the fastest riders on the track to get this overall podium."
MXGP Overall Top Ten:
1. Tim Gajser (SLO, HON), 50 points
2. Gautier Paulin (FRA, HON), 42 points
3. Clement Desalle (BEL, KAW), 40 points
4. Antonio Cairoli (ITA, KTM), 35 points
5. Jeremy Van Horebeek (BEL, YAM), 30 points
6. Glenn Coldenhoff (NED, KTM), 29 points
7. Evgeny Bobryshev (RUS, HON), 29 points
8. Valentin Guillod (SUI, YAM), 25 points
9. Jose Butron (ESP, KTM), 23 points
10. Maximilian Nagl (GER, HUS), 23 points
MXGP Championship Top Ten:
1. Tim Gajser (SLO, HON), 532 points
2. Antonio Cairoli (ITA, KTM), 440 points
3. Romain Febvre (FRA, YAM), 408 points
4. Maximilian Nagl (GER, HUS), 401 points
5. Evgeny Bobryshev (RUS, HON), 396 points
6. Jeremy Van Horebeek (BEL, YAM), 351 points
7. Valentin Guillod (SUI, YAM), 267 points
8. Glenn Coldenhoff (NED, KTM), 230 points
9. Shaun Simpson (GBR, KTM), 212 points
10. Clement Desalle (BEL, KAW), 210 points
MX2 Overall Top Ten: 
1. Jeffrey Herlings (NED, KTM), 50 points
2. Brian Bogers (NED, KTM), 42 points
3. Dylan Ferrandis (FRA, KAW), 35 points
4. Thomas Covington (USA, HUS), 34 points
5. Pauls Jonass (LAT, KTM), 33 points
6. Benoit Paturel (FRA, YAM), 32 points
7. Jeremy Seewer (SUI, SUZ), 29 points
8. Aleksandr Tonkov (RUS, YAM), 22 points
9. Michele Cervellin (ITA, HON), 19 points
10. Conrad Mewse (GBR, HUS), 17 points
MX2 Championship Top Ten:
1. Jeffrey Herlings (NED, KTM), 597 points
2. Jeremy Seewer (SUI, SUZ), 428 points
3. Pauls Jonass (LAT, KTM), 403 points
4. Benoit Paturel (FRA, YAM), 325 points
5. Aleksandr Tonkov (RUS, YAM), 320 points
6. Dylan Ferrandis (FRA, KAW), 308 points
7. Max Anstie (GBR, HUS), 274 points
8. Petar Petrov (BUL, KAW), 253 points
9. Samuele Bernardini (ITA, TM), 253 points
10. Vsevolod Brylyakov (RUS, KAW), 219 points