OF THINGS TO COME…
Greg Smith explores some of the developments and innovations that lay in our future. One thing is certain, the shape of dirtbikes will be very different in the age of the hoverboard.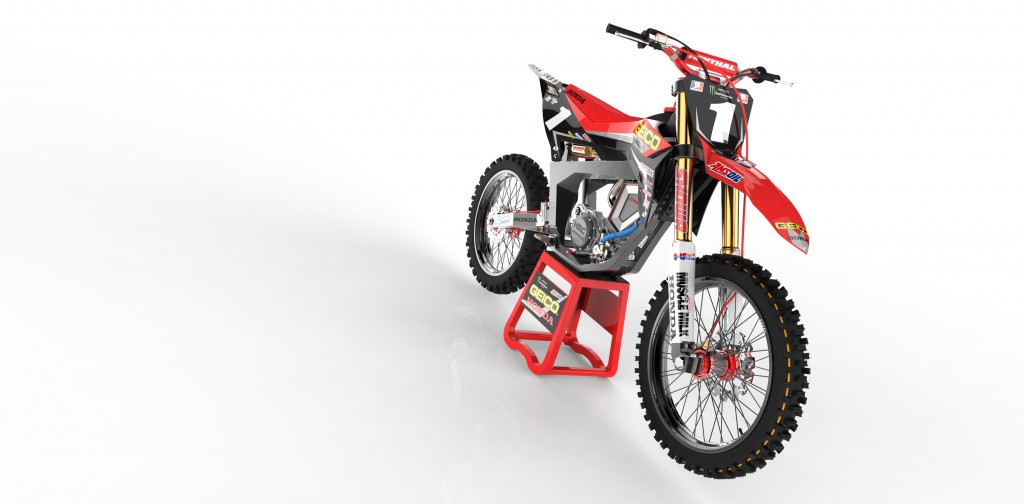 ENGINES
Small-capacity high-rpm engines with forced-induction devices like superchargers and turbochargers producing twice the horsepower of today's engines. Changes to production methods will open the door for lighter materials such as ceramic cases to be used as structural components. Expect to see a larger amount of composite materials used internally to help with reduction of inertia and thermal performance. Multiple injector setups will be more common in both two- and four-stroke engines with some engines also introducing the likes of electronically injected nitrous oxide for extreme engine load scenarios.
TRANSMISSIONS
Automatic transmissions with manual override through voice activation or handlebar mode selection could be used. The standard manual transmission as we know it will still be commonplace but it will be a clutchless system operated wirelessly — as will be the lever — with no actual connection to the transmission, giving the ECM complete control of gear engagement.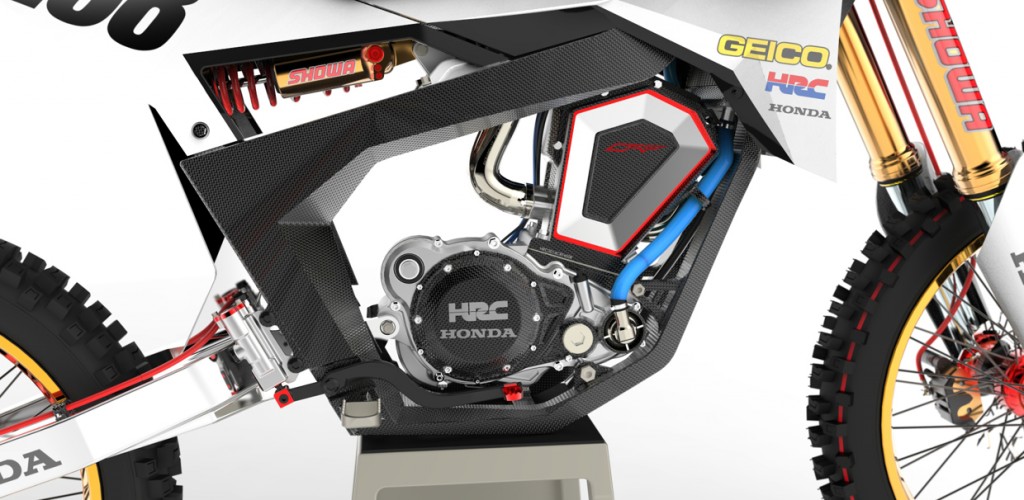 FUELS
Petrol and diesel will continue to be the primary fuels of combustion engines. Aerated fuels may become more common with higher-rpm engines but these fuels will be less hazardous to the atmosphere than those currently available. Hydrogen fuel cells and battery packs are both available now, with the latter more mainstream. In the future, both of these technologies will be more readily available, focusing more on short-distance travel and events.
ELECTRONICS
Fly-by-wire throttle systems will be introduced along with other systems to eliminate human error. Along with gyro sensors, fly-by-wire will help eliminate low- and high-side incidents by controlling and correcting throttle movements long before accidents take place. Braking systems will also go this way with brakes electronically applied and modulated, depending on motorcycle momentum and speed and the rider's lever pressures with real-time measurements on the fly. These will replace ABS systems with a manual override emergency button in case of system failure.
ELECTRONIC MANAGEMENT SYSTEMS
Systems that can be adjusted on the fly by using a smartphone or remotely via Wi-Fi at home. The ability to change engine power characteristics by voice using Siri isn't really that far away either. Athena's GET Electronics division is already marketing a system tuneable by a smartphone. Data telemetry will also become part of the bike's ECM and will be downloadable during or after a ride to analyse where you went and what happened. Future three-dimensional world maps will incorporate this data into a social media ride report — so make sure you ride in legal places.
SUSPENSIONS
Electronic suspension that has the ability to change preload, compression and rebound on the fly in milliseconds, making it usable in race conditions. This can be done through the use of magnetic suspension (a lighter system will have to be created) paired with a surface-detection system that memorises suspension loads on each lap and adjusts for each successive lap. Further provisions would be to adjust suspension settings verbally on the fly. I'd even go so far as to say that it will eventually be G-force adjusted automatically in real time.
FRAMES
These still have a long way to go by using the engine as the main structure along the lines of what Ducati does, but obviously this would need to be done a little differently for off-road use. Composite technology will be key with this construction so we won't be seeing this any time soon, but it will definitely happen in the future. The composite main-frame assembly will also act as the airbox, with predictive size and shape shifting depending on airflow needs. Roll cages may even be introduced in future versions as a safety mechanism for newer riders.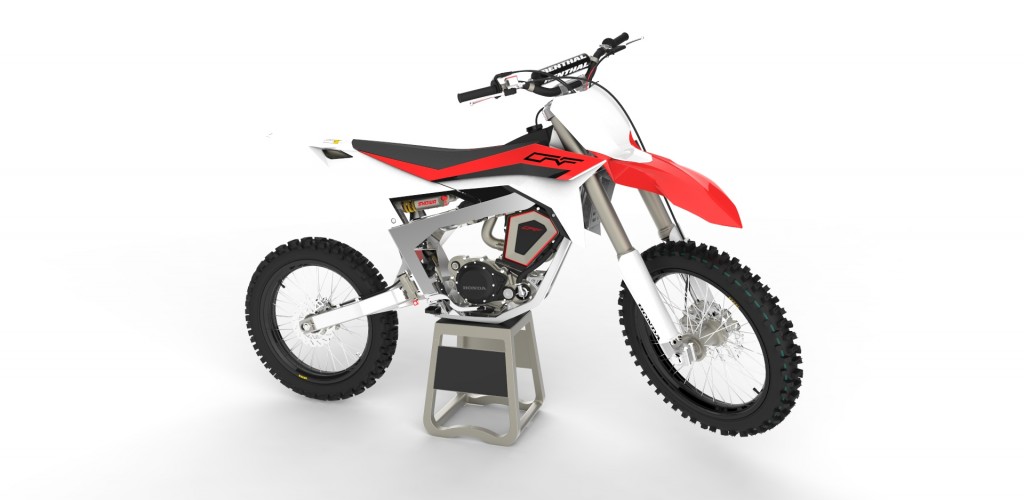 WHEELS
Width flexibility will give variable rim widths to adjust tyres and pressures to suit changing terrains. This would be more suited more to adventure bikes but still have a use in the enduro market. The hubs will incorporate gyrometers to monitor forces at each end of the bike. Tyres will be able to inflate and deflate automatically depending on speed and terrain type.
RIDER EQUIPMENT
Purpose-built clothing will monitor and calculate a rider's condition via numerous sensors located throughout the rider's protection and clothing. A fitness-alert system that discreetly tests your muscles' reaction time through twitch measurements will deliver an exhaustion level, letting the rider know they need food, water or rest long before they actually feel it. Helmets incorporating communication systems will be a necessity as part of rider-to-bike communication as well for receiving warnings from external sources. Head-up display goggles like Oakley's Airwave goggles will become more readily accessible and continue to include things like speed, direction, location etc, with the inclusion of rpm, temperature, friend location, map directions and obstacle warnings plus loads more visual info on the fly.
Want more articles like this? Subscribe to Dirt Action Magazine.