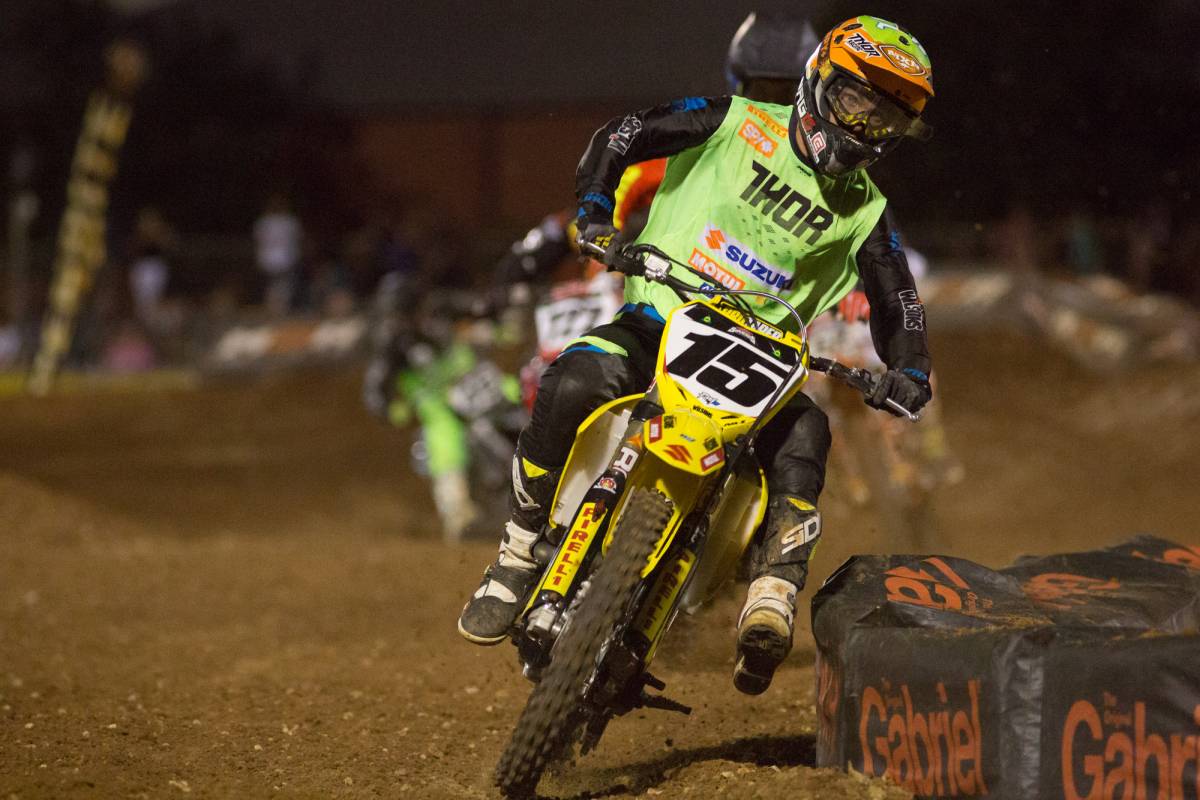 Wilson Coolair Motul Factory Suzuki riders Todd Waters and Luke Wilson have battled through a tough night of racing, at Round 3 of the 2016 Australian Supercross Championship at Wayville, South Australia.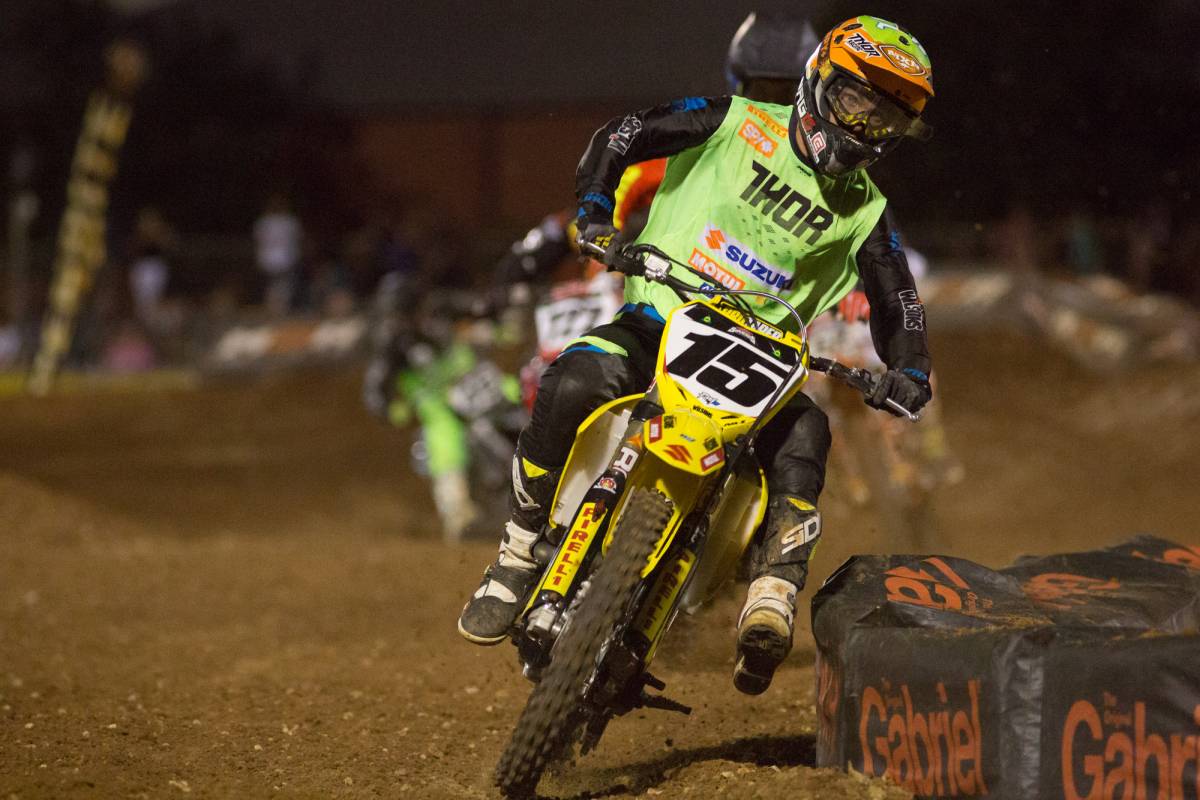 Press Release
With Wilson heading in to the round carrying a wrist injury, and Waters hoping to turn things around after a DNF at Toowoomba, the team pulled together from the minute bikes hit the track in Adelaide, but despite both riders showing impressive speed in their heat races, in the main event, things did not play out as they had originally hoped.
Waters, who qualified in 9th place early yesterday afternoon, finished in an impressive 2nd position in his heat race, but unfortunately when the main event commenced later in the evening, another crash in the whoops section of the track marked an early end to the Queenslander's night – Water's registering a DNF.
"It was a bit of a devastating night for me – we had good speed in the heat race, so to go down in the main event in the whoops again is really disappointing," Waters shared.
"Usually whoops are my strong point, and it's normally a part of the track that I feel quickest, so I think now we'll go back and figure some bits and pieces out, maybe try a few different things and hopefully turn it around in Melbourne.
"Given the preparation that we had we with MXoN, and not having all that much time for Supercross our speed is quite good, and we can't expect too much, but I just want to win, so we'll reassess and see what we can do at the next round."
For Wilson, Round 3 was about getting through and finishing with as many championship points as possible. After qualifying in 13th position, Wilson raced to 7th in heat one, while in the 20 lap main, the Factory Suzuki rider collected the chequered flag in a hard fought 12th place despite limited bike time prior to the round, as well as carrying a wrist injury.
"From the beginning of this round, we knew it was just a night we needed to get through, and we did that – we got 12th in the main which was what we could manage given that I'm carrying an injury," Wilson shared.
"We got as many points as we could. It was painful at times and it was hard to do, but we got through it.
"Leading in to the weekend, I wasn't sure if I was even going to be able to race, so to be able to line up and put in 20 consistent laps in the main event, it's not a bad effort, so I'm happy walking away from this one and heading in to Melbourne."
Wilson Coolair Motul Factory Suzuki will now begin preparations for round four of the 2016 Australian Supercross Championships being held in Melbourne in Victoria, on Saturday November 5.
"It was a rough weekend for us. Luke entered the round carrying a wrist injury, so we knew that he just needed to do what he could to get maximum points, and Todd's crash in the main was just bad luck," Team Manager Neale Wilson shared.
"It's a shame because both boys have shown great speed at the first two rounds, but we know that it's just a matter of time before they bounce back, and we're all looking forward to the next round in Melbourne.
"A big thanks to the people behind the scenes who make every weekend possible and enjoyable no matter what the circumstances are. We are always working towards putting good results on the board, and we look forward to rewarding all of our sponsors and partners with those over the next two weekends of racing."
To follow Wilson's Coolair Motul Factory Suzuki's progress this year, like 'Wilson Coolair Motul Suzuki' on facebook or follow @wilsonscoolairmotulsuzuki on Instagram.