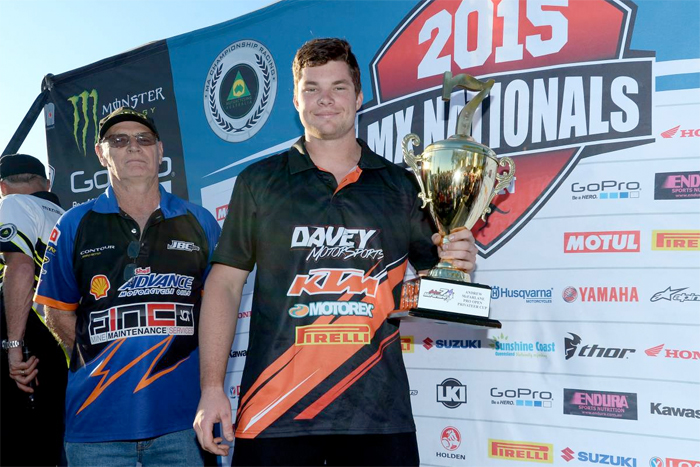 KTM mounted Daniel Banks and Dylan Wills have capped off a successful year winning two of the most prestigious MX National's awards.              
Story by Hayden Gregory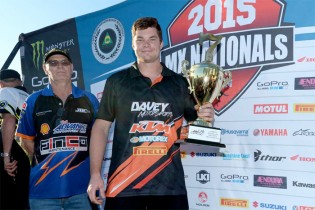 Daniel Banks was awarded the MX1 Privateer Andrew McFarlane award following an impressive 2015 campaign. The KTM Privateer was overwhelmed with the award as it recognised the amount of hard work and dedication he put into the year.
"I am honoured to have my name on the Andrew McFarlane Privateer award. Andrew was an exceptional role model in this sport and a person who I looked up too," he said.
"It is a challenge to work mostly full time and train and ride at an elite level in the MX1 class. All my income goes in to improving my bike, travelling and entering competitions. My loyal and supportive sponsors are an important part of my journey.
"The factory teams are a great bench mark to aim towards, and I am always trying to improve myself and my bike with the hope of earning a factory ride.
"Considering the limitations of my income and my bike set up, I am pretty happy with my 12th position in the MX1 Class."
Dylan Wills secured the MX2 Jono Porter trophy following a very consistent season. Unfortunately the Newcastle rider was unable to receive the award in person. Wills had an unlucky fall in the last round of racing which has seen him recovering in hospital.
"I was in hospital when I found out I won the Jono Porter Privateer award, I would've loved to have been there to get it and be able to say a little speech cause it really is a cool thing to win," he said.
"Jono was someone I looked up to when I was a kid and I don't just say that cause I won the award, I think everyone looked up to Jono. So to win an award with his name on it and have my name engraved next to guys like Cheyne Boyd and Kade Mosig is a pretty special feeling and one I'll remember for the rest of my life.
"It feels pretty cool to run up the front with the factory guys so for me, this year was unbelievable, I never thought I'd win a couple races and make the podium twice. I've worked hard to get to where I am and it has paid off.
"So 2015 was good for me, at the start of the season I was able to run up the front for 2-3 laps, so to be able to build up and win races by the end was awesome."