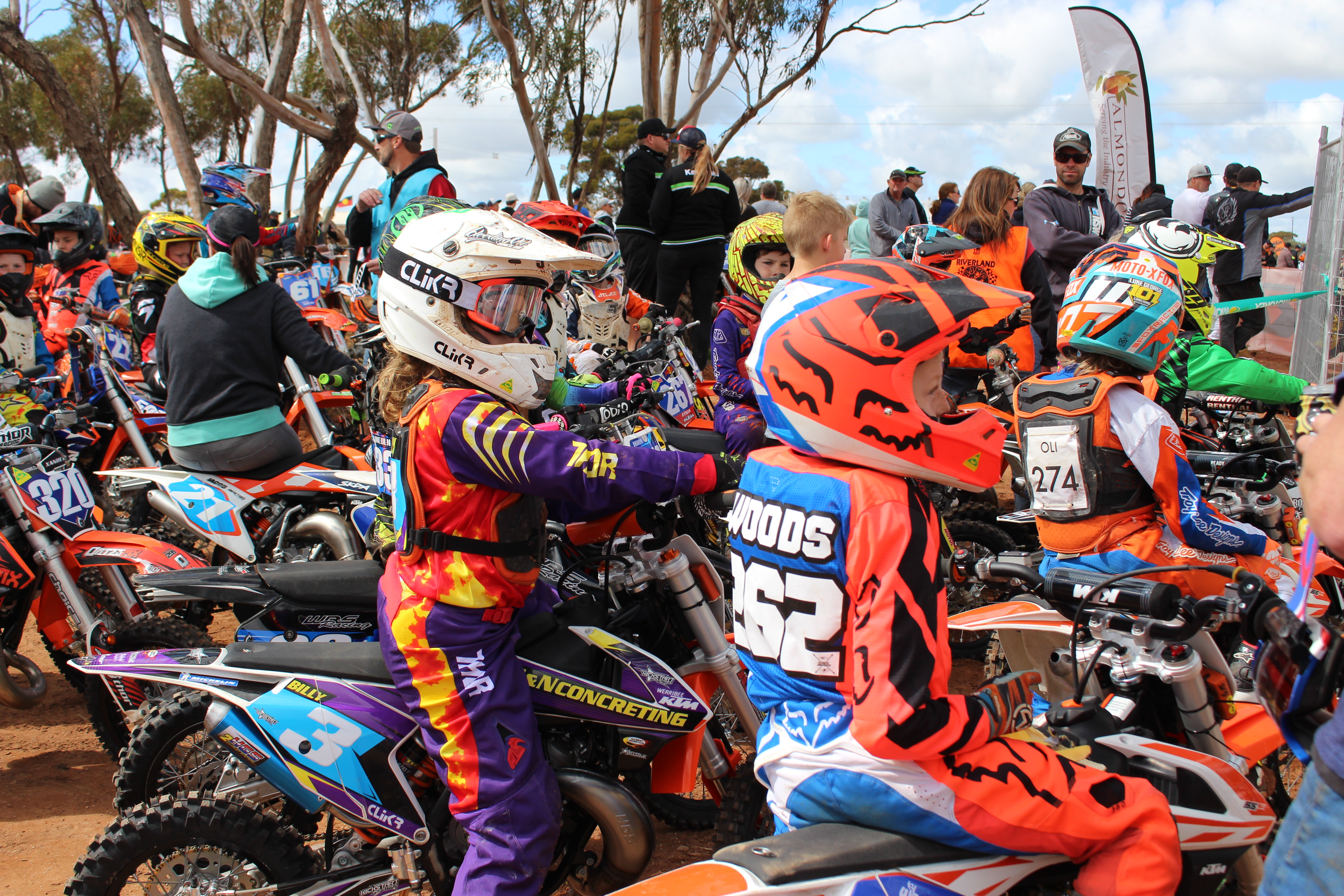 The 2016 KTM Australian Junior Motocross Championship officially kicked off with practice and selected qualifying sessions at the Riverland Junior Motorcycle Club in Renmark South Australia today.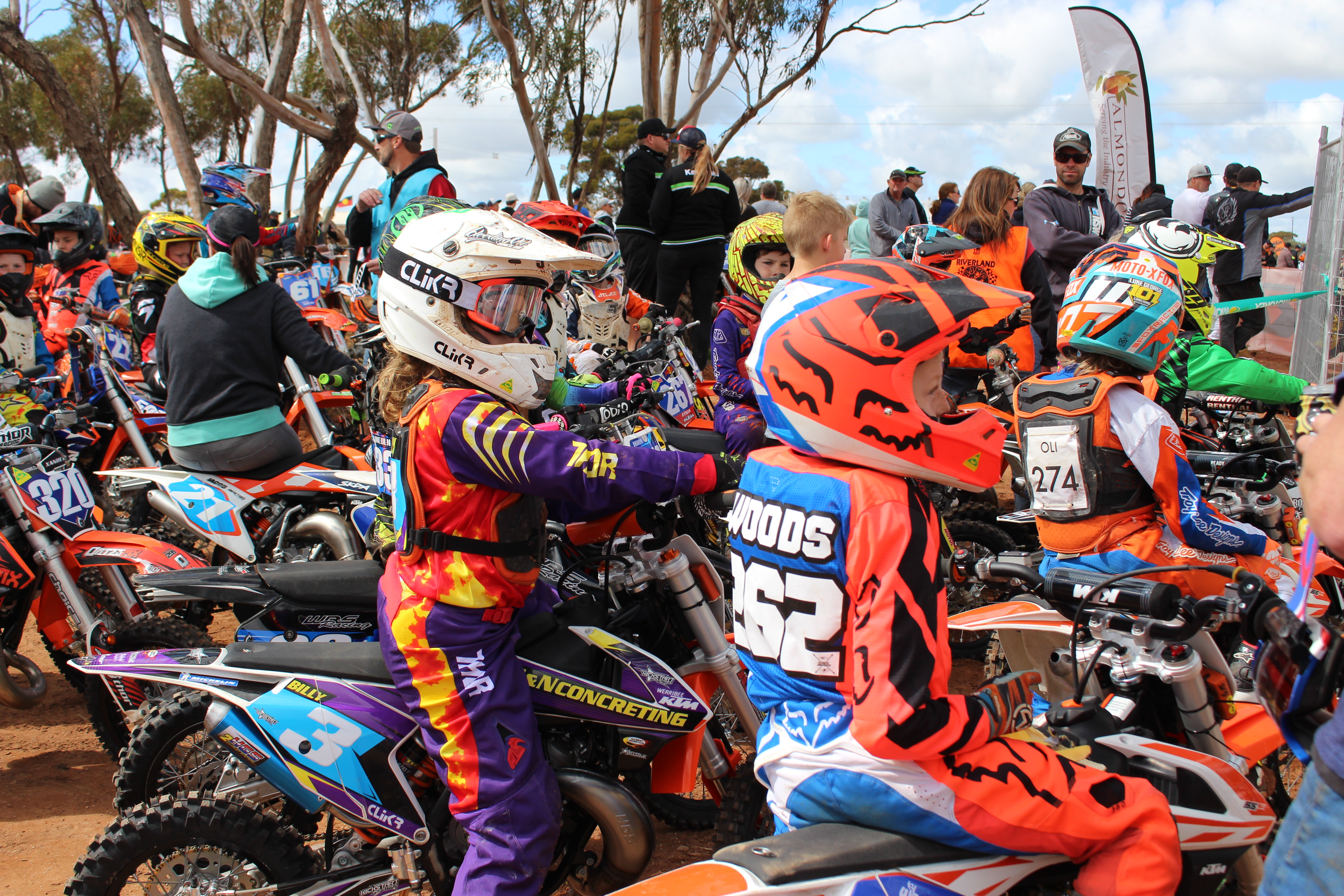 Press Release
With the largest field of junior competitors since 2011, hundreds of riders capitalised on the opportunity to get a feel for the track conditions today, with each class having the chance to head out for at least one practice session, and two categories also taking part in qualifying this afternoon.
The 128-150cc/200-250cc 13-U15 years class were the first to qualify over ten minutes on the Riverland circuit in sunny conditions, and it was KTM who claimed the top three positions. Mason Semmens set the pace for the week with a 1:48.180 lap time, from fellow KTM mounted Regan Duffy (1:48.895) and Rhys Budd (1:49.308), who was third quickest on track.
In the girls 85cc/150cc 12-U16 years category Western Australian Tahlia O'Hare topped the time sheets in qualifying with a lightening fast 2:09.741, while Madison Healey secured second pick of the grid 1.5 seconds behind her with a 2:11.242, followed by Tanesha Harnett (2:11.605).
With an incredible 13 classes taking part in this year's AJMX, we hand picked five riders to hear from after practice and qualifying this afternoon, to get the the low down on every thing from the track conditions to personal goals, and what the competition is like in their classes ahead of the gates dropping for racing tomorrow.
Tahlia O'Hare – 100 – 150cc/128 – 250cc 12 – U16 Years & 85/150cc 12 – U16 Years Female
"I'm a bit nervous, but I feel good going in to this week. I came over from Western Australia and did a school here a couple of months ago so I feel good out on the track," O'Hare shared.
"It was awesome having that experience because it meant I knew exactly what the track was like and what I had to train for. We went out for the fourth session today, so it was still a bit wet, but it's looking a lot harder pack now.
"I really want a top three in both classes. I got second in both last year at Bunbury, so it would be nice to improve and stand on the top step."
Caleb Grothues – 128-150/200-250cc 15 Years & 100 – 125cc 15 Years
"I feel not too bad after heading out today. I've never rode this track before so it's new for me. I was riding a bit tight in my first session, so we'll make a few little changes and then come back swinging tomorrow," Grothues said.
"I'm hoping to place well on both bikes – a title would be awesome, that's the goal, so that's what we'll be heading towards this week.
"We probably have the stiffest field out there this year. There's probably around five to ten of us that are all around the same speed so it's going to be a long week of racing, and we can't wait to get into it."
Seth Burchell – 65cc 9 – U11 Years & 85/150cc 9 – U12 Years  
"Last year Bunbury was a tough week, this year it's a hard pack track so hopefully I don't have any bad luck," Burchell said.
"I've been training every weekend for this event. I have a track in my back yard so I have done as much as I can to get ready.
"I'm hoping to get a win this week. Hopefully I have no bad luck and we can do well. It's a bit muddy out there but it's getting some good ruts, so it's going to be a good week."
Bailey Malkiewicz – 85cc/150cc 14 – U16 Years & 100 – 125cc 13 – U15 Years
"Last year I was over in Western Australian for the AJMX, and on the 85 I was going really well, but I had some bike problems and that put me back a bit. The track here is really different – it's not sand, so hopefully I don't have any bad luck," Malkiewicz shared.
"I've trained all year for this event, and I've had a couple of little problems already but it will be fine – we'll push through and see how we go for the week.
"I have qualifying tomorrow on both bikes, so hopefully I can get a feel for the track today and we can go well tomorrow."
Patrick Butler – 50cc 7 – U9 Years & 65cc 7 – U9 Years
"I'm feeling pretty good. We had to do lots of preparation to get ready to come over because I'm from W.A. We came across the Nullarbor and we saw lots of things on the way which was really cool," Butler shared.
"I got to have a ride on the track on my 50 and 65 – it's pretty boggy and I'm having fun out there. I've got some big competition in both of the classes, so it will be good learning for me being from W.A.
"The goal for me this week is to get a top three in the 50s, and a top five in the 65s."
Racing for the 2016 KTM Australian Junior Motocross competitors will kick off tomorrow morning at the Riverland Junior Motorcycle Club at Renmark in South Australia.