The Monster Energy/Pro Circuit/Kawasaki rider has recovered from a broken wrist and will line-up for the Hangtown opener.
By Hayden Gregory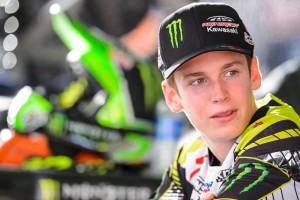 For the second straight year Cianciarulo has missed the AMA Supercross Championship through injury and will look to Motocross to kickstart his 2016 campaign. It has been a difficult few years for the rider with injury preventing him reaching any real heights on the premier level. We all know he has the skills, speed and patience to match it with the top riders it is just a matter of avoiding bad luck and keeping it on two wheels.
"I broke the navicular bone in my wrist about three to four weeks before the opening round of the East Coast Monster Energy® Supercross series," said Cianciarulo. "It's been about 12 weeks since then and I've been back on the bike for the last few weeks preparing for the opening round of the Lucas Oil Pro Motocross Championship.
"My arm was in a cast for around four weeks right after my crash and have been doing physical therapy since then. Since I have been able to start training again I've been doing everything in my power to get back to out there as soon as possible. It's what I've grown up doing, it's what I love to do.
"Everything with my wrist is solid now, everything has healed very well. I feel good heading into the outdoors. Over the last few years it seems I get injured at the worst times. I haven't had as much time back on the bike as I would like, but I feel very confident with in my program and we've made a lot of progress with testing in a very short period of time.
"I'm very excited to head up Hangtown for the first race, it's been almost a year since I've raced, I can't wait to be back out there. The chase for the top is what keeps me going and when I am racing I feel at ease. I'm happy to be back out there and making progress, I still believe in my ability and that I am fast, I haven't lost that aspect it's just about me being patient and getting through the season healthy."
Cianciarulo will no doubt just be looking to finish a series healthy and any results that come his way will be a major bonus. Despite all his misfortunes he has continued to remain positive and his determination is a true testament.