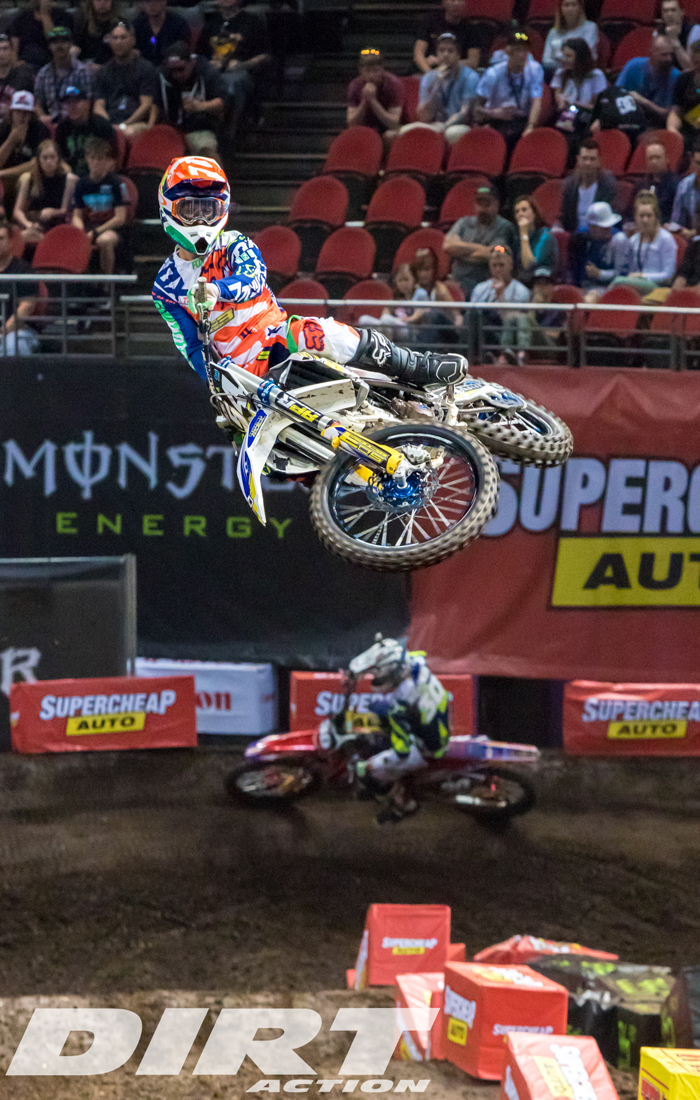 SD3 Husqvarna rider Luke Arbon has called time on his 2015 season after suffering a broken ankle at the AUS-X Open.
By Hayden Gregory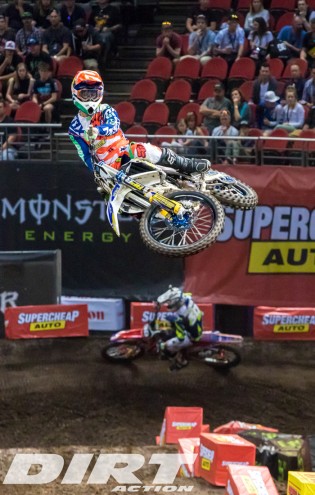 Arbon was on the cusp of a championship podium this year as he entered the fifth round in shared second place behind Jimmy Decotis. Unfortunately for the rider an awkward fall during qualifying left him with a broken ankle.
"My ankle is broken on the inside, we're just not sure how bad or good everything is yet," Arbon commented. "We'll have a much clearer picture today or tomorrow after CT scans. I think it's similar to what I've done a few years back, so maybe it will be good to go in six weeks.
"The obstacle had a triple on and off and as I've seat-bounced it and hit it with a bit of pace, I bottomed the shock which kicked me forward and dropped the front end down. I was trying to bring it back, but I've come up a little bit short and clipped the end of the tabletop. That sent me off a bit dodgy and I went to the right a bit – it could have been a lot bigger – but as I have gone to the right I've put my foot out and stabbed into the upramp."
Whilst X-rays have confirmed the fracture, further CT scans will be taken to assess the full extent of the injury. It is hoped that the damage will not keep Arbon off the bike for too long as we now look forward to the 2016 MX series.
It has been a difficult year for the South Australian who battled a chronic fatigue illness known as Leaky Gut Syndrome. The condition affected his ability to ride consistently fit and to the best of his abilities. In 2014 Arbon finished the MX season third overall proving he is more than capable of mixing it with the best in his class.
In more recent times Arbon has impressed taking a podium at the Mountain Man Motocross in Toowoomba and two more podiums at the Australian Supercross Championship.
"It's devastating for my supercross season to come to an end prematurely, I definitely felt like I was back to myself and was having fun riding up the front again. It was awesome to get two podiums and be second in the points coming into this round.
"It was also a big thing for me to show myself that the fatigue issue was history. When you've got something holding you back for so long, it begins to kick in a little bit in the back of your mind, so it was good to be back to full fitness. I can take a lot of confidence from everything that happened in the supercross championship."
At this stage Arbon has yet to decide whether he will step up to the MX1 class for Husqvarna next year.