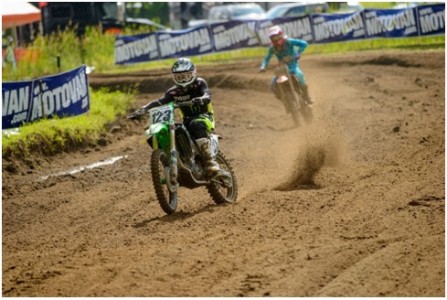 The Ulverton MX facility in Quebec has hosted the ninth round of the 2015 CMRC Canadian Motocross National Series over the past weekend. The championship has tightened following a string of results heading into the tenth and penultimate round.
Story by Hayden Gregory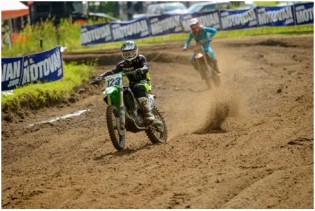 Australian rider Brett Metcalfe qualified on top spot in MX1.
The 2013 champion grabbed a top five start in moto one before finishing a strong race in second place. Backing up the first race, Brett gained an early lead in moto 2. Leading for 10 laps of the race he was eventually run down by Colton Facciotti to finish in second and secure second overall on the day.
American Matt Georke finished with a pair of third placings ensuring he maintained his lead in the championship.
Metcalfe stands in third place in the MX1 standings and is still a chance to take out his second Canadian title pending results. After round nine he stands 48 points behind first place Georke and 35 points behind second placed Facciotti.
Round Results
1st: COLTON FACCIOTTI – 60 Pts
2nd: BRETT METCALFE – 54 Pts
3rd: MATT GOERKE – 50 Pts
4th: COLE THOMPSON – 46 Pts
5th: TYLER MEDAGLIA – 41 Pts
Championship Standings After Round 9 of 10:
1st: MATT GOERKE – 479 Pts
2nd: COLTON FACCIOTTI – 466 Pts
3rd: BRETT METCALFE – 431 Pts
4th: COLE THOMPSON – 410 Pts
5th: TYLER MEDAGLIA – 392 Pts