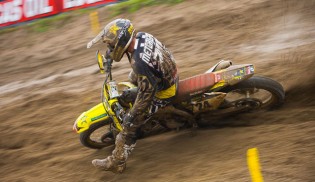 Brett Metcalfe relies on consistency to take his first career win in the rain at Southwick.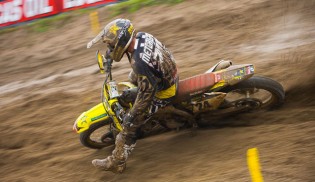 SOUTHWICK, Mass. (August 27, 2011) – Despite rainy conditions, the avid motocross enthusiasts throughout the New England area withstood the weather to watch the world's best riders in action on Saturday, at the Rockstar Energy Southwick. The 10th round of the 2011 Lucas Oil Motocross Championship signified a memorable day for Australian Brett Metcalfe, who broke through for his first career victory, outlasting his rivals in a consistent effort aboard his Rockstar/Makita Suzuki. In the 250 Class, Monster Energy/Pro Circuit/Kawasaki's Tyla Rattray, of South Africa, rode to his fourth win of the summer.
As the gate dropped on the opening 450 Class moto, Rockstar/Makita Suzuki's Ryan Dungey, of Belle Plaine, Minn., took control early, grabbing the holeshot and leading all 17 laps of competition. The strong start to the day put Dungey in position for his third win in four races, in addition to closing in on his points deficit to Monster Energy Kawasaki's Ryan Villopoto, of Poulsbo, Wash.
As the bikes lined up on the gates for Moto 2, Dungey's Suzuki was nowhere to be found, still sitting in the pits. As his crew worked feverishly to get the bike prepared, Dungey was forced to watch his competitors start without him. Moments later, Dungey's bike arrived, and the defending champion tore out onto the track, nearly a full lap behind.
Out front, American Honda's Justin Barcia, of Monroe, N.Y., looked to overcome a DNF in the first moto, moving into the lead early, and checking out on the field. Behind him, Metcalfe, Villopoto, and Muscle Milk/Toyota/JGR's Justin Brayton, of Fort Dodge, Iowa, battled for the remaining podium spots.
Barcia rode convincingly to his first moto win in the 450 Class, while Metcalfe's runner-up effort in the moto solidified his position atop the overall standings for the day, on the heels of 3-2 results.
"I'm a winner now," exclaimed Metcalfe. "This career has been a roller coaster. After everything I've been through, to finally get a win after eight years just feels good. The first moto was the worst I've ever rode at Southwick, but I still got third. We prepared my bike for the mud in the second moto and it rode like butter. It was perfect. I knew I had to beat Villopoto for the overall. I saw him ahead of me, dug deep, and passed him."
Villopoto's fourth-place effort in the final moto, combined with his second-place finish in Moto 1, landed him second overall. With the win out of his grasp, Dungey battled through the field in tricky conditions to fight his way to seventh in the moto, and third overall (1-7).
"My parents always told me to never quit," said Dungey. "I wanted to, and I almost did, but then I saw the bike come down the hill. I just went out there and rode as hard as I could. I can't take all the credit though. The Rockstar/Makita Suzuki team made it happen. It was the difference between starting late, or not starting at all. If it weren't for them, I wouldn't have been out there."
Even with Dungey's misfortune, Villopoto gained just one point on his rival, and enters the penultimate round of the season next weekend with an eight-point lead. TwoTwo Motorsports/Bel-Ray Racing's Chad Reed, of Australia, the series' points leader just a few rounds ago, experienced misfortune in both motos, failing to score points on the day. He now sits 65 points out of the lead.
After his toughest outing of the 250 Class season at the previous round, Rattray looked to bounce back at a track in which he was able to take the win one year ago. While leading in the late stages of the first moto, Rattray experienced misfortune, stalling his engine and ultimately losing the lead and win to DNA Shred Stix/Star Racing Yamaha's Gareth Swanepoel, of South Africa. In Moto 2, Rattray rebounded and took over the lead on Lap 4, gradually pulling away from the field (2-1).
"This track has been good to me," said Rattray. "I've ridden in the sand a lot in my career, so it means a little more to win here. I settled for second in the first moto and knew the track was going to be tough in the second moto, so I pressured myself to get a good start, which I did. I was able to get into the lead, and then I just put my head down."
Rattray's Monster Energy/Pro Circuit/Kawasaki teammate Dean Wilson, of Scotland, finished in the runner-up spot (2-3), to maintain his points lead, while Swanepoel garnered his first career podium in third (5-2).
Wilson now holds a 38-point advantage over Rattray in the 250 Class standings.
In the Motorcycle-Superstore.com Women's Motocross Championship, American Honda's Ashley Fiolek, of St. Augustine, Fla., won her third race of the season with 1-2 moto results. Troy Lee Designs/Lucas Oil Honda's Tarah Gieger, of Puerto Rico, finished second (2-5), while KTM rider Alexah Pearson, of Sacramento, Calif., finished third (7-3).
The Lucas Oil AMA Pro Motocross Championship continues next weekend, on Saturday, September 3, from Delmont, Pa. Steel City Raceway will host the 11th of 12 rounds this summer, beginning at 1 p.m. EST.
450 Class (Moto Finish)
1. Brett Metcalfe, Mannum, Australia, Suzuki (3-2)
2. Ryan Villopoto, Poulsbo, Wash., Kawasaki (2-4)
3. Ryan Dungey, Belle Plaine, Minn., Suzuki (1-7)
4. Justin Brayton, Fort Dodge, Iowa, Yamaha (7-3)
5. Mike Alessi, Victorville, Calif., KTM (4-6)
6. Jake Weimer, Rupert, Idaho, Kawasaki (6-5)
7. Justin Barcia, Monroe, N.Y., Honda (36-1)
8. John Dowd, Holyoke, Mass., Kawasaki (9-8)
9. Les Smith, York, S.C., Yamaha (8-9)
10. Kyle Chisholm, Clearwater, Fla., Yamaha (11-10)
450 Class Championship Standings
1. Ryan Villopoto, Poulsbo, Wash., Kawasaki – 431
2. Ryan Dungey, Belle Plaine, Minn., Suzuki – 423
3. Chad Reed, Kurri Kurri, Australia, Honda – 366
4. Brett Metcalfe, Mannum, Australia, Suzuki – 304
5. Mike Alessi, Victorville, Calif., KTM – 243
6. Jake Weimer, Rupert, Idaho, Kawasaki – 221
7. Andrew Short, Colorado Springs, Colo., KTM – 196
8. Kevin Windham, Baton Rouge, La., Honda – 193
9. Davi Millsaps, Murrieta, Calif., Yamaha – 173
10. Justin Brayton, Fort Dodge, Iowa, Yamaha – 163
250 Class (Moto Finish)
1. Tyla Rattray, Durban, South Africa, Kawasaki (2-1)
2. Dean Wilson, Glasgow, Scotland, Kawasaki (3-2)
3. Gareth Swanepoel, Johannesburg, South Africa, Yamaha (1-5)
4. Alex Martin, Millville, Minn., Honda (10-3)
5. Blake Baggett, Grand Terrace, Calif., Kawasaki (9-6)
6. Marvin Musquin, La Reole, France, KTM (7-8)
7. Broc Tickle, Holly, Mich., Kawasaki (5-12)
8. Gannon Audette, Minneapolis, Minn., Yamaha (4-16)
9. Justin Bogle, Cushing, Okla., Honda (18-4)
10. Darryn Durham, Butler, Pa., Honda (8-13)
250 Class Championship Standings
1. Dean Wilson, Glasgow, Scotland, Kawasaki – 438
2. Tyla Rattray, Durban, South Africa, Kawasaki – 400
3. Blake Baggett, Grand Terrace, Calif., Kawasaki – 398
4. Kyle Cunningham, Aledo, Texas, Yamaha – 264
5. Eli Tomac, Cortez, Colo., Honda – 246
6. Gareth Swanepoel, Johannesburg, South Africa, Yamaha – 241
7. Broc Tickle, Holly, Mich., Kawasaki – 220
8. Justin Barcia, Monroe, N.Y., Honda – 181
9. Martin Davalos, Quito, Ecuador, Suzuki – 175
10. Alex Martin, Millville, Minn., Honda – 170
WMX Class (Moto Finish)
1. Ashley Fiolek, St. Augustine, Fla., Honda (1-2)
2. Tarah Gieger, Aguadilla, Puerto Rico., Honda (2-5)
3. Alexah Pearson, Sacramento, Calif., KTM (7-3)
4. Sarah Whitmore, Cheboygan, Mich., Yamaha (5-4)
5. Julie Parizek, Manchester, Conn., Kawasaki (8-7)
6. Jessica Patterson, Tallahassee, Fla., Yamaha (27-1)
7. Kasie Creson, Vallejo, Calif., Honda (11-6)
8. Lindsey Palmer, Albuquerque, N.M., Honda (9-8)
9. Jacqueline Strong, Cottonwood, Ariz., KTM (4-15)
10. Sade Allender, Sanford, Maine, Kawasaki (10-9)
WMX Class Standings
1. Ashley Fiolek, St. Augustine, Fla., Honda – 279
2. Jessica Patterson, Tallahassee, Fla., Yamaha – 249
3. Tarah Gieger, Aguadilla, Puerto Rico., Honda – 226
4. Jacqueline Strong, Cottonwood, Ariz., KTM – 162
5. Kasie Creson, Vallejo, Calif., Honda – 153
6. Marissa Markelon, Bridgeport, Conn., Yamaha – 148
7. Vicki Golden, El Cajon, Calif., Kawasaki – 140
8. Alexah Pearson, Sacramento, Calif., KTM – 137
9. Lindsey Palmer, Albuquerque, N.M., Honda – 132
10. Sayaka Kaneshiro, Osaka, Japan, Suzuki – 113