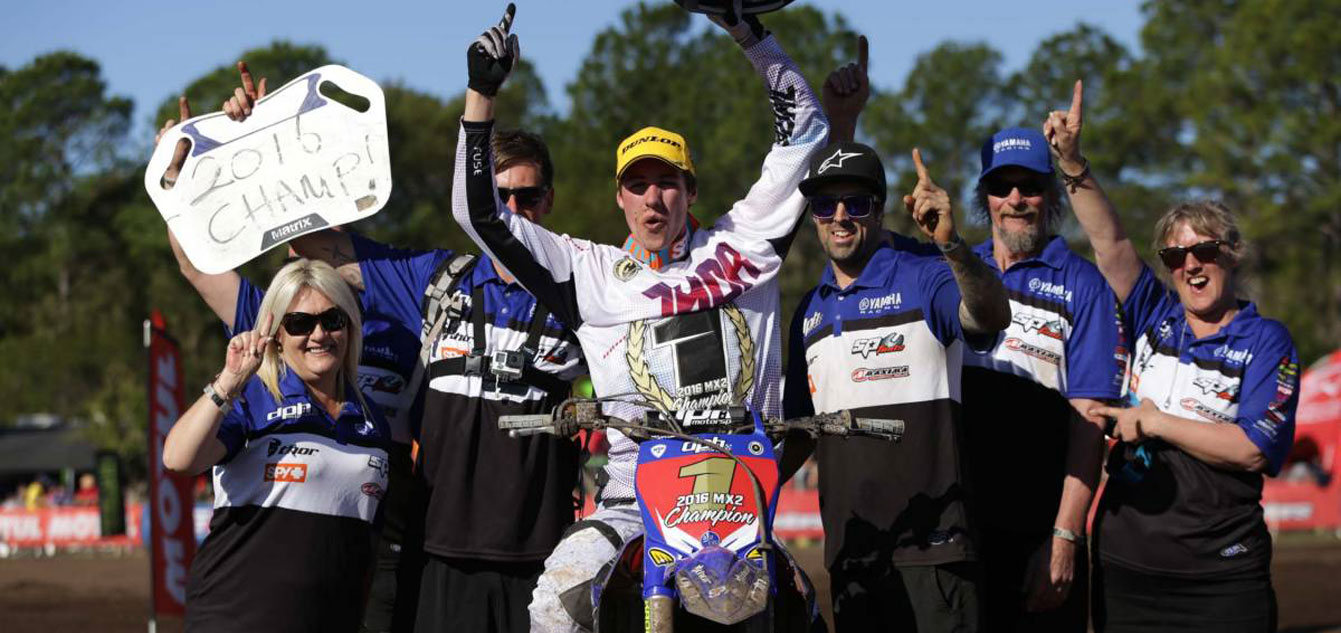 DPH Motorsports Jed Beaton has won the final round of the 2016 Motul MX Nationals to secure the 250 Championship.
By Hayden Gregory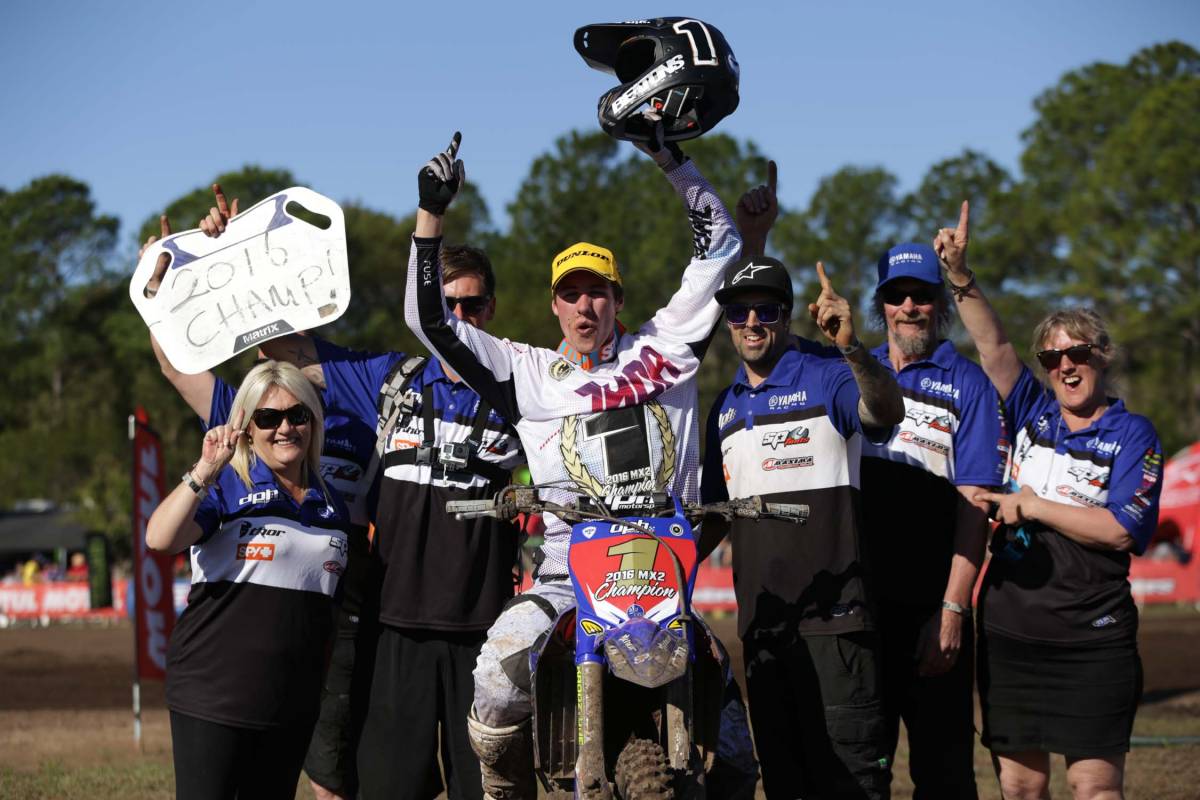 Coolum provided the perfect backdrop for the final two races of the series with Jed Beaton and Caleb Ward both in contention for the 2016 title. As was heavily reported during the week red plate holder Nathan Crawford would miss the finale after suffering a nasty training crash and would most likely drop to third place overall.
As gates dropped in moto one, Davey Motorsport's Jayden Rykers collected the MXStore holeshot before Beaton quickly worked his way into the race lead. Wilson Todd and Caleb Ward then also made their move on Rykers with the leading trio setting a turbulent speed out front.
Beaton continued to hold off Todd in second place before pressure was eased on lap eight with the Serco rider going down and remounting in fourth place. Ward moved into second place and the battle was well and truly on for vital championship points.
Despite numerous attempts Ward was unable to make the decisive pass and Beaton would score maximum points for the opening moto. The KTM rider scored second with Rykers crossing in third.
As the final moto of the year got underway, Caleb Ward claimed a narrow lead ahead of Todd and Beaton. On the second lap Beaton brought the crowd to its feet as an exhilarating turn of pace saw him pass both riders to capture the lead.
One lap later and pressure started to show for Ward as a small mistake cost him two positions and provided some much needed breathing room for Beaton. As the race went on positions remained relatively similar with Ward jumping back into third place and Beaton continuing to lead.
With one lap left to race Todd provided some late entertainment for fans, cruising past Beaton to take the moto win. Ward would finish in third place despite a fast finishing Rykers in fourth.
A 1-2 result not only handed Jed Beaton round honours, but also the 2016 MX2 Championship title.
"I'm so happy to get this title. I knew that I had put in the hard work during the off season, I kept getting better and better at every round, and then half way through the championship I improved my results a lot," he said.
"It's a shame that Nathan (Crawford) was out because I would have loved to battle with him here at Coolum, but he deserves all the credit that he gets, and it's been a good year going at it for the title.
"The DPH Motorsports Yamaha team have put in 100 per cent this year, and it really is like a little family. They're a bunch of good people, and we all work really hard so we definitely deserve this championship."
Wilson Todd claimed second for the Coolum finale with Ward rounding out the podium in third. Despite a courageous last round the KTM rider had to settle for second place in the championship.
"It's pretty disappointing," Ward shared. "I obviously wanted to win this year. But Jed rode like a champ today, obviously I kept him on his toes in the first one, I caught him a bit at the end but I couldn't get it done.
"In the second I got the holeshot, but I made a bad line choice and he made an early pass on me. Then I fell and went back to third and got caught up with sand in my gloves which made it a bit slippery to hold on. I didn't want to do anything too crazy and hurt myself.
"Second in the championship isn't too bad but obviously I would have liked to have one. I had a bit of bad luck early in the championship at Broadford with some things that were out of mine and the team's control, and I've made a few mistakes along the way myself. It's a bit of a mix of feelings but overall second isn't too bad. We'll learn from it, move on and not dwell on it too much, and look forward to bigger and better things."
Husqvarna's Nathan Crawford wrapped up the year in third place despite being unable to contest the final round due to injury.
Motul MX2 round ten results
1) Jed Beaton – 67 points
2) Wilson Todd –  63 points
3) Caleb Ward – 62 points
4) Jayden Rykers – 58 points
5) Kyle Webster – 52 points
6) Hamish Harwood – 50 points
7) Geran Stapleton – 46 points
8) Joel Wightman – 43 points
9) Richie Evans – 43 points
10) Dean Porter – 42 points
Motul MX2 Championship
1) Jed Beaton – 630 points
2) Caleb Ward – 617 points
3) Nathan Crawford – 574 points
4) Jayden Rykers – 537 points
5) Wilson Todd – 507 points
6) Dylan Wills – 470 points
7) Hamish Harwood – 448 points
8) Joel Wightman – 426 points
9) Kyle Webster – 376 points
10) Dean Porter – 365 points