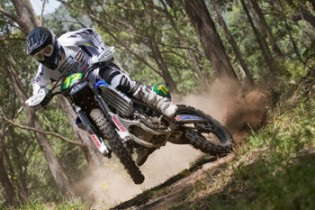 Phillips sweeps penultimate AORC weekend, Hollis maintains outright Championship lead.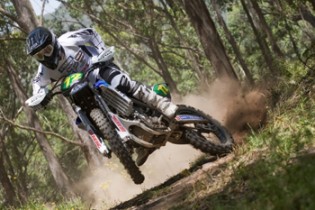 The penultimate weekend of the 2011 Yamaha Australian Off Road Championship (AORC) has come to a close in Hastings Valley, with Ballards Yamaha Off-Road rider Matt Phillips sweeping the field yet again to claim his fourth consecutive round.
Blue skies and mild conditions greeted more than 150 riders at the Hastings Valley Motorcycle Raceway for the third last round of the season.
Phillips conquered the six kilometre sprint track in style, coming home thirteen seconds ahead of teammate Chris Hollis. Fellow Ballards Yamaha Off-Road rider Stefan Merriman clocked up the third fastest time of the day to cover the podium with blue.
Phillip's performance has boosted him up the Championship ladder, and he now sits behind Championship leader Hollis ahead of the penultimate rounds.
Merriman was also victorious in the E1 class for the second day in a row, taking honours ahead of Ben Burrell (Ballards Yamaha Off-Road) and AJ Roberts (Force Accessories Honda).
Port Macquarie rider Hollis once again snared the top position in the E2 class, tailed by Husqvarna's Glenn Kearney and Bartosz Obluki.
Phillips reinforced his dominance in the E3 class, taking line honours ahead of Motorex KTM's Jarrod Bewley and Force Accessories Honda's Nick Beattie.
In the Masters class, Trent Lean (Suzuki) repeated his performance in round seven to take back-to-back line honours, and was followed home by Yamaha riders David Cash and Steve Clark.
Husqvarna rider Damian Smith consolidated his round seven performance to storm home with a three minute lead ahead of Garry Dukes (Husaberg) and Anthony Smidt (KTM).
The blue sweep of the Women's class continued, with Jess Gardiner of Ballards Yamaha Off-Road taking the top honour in front of Yamaha riders Jemma Wilson and Emelie Karlsson.
The Junior classes put in a solid performance, with familiar faces gracing the podium. Brendan Walther (Yamaha) claimed the J1 class for a second day in a row, with New Zealand rider Scott Sowry (Kawasaki) taking out the J2 class. Nic Tomlinson and Mitch Kellner (Suzuki) claimed back-to-back victories in the J3 and J4 classes.
AORC Outright Championship Standings
1 84 Chris Hollis 166
2 72 Matthew Phillips 153
3 24 Stefan Merriman 144
4 2 Jarrod Bewley 140
5 6 Glen Kearney 125
6 33 Bartosz Obluki 108
7 3 Ben Grabham 84
8 31 Daniel Milner 82
9 1 Toby Price 75
10 7 Kirk Hutton 63