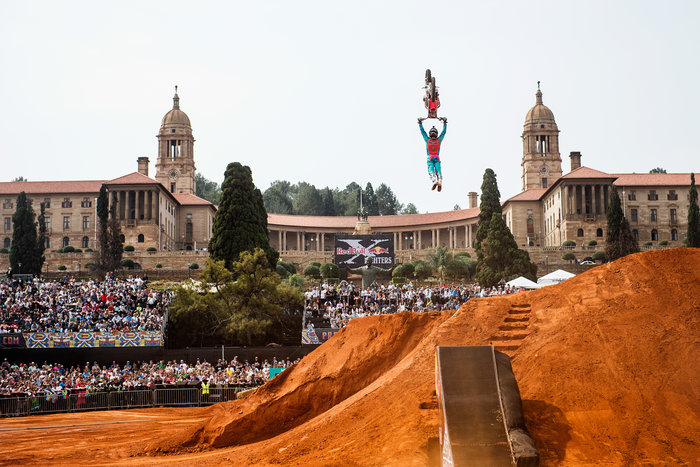 Australian Clinton Moore has featured in a blockbusting round of the Red Bull X-Fighters World Tour in Pretoria, South Africa
By Hayden Gregory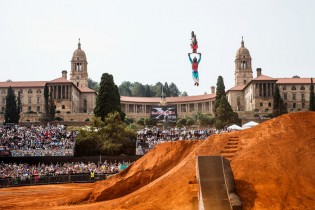 In front of 17000 adoring fans, Moore went head to head with Frenchman Tom Pagès. The pair exchanged blow for blow in a scintillating freestyle motocross exhibition. Clinton Moore arrived in South Africa as the overall leader of the competition but was pushed to his limits by Pagès to finish a close second.
The duo now share an overall points lead in the competition setting up an epic showdown in Abu Dhabi for the season finale, October 30th.
Highlights of the South African stage included Moore landing the first ever dirt-to-dirt Volt in competition. Not to be outdone, Pagès stepped up to the occasion producing an array of jumps including his new Transfer Flip. Mixed in with his signature Alley-Oop Flair, Bike Flip and Special Flip the Frenchman claimed a unanimous decision by the judges.
"This weekend has been insane," said Pagès. "Now I've got time to go back and really practice hard ahead of Abu Dhabi. I want to add a new trick to my list there and to ride even better in the finale for sure."
The event showcased an impressive throwdown of trickery from all riders. Third placed Taka Higashino of Japan set himself with an incredibly difficult Rock-Solid Backflip before showing off his outstanding Flair.
Fourth Placed, defending world champion, Josh Sheehan, was also able to put on a show for the African fans. The Australian rider produced a rarely seen Double Backflip which capped off a breathtaking Red Bull X-Fighters round.
Final Result Red Bull X-Fighters Pretoria 2015
Tom Pages (FRA)
Clinton Moore (AUS)
Taka Higashino (JPN)
Josh Sheehan (AUS)
Rob Adelberg (AUS)
David Rinaldo (FRA)
Maikel Melero (ESP)
Remi Bizouard (FRA)
Adam Jones (USA)
Javier Villegas (CHI)
Alastair Sayer (BOT)
Dany Torres (ESP)