KTM racer and former Australian enduro champion Brad "Wonka" Williscroft has won the 45th running of what is known as Australia's muddiest enduro – Darwin's Kamfari – for a record equalling tenth time.
Press release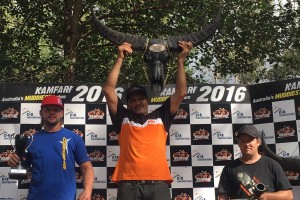 The notorious NT mud bogs were no match for Williscroft's NT Motorcycle Centre KTM500EXC as he ground out an impressive victory in the four-hour event, ahead of Chris Warwick and David Bates.
Despite his conditioning level being not quite as high as it has been in years past – Kamfari was the first time he had raced a motorcycle in 2016 – Williscroft was able to call on his experience and determination to avoid any major hold-ups, and fend off a late-race attack from Warwick to claim the coveted buffalo horn trophy for another year.
The win was made all the more impressive by the significant rain the night before the event, which ensured that this would be one of the toughest Kamfaris of recent years, a claim well illustrated by the fact that of the nearly 50 entries, only 29 made it out for a second lap of the almost 13 km course.
Visiting ironman racer Kye Anderson from New South Wales led the event on his KTM as the field came through for its first lap, ahead of Victorian hard enduro specialist Mitch Harper, but both fell foul of the conditions and dropped out of contention, and Williscroft moved from third through to the lead before piling on a string of consistent laps which set up the win.
"It's great to win the 45th running of this event, particularly because I'm not as bike fit as I used to be. Kamfari has been going even longer than Finke so there's quite a tradition. We got heavy rain in the early hours of Sunday morning and the track got very tough. We had a strong field of riders this year with Kye Anderson and Mitch Harper both coming up from down south.
"For the first three hours I never really made any mistakes and never got stuck, but because it was 35° and like 95% humidity I got really tired and got bogged a couple times, but I had a big enough lead I could lose a minute or so a lap, so I took it easy to make sure I got through all the bad stuff and I got the win. There's a big kilometre-long floodplain where you get right on top of the weeds so you don't sink into the water, and the 500 had plenty of power there."
Forty-seven year old Williscroft's tenth win now places him equal with previous all-time record-holding Kamfari winner Tony Morris.
Results: Kamfari 2016 –
B. Williscroft – 10 laps, 2. Chris Warwick – 10 laps, 3. David Bates – 8 laps, 4. Jacob Farrell – 8 laps, 5. Matt Goodfellow – 8 laps, 6. Ayden Bridgeford – 8 laps, 7. Sam Clarke – 8 laps, 8. Kye Anderson – 7 laps, 9. Daniel Field – 7 laps, 10. Thomas Skewes – 7 laps.