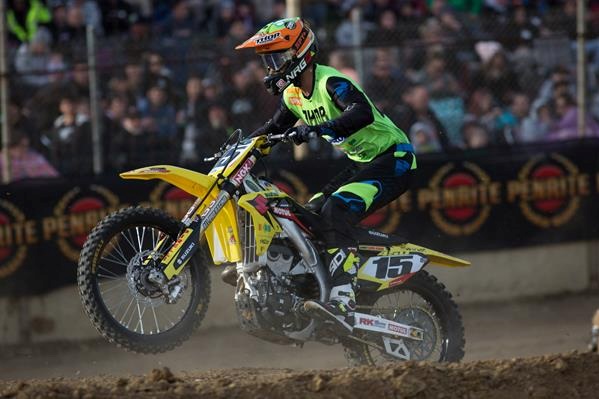 Luke Wilson registered a DNS at round four of the Australian Supercross Championship due to a hand injury.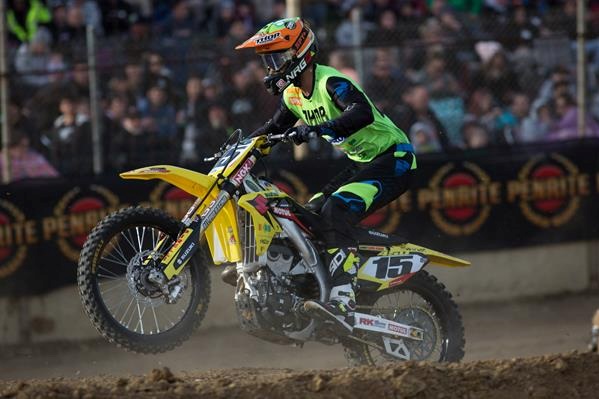 By Hayden Gregory
The Wilson Coolair Motul Factory Suzuki rider qualified in 14th position before suffering a huge crash during his first heat race. Wilson had scored the holeshot and was running top three before going down and re-injuring his hand.
Following the incident, Wilson tried to get back on the bike but was quickly forced back to the pits with pain.
"I got off to a really good start in my heat race, I holeshotted and was in the lead which was awesome, then I think I dropped back to about third and I made a mistake, jumped off the side of the triple and jammed my hand," Wilson said.
"It's the same hand that I've been struggling with but just a different area which was really disappointing.
"I went out for the sight lap for the main but I just couldn't do it, I had to make the call to pull in and keep my mind on the bigger picture.
"We'll see how we're going this week, and I'll be doing everything I can to be on the line in Sydney."
It was a difficult night for the Wilson Coolair Motul Factory Suzuki team as Todd Waters also sat on the sidelines following a training incident.
"It was a tough weekend for us, but we're focusing on the positives, and looking at what went well as a whole too," Team manager Neale Wilson shared.
"With Todd out with an injury, and Luke also carrying a wrist injury we knew that Melbourne was going to be a challenge, but Luke showed a lot of determination to get out there and give it a go, no matter what challenges he was faced with.
"He got a fantastic start in his heat race, and was well on the pace of the guys in the top three, but unfortunately that crash in the triple section hurt him a lot and it was sort of the catalyst for the night.
"Even though he was in pain, Luke headed out for the sighting lap for the final and was determined to race, but I think he made the right call pulling in, and now we can work on getting in as much recovery as possible before Sydney."
The final two rounds of the 2016 Australian Supercross Championship, the AUS-X Open, will take place this weekend, November 12-13, at Sydney's Qudos Bank Arena.