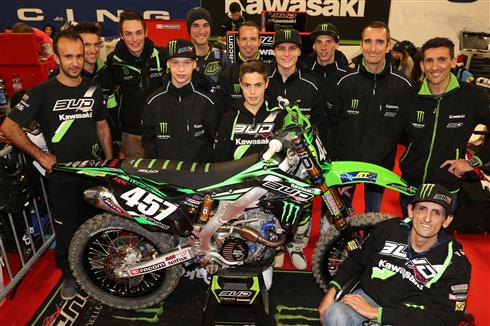 The French and US programs are shaping up ahead of the 2016 Supercross and Motocross seasons.
By Hayden Gregory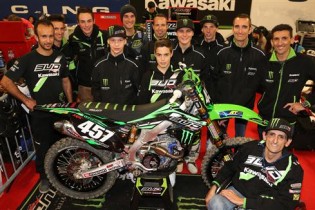 Bud Racing Monster Energy will launch a five rider program in France after dominating three classes of the championship in 2015. Xavier Boog, Maxime Desprey and Brian Moreau all claimed titles in their respective classes and will once again line-up for 2016. Desprey will make the leap from MX2 to join Boog on the big bores while Moreau advances to the 125's. Nicolas Dercrourt will be the sole Bud racer in the MX2 class with newcomer Thibault Benistant rounding out the team on the 85cc machine.
Meanwhile over in the US, Team Bud Racing Monster Energy Kawasaki will add young gun Darian Sanayei to the 250 West Coast Supercross series, joining Frenchman Desprey. Darian is a real up and comer and will race all rounds of the series alongside Nicolas Dercourt.
Facing a busy year the Bud racing team will also appoint two new staff members Thierry Van Den Bosch and David Vuillemin who will use their vast experience to help train the riders.
Stéphane Dasse: "The season will start very early for us in the USA, with two young riders: Maxime who was already with us since this year and Darian who joins us recently. It's a new and exciting programme; we'll be behind them 100% to get the best possible results. Then we'll enter the European programme with David and Thibault in the 85 class, Brian in the 125, Nicolas and Darian in the 250, and also the French series with both Xavier and Maxime on the KX450F Kawasaki.
"We have to follow many riders, but we love our sport and the challenge and we're lucky to have the backing of such strong partners in Kawasaki Europe, Kawasaki USA and Monster Energy. We never give up, and thanks to all our partners who confirmed their support in September to build this programme; we have a strong technical staff, and we're pleased to welcome Thierry Van Den Bosch and David Vuillemin as trainers.
"We have known each other for a long time, and both are already working with the riders as it's during wintertime that you prepare your season. There's already a very good cooperation between the staff and the riders, so we're confident and optimistic for the coming season."
Bud Rider's program for 2016:
Xavier Boog: French Elite MX1 and Supercross SX1
Nicolas Dercourt: European 250, French Elite MX2
Darian Sanayei: US Supercross 250 West Coast, European 250
Maxime Desprey: US Supercross 250 West Coast, French Elite MX1 and Supercross SX1
Brian Moreau: European 125, French Juniors
Thibault Benistant: European 85, French Hopefuls
David Braceras: European 85, Spain 85