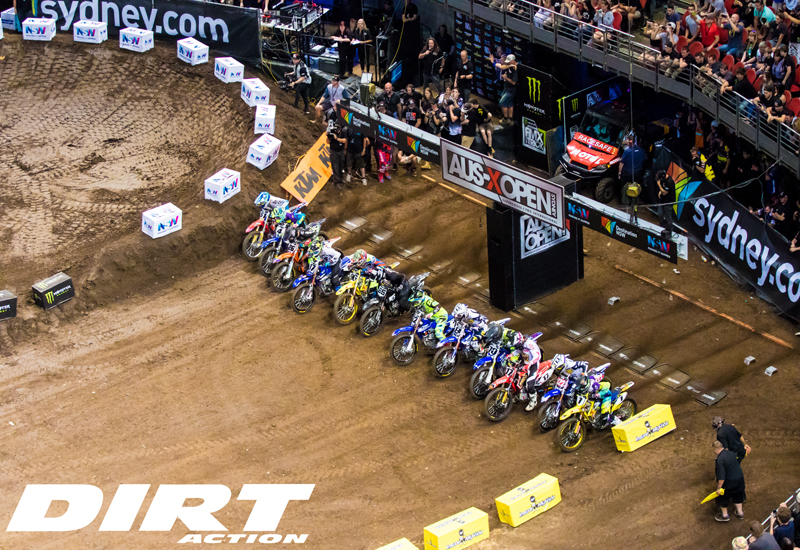 AMA 250 Supercross star Cooper Webb has denied Chad Reed an Aus-X Open double holding on by the smallest of margins in the SX1 day two final.
By Hayden Gregory

 In his first trip to Australia Webb lit up Allphones Arena in an epic SX1 race.
The action was second to none as leader Reardon went down on lap 13 taking day one winner, Chad Reed with him. The mistake allowed both Lawson Bopping and Cooper Webb to sneak to the front with the crowd set for an all out sprint for the last seven laps.
Recovering quickly Reed made the pass on Bopping on lap 14 before setting his sights on the American ace. In a grandstand finish Reed slowly reigned in Webb before the two embarked on a bar to bar final lap.
In the final two turns it appeared that Reed's #22 would just edge out Webb to the post however the 20 year old was amazingly able to hold on pipping the Australian legend by just 0.268's of a second.
"I'm stoked to be crowned the AUS-X Open champion in Sydney, It was a crazy race to say the least!" Webb exclaimed.
"I knew it was going be a tough race to win, you know Chad's the fastest guy here and I knew he was going to be extremely hard to beat but I just put my head down and tried to be smart and I held him off, barely." 
"Win or lose it's a win for me this weekend and thanks so much to the fans out here for making the AUS-X Open such an awesome event," said Reed.
"This event is a real boost for Supercross in Australia and I just want to thank Ricky and Cooper for coming out and most importantly the fans who came down to Sydney or watched the broadcast on 7mate, it's been an awesome weekend back home."
While all eyes were laid firmly on the two front runners, Lawson Bopping, Daniel McCoy and Dan Reardon all performed strongly to round out the top five in the event finale.
In the SX2 final, it was Jimmy Decotis who once again claimed top honours. The American made a clean sweep of the weekend claiming a five second victory over second placed Jackson Richardson and Geran Stapleton in third.
In the legend's race, day one positions were reversed with Reed taking victory over the GOAT. While Carmichael led for the majority of the two lap spectacle, Reed showed too much speed in the whoops to take the win.
"It was an exciting weekend and you couldn't have asked it to turn out any better than the way it did, especially considering the circumstances and the whirlwind the AUS-X Open went through with people dropping out at the last minute, so it was a really fantastic event," said Carmichael. "The fans were fabulous and personally they gave me an incredible welcoming and I'm thankful for the opportunity."