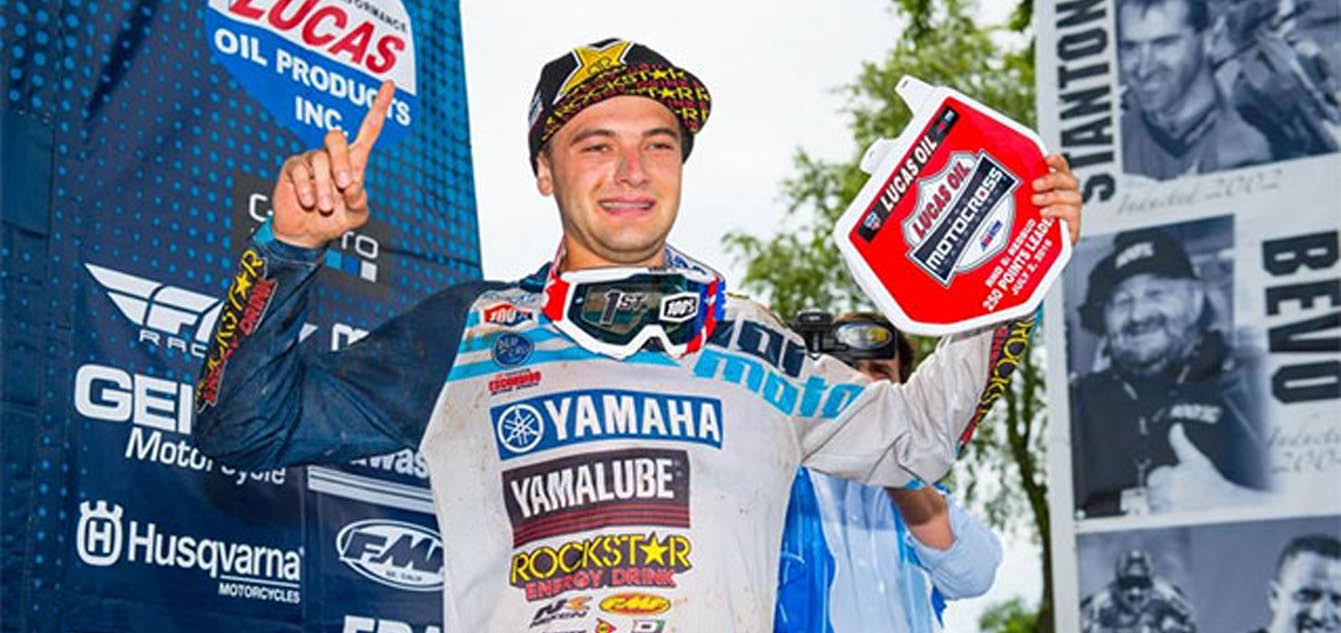 Cooper Webb pulled off a 250 clean sweep at the RedBud National.
By Hayden Gregory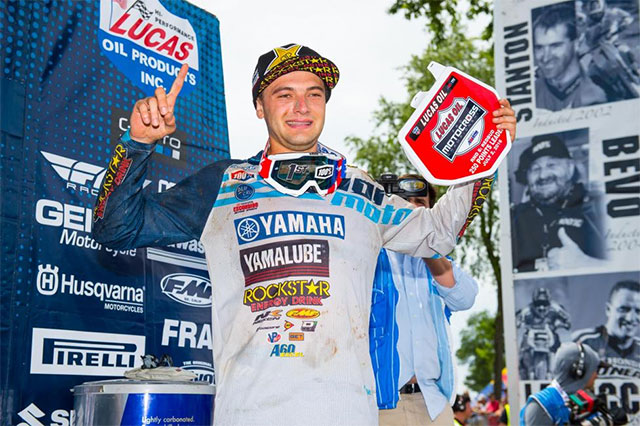 Kawasaki rookie Austin Forkner got 250 racing underway with the holeshot ahead of Webb and Jeremy Martin. Webb would push Forkner over the opening few turns pressing for the lead and exchanging positions a number of times.
Webb made the pass stick on lap two slowly putting space in between Forkner and himself. Championship leader Joey Savatgy was also making his way through the pack, pulling into third place before then also making a move on Forkner.
Webb and Savatgy began to pull away from the pack with the Kawasaki rider a constant threat. With one lap left to race less than bikes length separated the riders before Webb pulled off a race fast lap to win the moto by one and a half seconds. In third place Alex Martin got the better of Forkner and his brother Jeremy to score some vital championship points.
A holeshot to Shane McElrath in moto two was short lived as Savatgy quickly moved into the race lead. Martin Davalos, Cooper Webb and Alex Martin were all positioned in the lead pack.
A small crash on lap two by Savatgy handed McElrath the lead as he dropped all the way back to fifth place. Two laps later and McElrath also tipped over allowing Webb and the Martin brothers to move into the lead.
A Martin 1-2 looked probable before Jeremy also went down while trying to pass his brother for the lead.
Crashes were definitely a plenty in moto two, as misfortune once again hit Savatgy as he lost control of his bike dropping right outside the top 20.
Out in front, Webb challenged Alex Martin for the lead and on lap 13 he had his teammates measure. A hard charging Zach Osborne had also joined the leading duo and trailed Martin as he tried to find a line to get in front of Webb.
As the chequered flag waved, Webb won his second moto of the round beating Osborne and Martin by the smallest of margins.
"It's definitely not easy [to win]. The Nationals are not easy," said Webb. "It got rough in that second moto. We all had good starts, so I figured it was going to be a battle. And it was. Everyone was riding well and I knew they'd be right there. We're all going fast and everyone wants to win, so it's not like you're going to dominate. Luckily, I was able to get it done today." 
Webb's first ever 1-1 motocross sweep provided a huge championship swing as he moved into the number one position while Savatgy fell following a seventh place finish (2-16).
Alex Martin scored second for the round (3-3) and Osborne claimed third after a strong second race.
The Lucas Oil Pro Motocross Championship will continue next weekend in New England.
250 Class Overall Results (Moto Finish)
1 Cooper Webb, Newport, N.C., Yamaha (1-1)
2 Alex Martin, Millville, Minn., Yamaha (3-3)
3 Zach Osborne, Abingdon, Va., Husqvarna (5-2)
4 Jeremy Martin, Millville, Minn., Yamaha (4-4)
5 Shane McElrath, Canton, N.C., KTM (9-5)
6 Adam Cianciarulo, Port Orange, Fla., Kawasaki (7-8)
7 Joey Savatgy, Thomasville, Ga., Kawasaki (2-16)
8 Austin Forkner, Richards, Mo., Kawasaki (6-10)
9 Arnaud Tonus, Switzerland, Kawasaki (11-6)
10 Mitchell Oldenburg, Alvord, Texas, KTM (8-9)
250 Class Championship Standings
1 Cooper Webb, Newport, N.C., Yamaha – 243
2 Joey Savatgy, Thomasville, Ga., Kawasaki – 232
3 Jeremy Martin, Millville, Minn., Yamaha – 209
4 Alex Martin, Millville, Minn., Yamaha – 198
5 Zach Osborne, Abingdon, Va., Husqvarna – 190
6 Austin Forkner, Richards, Mo., Kawasaki – 164
7 Aaron Plessinger, Hamilton, Ohio, Yamaha – 152
8 Shane McElrath, Canton, N.C., KTM – 124
9 Mitchell Oldenburg, Alvord, Texas, KTM – 117
10 RJ Hampshire, Hudson Fla., Honda – 113