More than 5000 race fans braved the wild conditions at Taree Motorcycle Club on the weekend for the 2016 Motul Pirelli Troy Bayliss Classic.
By Hayden Gregory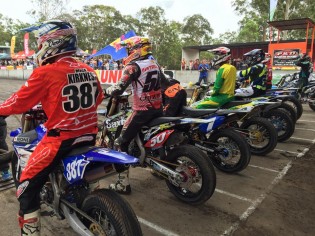 Unfortunately for riders and fans bad weather caused a premature end to the day however not before some exciting racing unfolded in the early rounds. The All Stars and Legends classes were able to get through three rounds of racing before the rain kicked in.
The All Star races saw victories to Jared Mees, Sammy Halbert, Michael Kirkness, Troy Bayliss and Brad Baker. In the legends division old rivalries were brought back to the track with a close battle between Jason Crump and Joonas Kylmakorpi.
Event organiser Troy Bayliss had nothing but praise for the Taree Motorycle Club and all involved who did their best considering the damp conditions.
"It was a great day considering the conditions," said Bayliss. "We got through all the heat races but it was disappointing that we were not able to run the final few events.
"I would have chopped off my other pinky to have run the Americana, Superpole and Troy Bayliss Classic final but, unfortunately, it wasn't to be.
"I would like to thank the competitors, officials, volunteers and especially the race fans who came out and stayed until to the bitter end," Bayliss added.
Bayliss alongside event organisers will now look ahead to upgrading the Taree Motorycle Club ahead of the 2017 event.