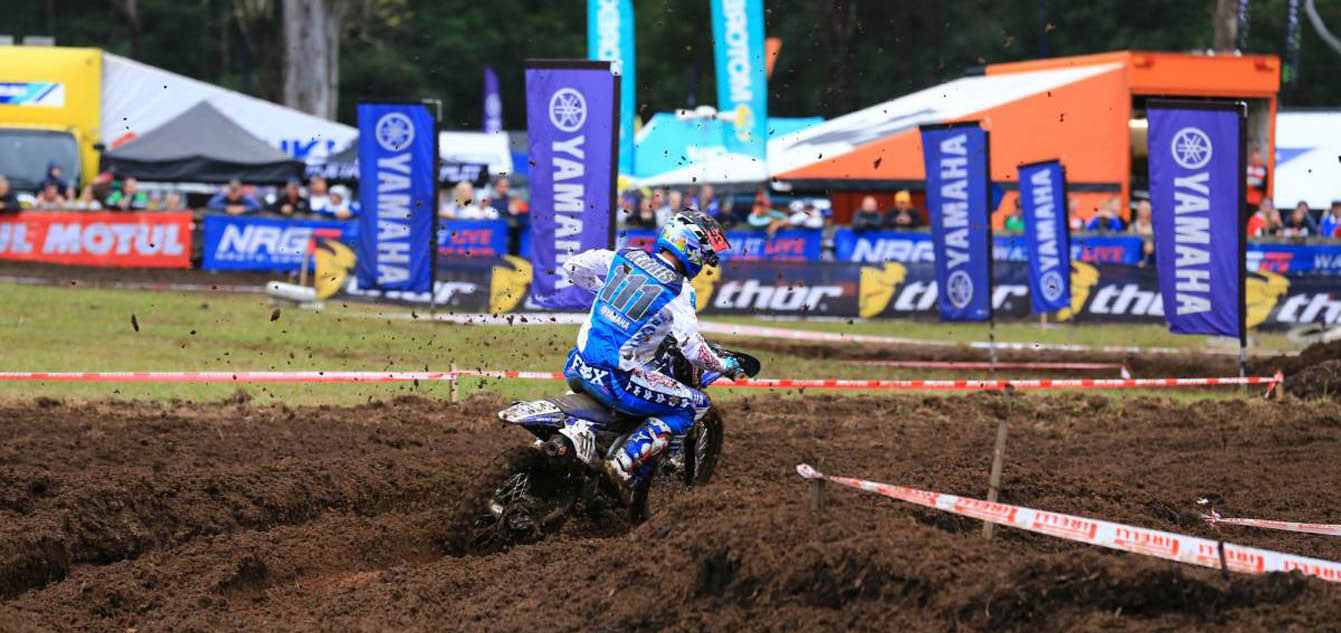 The CDR Yamaha rider has closed the gap between championship leader Kirk Gibbs and himself.
By Hayden Gregory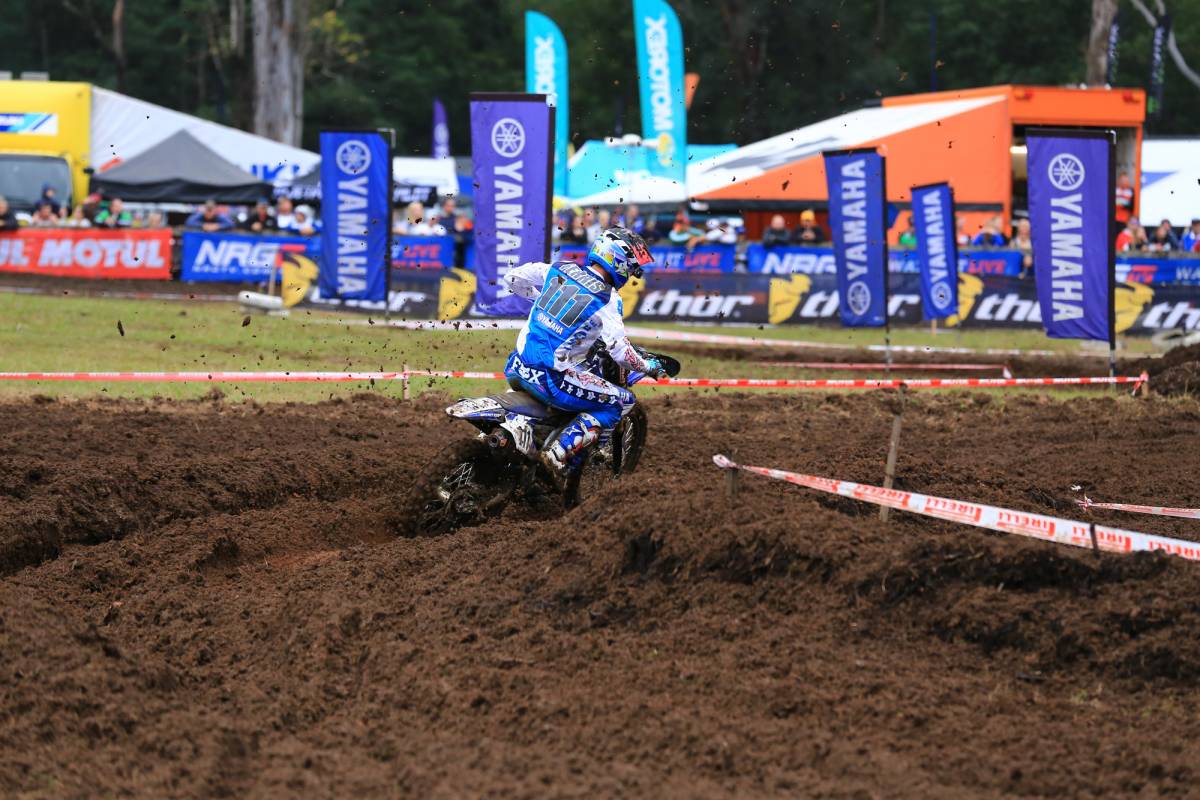 Round seven of the 2016 Motul MX Nationals headed north to Queensland and it was Dean Ferris taking early points with victory in the GoPro Superpole event.
In moto one, Dylan Long got the pick of the starts before Todd Waters and Dean Ferris quickly assumed the top two positions.  The leading duo began to check out on the field and set up a bar to bar battle for the lead. In chase, Kade Mosig, Kirk Gibbs and Dylan Long commenced a battle of their own for the minor positions.
Out in front Waters held a comfortable gap over Ferris and was able to hold on for moto victory. The race for third would come right down to the final few turns with Gibbs making a few late attempts to pass Mosig, however the Kawasaki rider would just manage to find the finish line first.
Jay Wilson scored the holeshot in moto two before the top three championship contenders, Ferris, Waters and Gibbs all moved into the race lead. In a dramatic opening lap Waters found himself crashing into the dirt, recovering in fourteenth place, all but dashing his chances of round victory.
Mosig pushed up into third place with Ferris and Gibbs well and truly battling for vital championship points. By the halfway stage Waters had miraculously pulled back into fourth place with an amazing charge through the pack.
As the chequered flag waved, Ferris was able to claim race victory just ahead of Gibbs. Ride of the day undoubtedly went to Waters who was able to clinch third place late from Mosig despite a huge early crash.
A 2-1 scorecard handed round seven victory to Ferris, closing the championship gap to just 6 points between Kirk Gibbs and himself.
"I'm really happy to get another round win," Ferris explained. "It was one of those rounds where it could have gone either way because of the conditions. I'm usually pretty comfortable in the mud, but so are Todd and Kirk," Ferris shared.
"Two wins in a row is a good start to the second half of the season for me. After that round at Wanneroo, I've just wanted to lay a solid foundation and I feel like we're doing that.
"I've got six points to make up on Gibbs now, and compared to where we were two rounds ago that gap was pretty big, being down 27 points. But we've bounced back, and that's what CDR Yamaha is all about."
Waters earned second place for the round after a hard fought second moto saw him finish the day 1-3 while KTM's Gibbs landed third (3-2).
"It was up and down today," Gibbs commented. "Third in SuperPole was okay, then in the first moto I didn't get the greatest start. I got into fourth, and kept trying to make passes on Mosig but every time we got into lappers the lapper would let him through and not me. I caught right back up and the same thing happened again, this lapper didn't see me and turned into me and took me down. It was really frustrating.
"The second race went a lot better, I was feeling good in second behind Ferris, and was just about to make a push when I had a little off. He got away by 10 seconds, and I chipped that back to four by the end but it was too late. I've lost a lot of points over the last two rounds, but all in all with the knee injury and not getting to ride much in the last two weeks, it's not a bad result, but I need to get back into those race wins."
Thor MX1 round seven results
1) Dean Ferris – 67 points
2) Todd Waters – 65 points
3) Kirk Gibbs – 60 points
4) Kade Mosig – 58 points
5) Jacob Wright – 50 points
6) Dylan Long – 50 points
7) Jay Wilson – 50 points
8) Daniel Banks – 43 points
9) Luke Wilson – 43 points
10) Michael Menchi – 42 points
Thor MX1 Championship Standings
1) Kirk Gibbs – 470 points
2) Dean Ferris – 464 points
3) Todd Waters – 455 points
4) Kade Mosig – 381 points
5) Matt Moss – 381 points
6) Dylan Long – 359 points
7) Jay Wilson – 296 points
8) Jacob Wright – 291 points
9) Michael Menchi– 265 points
10) Daniel Banks – 253 points