Round two of the NSW Motocross Championships saw competitors make the journey to Dubbo in central NSW.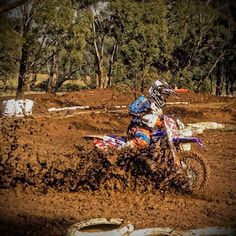 Racers arrived at the track on day one to a thick fog which eventually cleared to reveal a beautiful day, however, the damage to the track had been done with several heavy downpours of rain in the days leading up to the event. What ensued was a very tough track for two days of racing, that difficult that several of the smaller bike classes had to be cancelled from the event.
Dylan Heaton continued his impressive form across both days, winning all three motos in the 15yrs 125cc class aboard his YZ 125. Heaton dominated proceedings on his two-stroke and was in good form.
He backed it up with a win and a second place in the first two motos of the 15yrs 250cc class. Unfortunately, a part failure in the final moto meant Dylan was unable to finish the race and had to settle for fifth overall for the round. Dylan showed maturity beyond his years both on and off the track over the weekend, proving he is well on his way to developing into a future star of the sport.
Brendon Walther matched his older teammate in smarts and determination when dealing with the tough conditions. He managed a very respectable third place on his YZ 125 in the 13/U15 years' 125cc 2stroke class. It was a great effort amongst plenty of older riders and his first podium at a state level on the bigger bike.
He came out swinging on day two aboard his YZ 85 and rode from a fifth place start through to the front in the first moto. Moto two saw Brenno face some bad luck when a fuel breather hose became blocked in the sticky clay and caused an intermittent miss during the race, he battled on to finish the moto in seventh. In the final moto Brendon charged through the pack to miss the race win by only half a second and bag a second overall for the round.
Former YJR racer Joel Wightman also had an impressive weekend on his YZ 250F wrapping up the overall win in the MXD class.
The third and final round of the series will be held at Mt Panorama on the 5th and 6th of July.
NSW Yamaha Junior Racing would like to thank the following supporters: Yamaha Australia, Fox, Motul, Oakley, Pirelli, GYT-R, Vortex Handlebars, JT Sprockets, RK Chains, Nine Two Decals and Y-AIM.
Round 2 NSW State Motocross Championships
Dubbo, NSW
15 years 250cc
1st Blake Colleton
2nd Brock McLeary
3rd Jaiden Corrigan
4th Trent Wheatley
5th Dylan Heaton (NSW- YJR)
15 years 125cc 2stroke
1st Dylan Heaton (NSW- YJR)
2nd Brock McLeary
3rd Jaiden Corrigan
4th Trent Wheatley
5th Elias Dukes
13-14 years 125cc 2stroke
1st Jordan Hill
2nd Joel Adamson
3rd Brendon Walther (NSW – YJR)
4th Travis Silk
5th Dylan Dukes
12-14 years 85cc
1st Riley Dukes
2nd Brendon Walther (NSW- YJR)
3rd Cooper Pozniak
4th Jy Roberts
5th Michael Driscoll
MXD U19 years
1st Joel Wightman (YZ 250F)
2nd Corey James (YZ250)
3rd Aaron Tanti
4th Brian Simcox
5th Reg Magyar