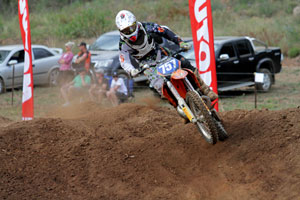 KTM riders have continued to excel in the MX Development (MXD) category of the MX Nationals, Australian Motocross Championship, with Dylan Leary winning at Coonabarabran in New South Wales on Sunday.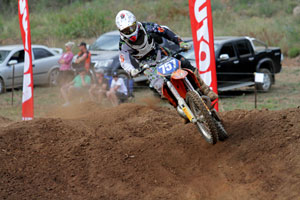 Leary rode his KTM 250 SX to victory in the class for Under 19s competitors, sealing his first career national round win after claiming victory in the final moto of the weekend.
"It's a really good result and I had to borrow a bike for this weekend after practice," 18-year-old Tasmanian Leary explained. "It's a surprise because last year I did the final three rounds and my best race result was something like ninth, but this off-season I worked hard and it's all about consistency. If I can stay in the top five every race in should work out well."
Victorian Joel Milesevic was third overall after racing to a hard-fought win in the second moto, making it two 250 SX models on the overall podium. Opening round winner Dylan Long rode his Choice Motorsports KTM 250 SX-F to fourth overall, maintaining the title lead.
The JDR/KTM Factory Racing team endured a difficult weekend at the Goanna Tracks complex, with Wollongong's Ryan Marmont the best performer in ninth overall in the MX2 division.
Marmont started the round with a solid fourth in the first moto, before 12th and ninth place finishes capped off his weekend. Teammate Josh Cachia was one position behind him in 10th after a frustrating round, taking a best result of seventh in the final moto.
"I felt a lot better at this round, opposed to the first round," Marmont explained. "My hand injury is getting a lot stronger now, so although the overall result wasn't what I was looking for, I felt like I was riding a lot stronger. I took a lot of positives from the weekend and we have two weeks to prepare for round three now, so hopefully I can keep moving forward."
The MX1 class saw JDR/KTM's lone 450 SX-F contender Dan Reardon also finish ninth overall for the round, now heading down to train with Marmont in the lead-up to round four of the series at Wonthaggi in Victoria on 28-29 April.
For additional information on the JDR Motorex KTM team, visit www.jdrmotorsports.com.au or check the team out on Facebook at www.facebook.com/jdrmotorsports.
Visit www.ktm.com.au on the web for further information on KTM Australia, as well as KTM's full model line-up of off-road and road motorcycles available for 2012.
2012 MX Nationals, Australian Motocross Championship
Round Two – Coonabarabran, NSW
MX1 Overall Results:
1. Josh Coppins 63
2. Tye Simmonds 56
3. Jake Moss 55
4. Jay Marmont 54
5. Brad Anderson 50
6. Cody Cooper 49
7. Lawson Bopping 48
8. Daniel McCoy 40
9. Daniel Reardon (JDR/KTM Factory Racing) 39
10. Todd Waters 35
MX2 Overall Results:
1. Luke Styke 75
2. Kirk Gibbs 56
3. Kade Mosig 53
4. Cheyne Boyd 52
5. Ford Dale 48
6. Scott Columb 48
7. Errol Willis 46
8. Justin McDonald 40
9. Ryan Marmont (JDR/KTM Factory Racing) 39
10. Josh Cachia (JDR/KTM Factory Racing) 36
MXD Overall Results:
1. Dylan Leary (KTM) 59
2. Mitch Norris 58
3. Joel Milesevic (KTM) 58
4. Dylan Long (Choice Motorsports KTM) 52
5. Kale Makeham (KTM) 51
6. Sam Martin 50
7. Jay Wilson 41
8. Kayne Lamont (KTM) 36
9. Dylan Wills 35
10. Jarrad Davis 33
MX1 Championship Standings (after 2 of 10 rounds):
1. Josh Coppins 125
2. Jake Moss 101
3. Jay Marmont 95
4. Brad Anderson 94
5. Tye Simmonds 94
6. Lawson Bopping 89
7. Todd Waters 89
8. Cody Cooper 87
9. Ben Townley 75
10. Daniel Reardon (JDR/KTM Factory Racing) 72
MX2 Championship Standings (after 2 of 10 rounds):
1. Luke Styke 132
2. Kirk Gibbs 119
3. Ford Dale 110
4. Kade Mosig 97
5. Josh Cachia (JDR/KTM Factory Racing) 92
6. Justin McDonald 88
7. Cheyne Boyd 87
8. Adam Monea 80
9. Errol Willis 76
10. Ryan Marmont (JDR/KTM Factory Racing) 67
MXD Championship Standings (after 2 of 10 rounds):
1. Dylan Long (Choice Motorsports KTM) 124
2. Dylan Leary (KTM) 106
3. Mitch Norris 101
4. Sam Martin 99
5. Kale Makeham (KTM) 96
6. Kayne Lamont (KTM) 94
7. Joel Milesevic (KTM) 92
8. Jay Wilson 89
9. Dylan Wills 58
10. Mitch Budd 54