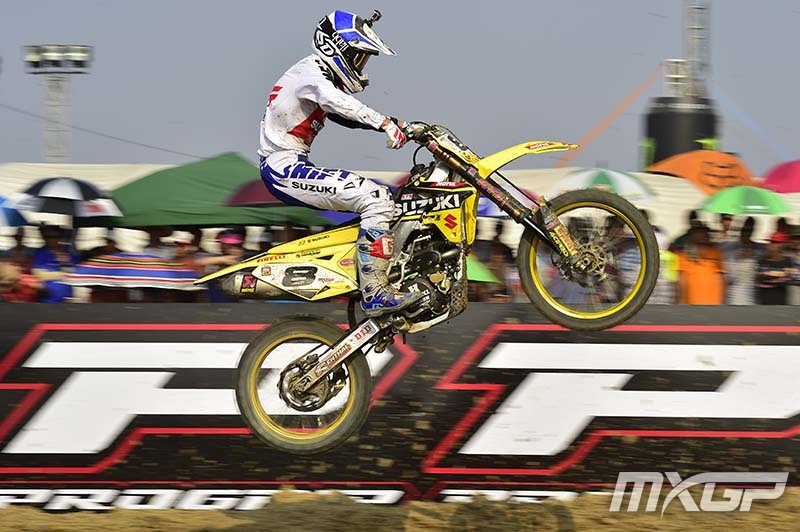 The New Zealand MXGP rider experienced the highs and lows of racing over the weekend, forced to retire from moto one before rebounding as runner up in the second.
By Hayden Gregory
Team Suzuki World MXGP's Townley looked the rider to beat early in Thailand, winning his heat before taking pole position for the day's main events.
Moto one started well as the veteran found himself inside the top four and battling with the front runners. It was lap nine however when disaster struck and a mechanical issue forced Townely out of the race.
"I blew it, I made a mistake that caught me out of the blue," said Townley. "It was on the last roller and I was in the wrong gear, I was caught out by how slick it was and got ejected. I was up ready to salvage something but the radiator was damaged and I was lucky to make it back to the pits."
Despite the incident Townley remained positive heading into the second moto and it paid dividends. The Suzuki rider broke away to score his first podium of the year, finishing runner up to Febvre.
"In the second moto obviously the result was much better but it was tough, someone jumped the gate beside me so I was late off the line," he explained. "I started in sixth and worked my way up; I think I had a bit more spark than the other boys. In the end I gave everything I had and I had to talk myself through to the end – it was a mission."
While the first moto mistake proved costly towards championship points, Townley insists his team is heading in the right direction.
"Overall I'm not concerned about the podium but the 18 points that I threw away," he added. "We are still working on the bike quite a lot, and have made progress every session since starting in Qatar, but there is still work to do on the engine and suspension especially – onto the next one."