Kiwi rider Ben Townley is a certain starter for the final two rounds of the MX Nationals at Toowoomba and Coolum following an injury scare last weekend.
Story by Hayden Gregory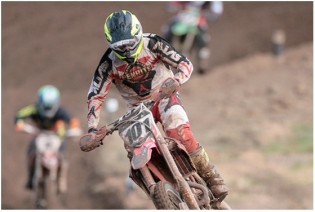 The Penrite Oils Honda Racing rider crashed during the eighth round of qualifying, before sitting out the rest of the event with a suspected shoulder injury.
"I caught my 'bars on an embankment and it tore my hand back and threw me off," Townley explained. "The movement pinched a nerve and it made my whole arm go numb and I couldn't feel the 'bars any more. It's all good now though and back to 100 percent. I'm ready for the final two rounds of the championship."
Following on from this good news, the former MX2 World Champion has also been selected to represent New Zealand at Ernee, France, for the Motocross of Nations.
"Getting selected to race for your country is always an honour, but by no means am I a professional racer now," he added. "In saying that I'm really happy with the balance I've found in my life between racing, training, my family and my diet. Right now it's all about working and training smarter, not harder, and the difference that's made has been fantastic."
Townley will be joined in the New Zealand MXoN team by Cody Cooper and Kayne Lamont.