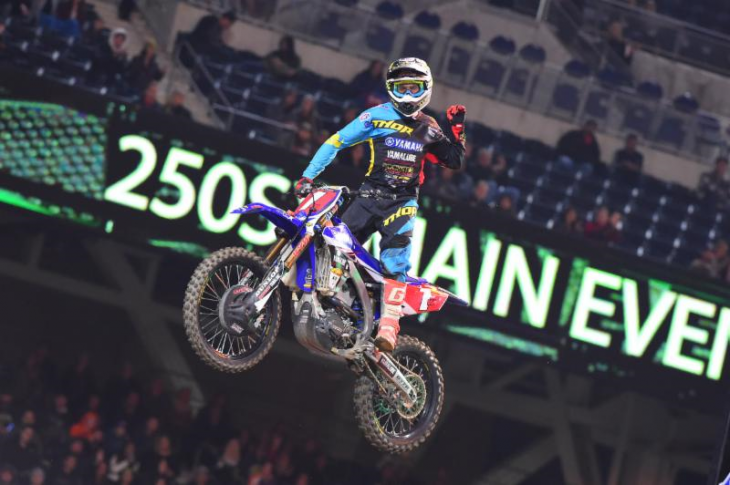 Cooper Webb has scored his second consecutive 250SX class win to open the 2016 season.
By Hayden Gregory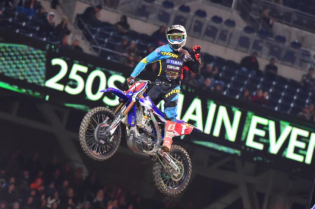 The defending champion struck again in the West this time piecing together a classy come from behind victory. It was GEICO Honda's Jordan Smith capturing the SupercrossLive.com Holeshot Award with teammate Jimmy Decotis battling for podium positions with Zach Osborne and Joey Savatgy. Webb was sitting back in eighth position with a lot of work to do to get back through the pack.
A Jimmy Decotis crash allowed Osborne to move into second place with Savatgy in third. By Lap five Osborne had made the leading pass on Smith with who else but Cooper Webb passing Savatgy to find himself inside the top three.
Webb only needed a further two laps to pass Smith for second with his eyes firmly set on back to back round wins. The crucial pass would take place on the eleventh lap as Webb made an aggressive pass on Osborne who would then crash out of podium contention all together.
Cooper scored his eighth career 250SX win ahead of Savatgy and Smith in third who would land his first career podium finish.
"I got another bad start unfortunately, but it was awesome to come through pack like that," said Webb.
"I had great battle with all the top guys since they were up front. I hope all the fans enjoyed that battle. It was a great night. I'm glad to be back up here and I'm looking forward to the rest of the year."
Webb takes an early season points lead over Jordon Smith by 14. Savatgy and Osborne share the spoils for third tied one point behind Smith.
Australia's sole 250 rider Hayden Melross once again impressed qualifying for the main directly from his heat race. The 51fifty Energy Yamaha rider looked impressive early before coming off the track in the mayhem of lap one. Unable to really recover Melross would re enter in 21st, finishing the night in this position some two laps behind American Webb.
2016 Monster Energy AMA Supercross
Round two – San Diego, CA
Western Regional 250SX Class results:
1. Cooper Webb
2. Joey Savatgy
3. Jordon Smith
4. Christian Craig
5. Colt Nichols
6. Zach Osborne
7. Kyle Peters
8. Jimmy DeCotis
9. Kyle Cunningham
10. Chris Alldredge
21. Hayden Mellross (AUS)
Western Regional 250SX Class championship standings:
1. Cooper Webb 50
2. Jordon Smith 36
3. Joey Savatgy 35
4. Zach Osborne 35
5. Jimmy DeCotis 31
6. Colt Nichols 30
7. Alex Martin 25
8. Kyle Peters 25
9. Jessy Nelson 22
10. Christian Craig 22
17. Hayden Mellross (AUS) 11